The curtain came down on the Fort Worth Opera's inaugural festival Sunday, and there's no denying that the past four weeks were heady.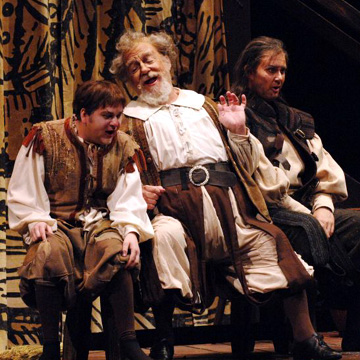 Besides the world premiere of a new opera and top-notch performances of two old standbys, the week featured some heart-stopping backstage drama, consistently high-caliber singing, appearances (in the audience) of national critics, and strong indications that the festival may have raised FWO to national status. Much of the national buzz focused on Thomas Pasatieri's new opera Frau Margot. The composer abandoned a successful opera career 20 years ago for life in the Hollywood hills, creating a number of notable film scores before drifting back to opera with this commission. Does he still have something to say in the medium? Unequivocally, yes, although the new opera is uneven. There is a whiff of the 1950 film Sunset Blvd. in the opening and closing scenes. The conceptual set, a black, raked stage surrounded by enormous black-and-white moving screen projections of lopsided buildings, close-ups of people, turbulent clouds, and even a rainstorm.
They underscore the action, much of it seen through huge, metal-and-glass windows shaped like the giant cockpit of an old B-29 bomber. All of this high-tech wizardry was almost gone with the wind on Sunday morning when production director Kurt Howard discovered that the laptop computer that runs the opera's special effects had been stolen from the Bass Hall control room. He found a duplicate computer at an electronics store within the hour. In a race against time, FWO general director Darren Woods located video designer Peter Nigrini in Calgary, Canada, who had a copy of the missing schematic and promptly e-mailed it, plus cueing information, to Fort Worth. The opera was ready to go — but only 20 minutes before curtain. Thanks to a grant from Opera America, a nonprofit foundation, two run-throughs of the Frau Margot music were made possible last October at TCU. Pasatieri, most of the singers, and the Fort Worth Symphony were there to iron out orchestral textures and balance problems — an unheard-of luxury in this era of tight budgets. While many national critics were on hand last week, none of them has chimed in on the festival yet. Agents from several opera companies, including Atlanta, St. Louis, and Milwaukee, were at the performances, and the New York City Opera expressed interest in presenting Frau Margot in 2009. Another premiere of sorts was Falstaff, Verdi's last opera, which neither FWO nor the Dallas Opera had ever performed. It isn't easy to stage.
An ensemble comedy for 10 singers based on Shakespeare's Merry Wives of Windsor, with no big arias or memorable tunes, the comedy depends on deft acting and buckets of charm to pull off. Veteran baritone Kim Josephson found pure gold in his dazzling portrayal of the buffoon title character. Josephson's multidimensional performance was rich in detail and splendidly sung. In fact, the caliber of singing was high in all of the productions. Madame Butterfly was as solidly cast as anything the company has presented. Surprisingly, it didn't do as well as expected at the box office. While Frau Margot and Falstaff met expected box-office returns, Butterfly reached only two-thirds of its goal. "We don't know what happened," Woods said. "We sold out three performances of Puccini's La Boheme last season. Maybe opening Memorial Day weekend had an effect, or [Butterfly] has been done too often, or we were bucking a lot of graduations. We just don't know." Regardless of the lighter-than-expected turnout, another Puccini opera, his great final work Turandot, will anchor next year's festival. Filling out the schedule will be Donizetti's Lucia di Lammermoor and Carlisle Floyd's Of Mice and Men. It's way too early to label the festival the success that the company is hoping for. However, production and performance quality are already top-drawer, and in time, a bigger audience should develop. It's worked in other cities of comparable size, so why not here?-Leonard Eureka