It's official, Tex-Mex mavens: The 21st century has come to the taqueria.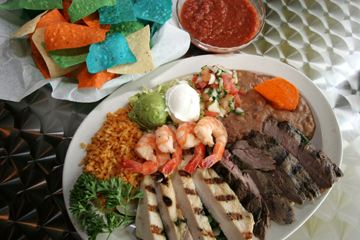 In a strip-mall parking lot south of I-20, the sign over Parrilla Mexicana includes the phrases "Best Mexican Food!" and "Satellite Television" in same-sized letters. Inside, there are hand-lettered signs about lunch specials, plus framed prints of Latino women making pottery. But there's also a flat-screen tv that, during a recent lunch visit, was tuned to CNN — unfortunately, the talking head of anchorman Wolf Blitzer was drowning out the piped-in Tejano music. Whether Wolf helps or hinders your enjoyment of delicious, homemade Tex-Mex may depend on your political allegiance. But Parrilla Mexicana's small but surprisingly diverse selection has a truly "Big Tent" appeal — and, like a good news story, some interesting twists on the old familiars.
Take the brisket burrito, a tightly rolled monster that's heavy enough to fend off a carjacking and big enough to hold its own against the chains' mega-burritos. It was also super-tasty: tender, stringy meat with a sharp roasted flavor, chunky refried beans, green peppers, and grilled onions packed in a thick, chewy flour tortilla that had been slightly singed on the grill. The non-greasy side of orange-red Mexican rice was OK. The two quesadillas sampled, the veggie and deluxe chicken, were massive and excellent. Their flour tortilla shells arrived baked to the point of crunch on the edges and burnt in spots, but that just gave 'em character. Inside, the veggie was a huge, silky, steaming layer of white cheese with a bunch of cooked goodies: still-firm spinach leaves, marinated mushrooms, green peppers, squash, and onion. The chicken version had large chunks of white meat with mushrooms and onions. A minor quibble: Given the size of each quesadilla, the condiments — smallish scoops of chilled sour cream, guacamole, and pico de gallo — weren't nearly enough. The shrimp enchiladas, however, were a disappointment. The plump little nuggets inside tended to be overpowered by the thick tomato sauce and gooey, melted American cheese. On the whole, the platter wasn't bad, but it could've used either less sauce or more shrimp. (Or maybe instead of red, Parrilla's savory green sauce could have been used — it was subtler and would let the shrimp speak for themselves.)
Parrilla Mexicana has expanded its seafood selections to include fish tacos and ceviche tostados, although not all items are available every day. All dishes are made on the spot, and for solid Tex-Mex in South Tarrant County, Parrilla is hard to beat. As for that pricey flat-screen tv tuned to CNN, you may want to ask for the remote. Telenovelas, Mexican Westerns, Latin music videos — heck, anything's better than "Bloodthirsty" Blitzer at chow time.
 Parrilla Mexicana
Brisket burrito $5.50
Shrimp enchiladas $5.49
Veggie quesadillas $5.50