Quarter score and a couple-a years ago, Fort Worth Weekly brought forth on this great town of cow a new major award, conceived in music and dedicated to the proposition that all bands are not created equal.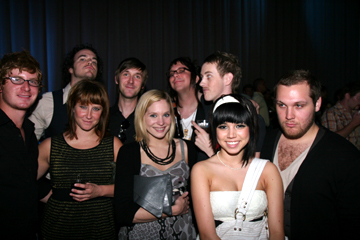 Well, actually, they may have been created equal, but some bands are a little more popular than others. As I told the crowd of nominees and industry insiders who gathered last Sunday at Bass Performance Hall's McDavid Studio for our awards presentation ceremony, every nominee is a winner. Seriously. Even some of the losing bands this year received in excess of 500 votes, a pretty decent chunk, I think. Some of the winners, as you may imagine, amassed incredible numbers. Black Tie Dynasty, for example, earned more than 1,500 votes to win the Rock band category. Overall, the number of marked ballots that piled into the Weekly offices, in print and online, over the four-week voting period was staggering — about 12,000.
There weren't a lot of surprises. Most of the usual or obvious favorites won, and a few of them were repeat winners, including James "Gut-tar" Hinkle (Blues), Smooth Vega (R&B/Rap), Velvet Love Box (Cover Band), by Flickerstick (Song of the Year, "Helicopter"), and Maren Morris (Female Vocalist, Songwriter). Not to say there weren't a few surprises, 'cause there were, mainly in the Hard Rock and Artist of the Year categories, which both went to Addnerim. In Hard Rock, the prog-metal trio beat out, among others, Stella Rose, last year's winner The Me-Thinks, and Blood of the Sun. For Artist of the Year, Addnerim outdid a hefty stack of talent, including Morris, The Burning Hotels, winners of Rock Album of the Year (85 Mirrors EP), Cadillac Sky, winners of Album of the Year (Blind Man Walking) and Song of the Year ("Blind Man Walking"), and dark-horse Tame … Tame and Quiet.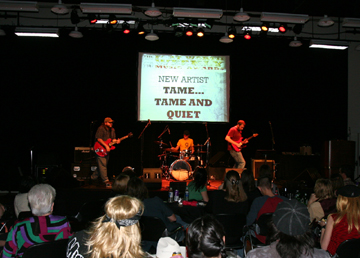 Perennial Live Band winners Pablo and the Hemphill 7 were finally unseated, by the Fort's lone purveyors of shoegazing acoustic trance, Sleeplab. In Alt-Country, Rob Baird and the Whiskey Reunion bested favorites Collin Herring, The Theater Fire, and Dove Hunter. In Texas Music, the Kyle Bennett Band outdid double-winner Maren Morris. In C&W, 100 Damned Guns beat out double-winners Cadillac Sky and Fort Worth Music Hall of Famer Tommy Alverson.
In Folk/Acoustic, Electric Mountain Rotten Apple Gang overcame favorite Bosque Brown. In Avant-Garde/Experimental, Underground Railroad won, coming out on top of Best Fwends, Ghostcar, and PlayRadioPlay. Lastly, in Jazz/Instrumental, Fort Worth Jazz Orchestra with Adonis Rose won over Hall of Famer Jhon Kahsen. The band with the most nominations, Tame … Tame and Quiet, with five, didn't receive any hardware (Remember, folks: Losing a popularity contest is not an indictment of your skills.) Most surprisingly, TT&Q lost New Artist, to the deserving Campaign.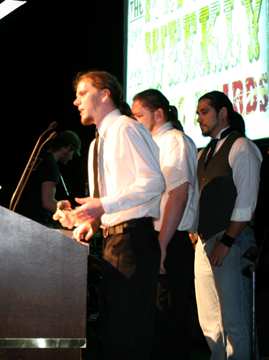 Speaking of Hall of Famers, we were honored by the families of two of this year's four inductees, Tom "Wolf" Morrell and Q.T. Tubb, who made moving acceptance speeches. Congrats also to the families of the two other inductees, Robert Ealey and Dewey Redman, and thanks to Hinkle for accepting the award on Ealey's behalf. I'd like to thank everyone at the Weekly for all of their hard work, all of the bands, fans, and readers, and everyone else who donated time, space, and skill, including the Adonis Rose Quintet, which played the party, Central Market, which catered it, Bass Hall and McDavid Studio, which hosted it, all of the best New Artist nominees who played it (Get Well, Jefferson Colby, Tame … Tame and Quiet, The Campaign, The Red Herrings, and Peter Black of Peter Black and the Lifters), and Richard Hunter, formerly known as Big Dick Hunter from 1310-AM The Ticket and now of Live 105.3-FM, who emceed the whole shebang. See you next year.