On July 10, TXU adopted the name "Luminant" for its power-generating and construction operations.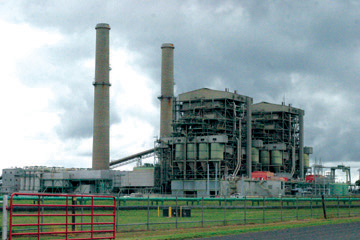 Officially, the company said the name change was "a milestone as the Luminant business transforms and further focuses on providing cleaner energy, investing in renewable energy, leading the state as the largest purchaser of wind power, and ensuring that customers' power needs are met safely and reliably." Given recent news of the utility giant's enthusiasm for unleashing more coal-based power plants on the state, however, Texans might have a different take on the new name.
In fact, the fight over TXU's planned Oak Grove coal-fired power plant in Robertson County has united folks of a surprising variety of stripes. On June 13, the Texas Commission on Environmental Quality gave TXU its long-sought permit to go ahead with Oak Grove. "This is good news for Texas," raved TCEQ Chair Kathleen Hartnett White. "Shame on you," yelled an unidentified member of the audience at the hearing for the permit.
In the fight against adding more new coal-plant emissions to Texas' already polluted skies, TXU, the state, and local officials in Robertson County are in one corner; in the other is just about everyone outside the county line. But in addition to the predictable environmental advocates, the latter coalition includes religious groups, the mayors of various Texas cities, business consortia, and even a grassroots Republican organization. "People are coming together because they recognize that clean air and concerns about the environment are not partisan issues," said Pam Ragon of Republicans for Environmental Protection. "This affects everyone equally. We all breathe the same air." Tom "Smitty" Smith of Public Citizen's Texas office opposed the Oak Grove plant from the get-go. He said he was struck by the initiative that all the diverse groups have shown in fighting TXU. "It's been remarkable in that, with the exception of the mayors, all these groups self-started," he said. "They have been a great help."
One of those self-starters was Texas Business for Clean Air, created for the sole purpose of opposing the coal power plants. The group's founders, David Litman of Consumer Club, Garret Boone of the Container Store, and Dallas developer Trammel Crow, defined their group's aim as providing "a conservative pro-business voice to those opposing the plants." Fort Worth magnate Edward Bass is a member of the group. The executive statement put out by the more than 300 business leaders who belong to the group states that "there is no conflict between clean air and business interests, but rather a natural alliance for the long-term health and economic benefits that clean air will bring to Texas." Also, the group says, not complying with federal air quality standards will result in "draconian penalties including the loss of all federal funding for transportation projects," a blow to economic development.
Texas Cities for Clean Air was started by Houston's Bill White and Laura Miller of Dallas, along with 15 others. The cities represented include Fort Worth and Arlington, and they opposed the plant on the grounds that emissions from Oak Grove would keep Texas cities from meeting federal pollution standards for decades. Miller, testifying at the permit hearing, accused TCEQ of ignoring the law and describing the hearing atmosphere as "unsophisticated and intellectually vacant." The commission's decision, she said in a statement afterward, would make "a great case to appeal to state district court."
After the $32 billion takeover of TXU by private equity firms Kohlberg Kravis Roberts and Texas Pacific Group was announced, the company said it would scale back its plans and build just three instead of the previously announced 11 "clean" coal-burning power plants, including Oak Grove. (The other two — another plant in Oak Grove and one in Sandow — have not been approved yet.) A TXU spokesman told the Weekly that the new plants will be "emissions-neutral" after pollution reductions are made at existing plants. "The plant will meet stringent controls," said spokesman Tom Kleckner. "We are following the best available standards that are being set by the TCEQ."
Permit in hand, Luminant has already started construction in Robertson County, but opponents of Oak Grove are fulfilling Miller's prophecy, preparing for legal battle. In fact, two lawsuits were filed on July 20 to stop the plant from becoming reality — one by the Central Texas Clean Air Coalition and one by the cities' coalition — and more may come. "We want to participate," said Bee Moorhead, executive director of Texas Impact, a network of 53 Jewish, Christian, and Muslim congregations. Religious groups are taking part, Moorhead said, because of a biblical mandate of "caring for creation." Texas Impact's concern, however isn't with TXU, but with legislators. "TXU is a corporation, and they are doing what one would expect them to do," she said — it was state government that dropped the ball. "We elect public officials to represent the public interest, and in this instance [members of government] decided not to do that."
While the Texas Legislature last session was passing laws to encourage energy efficiency in order to reduce demand for electricity, Gov. Rick Perry was enabling a fast-track process for permits for new power plants to add more capacity, a decision that, according to Moorhead, undermines any push for conservation. "It's like they passed laws relaxing punishment for criminals to relieve pressure on the prison system while they build new prisons," she said. As to whether TXU had been sensitive to the cities' concerns about pollution, Kleckner said that the company was being "sensitive to the state's needs," adding that if new plants aren't built, there won't be sufficient generation capacity in Texas. Not surprisingly, Smith of Public Citizen took a different view. "Energy efficiency makes a lot more sense," he said. "Studies show that we can cut 80 percent of the growth in demand through energy-efficiency measures that would cost two-fifths of what we would pay for a coal plant."
TXU's Kleckner said that Oak Grove had "wide-ranging support," producing a series of letters from Robertson County officials and local state representatives and citing another group that threw its weight behind the plant — Texans for Affordable and Reliable Power. This group, however, was funded by TXU and started by Chuck McDonald of McDonald Public Relations. "We have to do what Laura Miller has done" with the mayors' group, McDonald told The Dallas Morning News. Regardless of the outcome of the Oak Grove fight, group members have said that they have been surprised at how easy it has been to come together. "There's a sense of community," said Ragon. "We're seeing increasing recognition that we all work on the same issues." Despite partisanship in politics that may be at an all-time high, Oak Grove could become a symbol of citizens working together in spite of their elected officials. "The media has focused on what a kooky deal it is that all these Texans care about one thing in common," Moorhead said. "This is a lesson in how we talk to each other. I am hopeful that the same good communication and tolerance for differences can be applied to other issues like healthcare and immigration."
You can reach Pablo Lastra at lastra.pablo@gmail.com.