Maybe I'm just getting old, but I really do love diners, especially diners with long counters.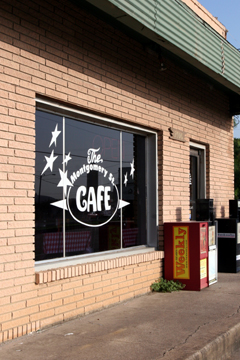 The service always seems better at the counter, and you have the choice of either interacting with the folks next to you or keeping to yourself. And if the place isn't packed, you can spread out the sports section and enjoy it in peace. The Montgomery Street Café in the Cultural District has been a Fort Worth icon since 1948, and one of its prime attractions — aside from good food at cheap prices — is its old-fashioned counter. The little restaurant has just 12 tables and booths that, especially during the breakfast and lunch rushes, are almost always filled. But the counter, running along one side of the space, also seats 12, and there always seems to be room for one more.
It's not that the food is full of surprises: basic breakfast entrées, huge portions, daily plate lunches that for $4.99 will make you skip dinner, everything home-styled and served by experienced waitresses who will call you "hun." But you can't beat the atmosphere, and the food is great in its own, old-fashioned, comforting, not-for-dieters way. Take the daily breakfast special: two eggs, grits or home fries, biscuits and gravy or toast, and sausage or bacon for $3.99. The biscuits are freshly made and have that smooth buttermilk quality that all biscuits should have, and the equally smooth grits are rich and sweet and not just poor-man's cream of wheat. Breakfast at the counter can be filling and efficient. If you're having coffee, the cup is never less than half full. If, like me, you're drinking iced tea (I'm not much of a coffee drinker), the waitresses will simply set down a pitcher next to you, leaving you plenty of room to arch your elbow and pour rich, creamy gravy over your side plate of biscuits. Plenty of room to spread out the morning paper and get your news in the old-fashioned, non-digital format. The lunches are as fine as the breakfasts. All of the usual suspects are here: burgers, pork chops, chicken-fried steak. One way to have the CFS is as a sandwich, served open-faced on a big bun with fries, salad, and a dinner roll. Last time I had it, the steak was crisp and moist and the breading just right — not too much, not too little.
One of my favorite side orders, beans and cornbread, can also serve as a full meal. The beans are perfect — they have a hint of smoked ham hock and are flavorful but not spicy. The cornbread is homemade and moist, perfect for sopping up the juice. One of my favorites daily specials is the braised beef tips over wide egg noodles. The chunks of meat are tender, and the dark gravy clings to the noodles. It's not full of spices or heavy seasonings, but it is still flavorful and dense. And for your five bucks, you also get a cup of soup (the chicken noodle is homemade and full of fresh vegetables), a side salad, and mashed potatoes covered in gravy. And that is the beauty of this little hole-in-the-wall. There's not a fast-food joint in the world that offers as much good food as quickly and cheaply. And if you sit at the counter, you have photos of Annie Oakley and Wyatt Earp staring down at you and waitresses spinning by to see how you're doing. An old friend also might sit down next to you and ask if he can borrow your sports page. If there's one problem with the Montgomery Street Café it's their hours. They close at 2 p.m. on weekdays and at noon on Saturday — and other than Grandma, who is up by noon on Saturday? No one I know.
The area around Montgomery Street Café is changing, as the city looks to build a new rodeo arena across the street, and a neighborhood committee is studying the uses that all of the hot property nearby could be put to. Surely there will still be room for a little diner that does things right, even if it does things the way they were done 50 years ago. Breakfast or lunch at Montgomery Street Café may make you realize that eating at a fancy-schmancy, white-tablecloth joint or rushing through a drive-through aren't always the best options.
Montgomery Street Café
Daily breakfast special $3.99
Chicken-fried steak sandwich $5.75
Bowl of beans and cornbread $2.85