A couple of weeks ago at a Wreck Room show, a crowd of about 50 rowdy concertgoers trashed the place.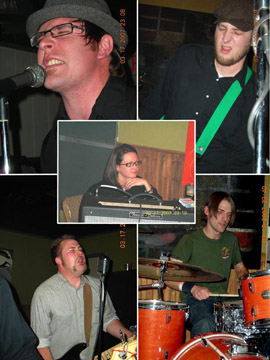 The next day, according to a maintenance man, the place looked like a disaster area. The likely culprit: the band, the Panther City Bandits. "We want it to be a party when we play," said frontman Lewis Sheppard, who admits that he had a little too much to drink — he almost fell onstage twice. "We wouldn't be good as a sober band." The Bandits have been together for a while but didn't start playing out until about a year ago. The lively five-piece boasts a unique blend of punk, country, and Irish drinking songs; kind of The Drop Kick Murphys-meets-Operation Ivy, with a little "All For Me Grog" mixed in.
The band hearkens back to the hard-drinking, hard-partying, blue-collar roots of punk. Their live show is dynamic and energetic, the crowd changing moods with every song, at times responding by moshing a little and at other times by locking arms and swaying together, beers hoisted in the air. Sheppard and company attribute their seamless approximations of various styles of music to a broad spectrum of influences. Favorites include Operation Ivy, Rancid, Jerry Jeff Walker, and Roger Miller. "I think it's because we all come from different backgrounds and different influences, and we just put our own input into it," said bassist T.J. Webber, who cut his teeth playing rockabilly and said that he is still getting used to playing an electric bass again.
Guitarist/vocalist Sheppard, who played in the punk outfit Vinegar with Bandits drummer Brian Shaw, also had a swim through hardcore with Garuda and fronted an Irish-drinking style band called Sinn Fein. Sheppard and guitarist/vocalist Jake Newton, who went to high school with Webber, have played together since they were teenagers. Keyboardist Julie Phillips brings the twang. To say that the Bandits are a loud and fun party band wouldn't necessarily be untrue, but it would not give them enough credit for carefully crafting melodic songs with thunderous drums and catchy, witty vocals. Sheppard, who does the bulk of the singing, has cast himself as the Rick Steves of rock 'n' roll. His lyrics often read like a travel diary, as he recounts his experiences from his times bumming around Europe, like "The Prague Seoul Girls," a first-person account of a trip to the Eastern European city in which he had nowhere to stay but was rescued by a girl he met on the plane ride over.
Newton's vocals have an altogether different feel. He tends to bring more of a working man's sense of humor to his lyrics and a sing-along delivery, as in the "Work Song," an anthem for anyone whose job has driven him or her to drink. The Bandits' blue-collar appeal is more than a motif. All of the band-members identify themselves as working-class guys who use music as an escape from their other lives. Shaw "works in a warehouse, [Newton and Webber] are builders, and I'm a craftsman as a chef," said Sheppard. "We're all making shit for people who have more than us." Another pervasive lyrical theme is Cowtown itself — after all, they're the Panther City Bandits, and Webber has "817" and a Texas flag tattooed on his forearm. Growing up, they all saw bands at venues like Mad Hatters and The Engine Room, where the old guard of Fort Worth rock held court.
"We grew up seeing shows in Fort Worth," said Newton. "We saw bands like Baboon, UFOFU, Earl, Caulk, The Toadies, and thought, 'We could do that.' " The Bandits are loud and rowdy, but they also have the potential for airplay. Ironically, one song that has a lot of pop appeal is "You're Gonna Die With the Radio On." The Panther City Bandits are currently recording an album in their cramped, wood-paneled rehearsal space behind Webber's house in Fairmount. They also plan on booking a small tour through Texas. In the meantime, they'll keep the party going, much to every cleaning crew's chagrin.