porterdavis started as a duo featuring songwriter Daniel Barrett on guitar and lead vocals and Mike Meadows on African-influenced percussion, offering an eclectic mixture of styles.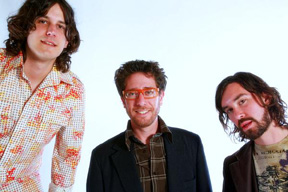 They played around Boston for a few years before migrating to Austin in 2004 in search of an audience. That same year, Simon Wallace joined the band, and this Englishman's creative harp-blowing turned porterdavis into something really special. In fact, their new album's groovy pacing stumbles only when Barrett breaks into one of his quiet, folky songs. He's an interesting writer and singer but most successful when he sprinkles his soft sensibilities into edgier blues-tinged formats, as on the album opener, "Smack You Back," and on standards like Robert Johnson's "Come on in My Kitchen" and Townes Van Zandt's "White Freightliner." While Wallace isn't quite a top-tier harmonica player, he's well on his way and nipping at the heels of greats like John Popper (Blues Traveler) and Mickey Raphael (Willie Nelson & Family).
Wallace's style is swampy blues with a pop melodic sense and a welcome experimental streak. For instance, on "No Regrets" he starts with a killer blues riff, loops it, and then plays on top of himself. A blues purist might blanch at such modern trickery, but if it sounds great, why not? Timeworn genres should never be off limits to inventiveness and expansion, and porterdavis is interpreting the blues in their own fresh way. The 14 songs on Eddie's Attic serve as a fitting introduction to North Texas audiences, and the band's recent gig at White Elephant Saloon proved that their infectious style and friendly stage presence make for a helluva fun evening. -Jeff Prince
Fri at MacHenry's, 1406 W Magnolia Av, FW. $7. 817-377-0202.