Place to Take Someone From Austin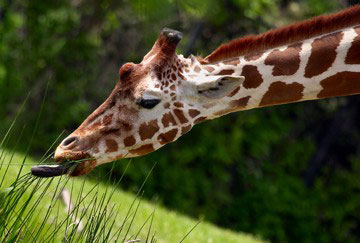 Readers' choice: Fort Worth Stockyards
Critic's choice: Fort Worth Zoo
A quick Google session shows the Austin Zoo has difficulty keeping customers happy. Its user rating of three stars is abysmal. Online horror stories about poor customer service make for fun reading, and it's not just the surly staff that pisses people off. To be fair, Austin's zoo does great work – it's a nonprofit rescue and animal sanctuary. But it just doesn't compare to our zoo, which, by the way, received a user rating of four and a half stars. Founded in 1909, Fort Worth Zoo offers 5,000 animals (compared to Austin's 300) and is the state's oldest continuous zoo site. (And if that doesn't impress, take 'em down to Fossil Rim near Glen Rose and show 'em how real Texans keep their wild animals: blocking the road and holding you up for chow.)
Happy Hour
Readers' choice: Blue Mesa Grill, 1600 S University Dr, FW
Critic's choice: The Blue Grotto, 517 University Dr, FW
The dark, candlelit bar has something of a split personality, torn between an intimate café and a sports bar. But from 5 to 9 p.m. Monday through Saturday and all day Sunday the Grotto shines: $1.50 drafts, $2 domestic bottles, $3 import bottles, $3 well drinks, and $4 wines by the glass. The place is owned and operated by a couple of wine snobs, so their list far exceeds most bars' in selection and quality.

Bartender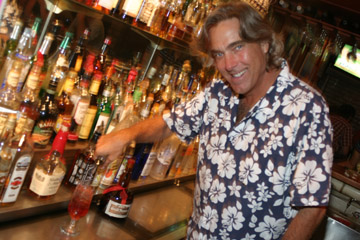 Readers' choice: Brad Hensarling, Chat Room Pub, 1263 W Magnolia Av, FW
Critic's choice: Peter Whipple, J&J's Hideaway, 3305 W 7th St, FW
This is more of a lifetime achievement award, as Whipple has been holding court on the West Side for as long as we can remember (and in the drinking biz, that can become cloudy over time). Back in the day, Whipple was a party animal, chasing TCU cuties and hanging out with Westside trust-fund babies. He's still a lot of fun. Given that the Museum Place is going to make "JJ's" history in a few months, Whipple is more than deserving of this honor.
Cocktail Lounge
Readers' choice: Ten, 835 Foch St, FW
Critic's choice: The Oui Lounge, 3509 Bluebonnet Circle, FW
If you're an adult, you're probably already resigned to the fact that most of the garbage your parents yelled about while you were growing up is, unfortunately, true. It's also probably why you drink. And after enduring annoying meetings, or kids or spouses all day long, you deserve to suck down some Seven-and-Sevens without having to suffer yammering TV noise or Johnny Fratguys popping each other's collars. Lucky for you, some saint invented cocktail lounges. Our favorite is "The Oui," as we call it. Yes, it's technically within TCU territory, but the wood paneling, low lights, and stiff libations provide a mellow respite from the strains of adulthood and the passions of youth.

Cocktail Lounge: (Legacy Award)
Critic's choice: J&J's Hideaway, 3305 W 7th St, FW
This little Westside gem nestled under some shade trees on a small triangle of land between West Seventh and Darcy streets is a rarity these days: an old-fashioned cocktail lounge where friends can gather to sip a favorite drink while they talk of cabbages and kings, listen to soft music that doesn't drown out the conversation, or just sit at the well-stocked bar and banter with the bartender. "JJ's," as it's lovingly known, exudes laid-back comfort. Its large, upholstered chairs, dark wood tables, and tall windows seem to expand the small space. There's a wood-burning fireplace for winter coziness and a few small tables tucked in dark corners for lovers. The drinks are also top-shelf. Bad news: Go enjoy it while you can, because it's due to close early next year, another victim of Cultural District redevelopment.

Pub
Readers' choice: Finn MacCool's, 1700 8th Av, FW
Critic's choice: Ye Olde Bull and Bush, 2300 Montgomery St, FW
Trying to find a traditional "pub" here in the States is difficult – in Europe, a pub does more than just serve drinks. It often has another business associated with it (like a funeral home), in addition to being a "publican house" or a gathering place where locals go to let off some steam. Ye Olde Bull and Bush fits the bill 'round here. Plus, owner Nick Gregory is always on hand to keep things lively.
Bar Décor
Readers' choice: Embargo, 210 E 8th St, FW
Critic's choice: Embargo
We're going to miss the Wreck Room. Within its dingy environs lurked the iconic, cinematic murals of Jesse Sierra Hernandez and Pussyhouse Propaganda, classic punk and metal posters, and layers of stickers from the best bands you never got around to seeing. But damned if Embargo hasn't charmed us right out of our guayaberas. If you couldn't guess by the name, the downtown club, which used to be co-owned by Wreck honcho Brian Forella, is built around a Cuban theme that's convincing enough to have brought a tear to Papa Hemingway's eye. Amid the flicker of votive candles, patrons flit between smoky shadows and Havana-inspired murals, their murmurs mingling with the jazzy, Afro-Caribbean soundscapes. After a few mojitos, the walls and palms and rusty ease will make you think you're in The Godfather, Part II. Johnny Ola and Hyman Roth would be proud.
Biker Bar
Readers' choice: Underground Icehouse & Grill, 1117 E Belknap St, FW
Critic's choice: Underground Icehouse & Grill
This fun little joint on Belknap Street downtown draws a big crowd of bikers, and we understand why. The drinks are pretty cheap, the music is loud and fast, the managers run an amateur poker league, and they have nice bartenders and waitresses. So nice in fact, they get up on the bar and dance around in their underwear framed with leather chaps – the waitresses, that is. Thursday is officially bike night, but the motorcycles are always parked out front – though you don't have to have a bike to appreciate all that the Underground has to offer. Just a pulse … and the correct equipment.
Gay Bar
Readers' choice: Stampede Club, 621 Hemphill St, FW
Critic's choice: Stampede
Take the small dance floor in this establishment that formerly housed The Corral Club as a hint: Flaunting your excellent sense of rhythm is not the Stampede way. This is Fort Worth's version of your classic gay male "cruise bar," a place where you're more likely to meet Mr. Right Now than Mr. Right. But you can also just chill with an Absolut on ice after you've served your daily cubicle sentence. The bartenders are attentive, the drink specials never stop, and Stampede hosts regular charitable events for the community.
---
Lesbian Bar
Readers' choice: Best Friends, 2620 E Lancaster Av, FW
Critic's choice: Best Friends
The Fort Worth "queer" bar scene has suffered a lot of casualties over the last few years, resulting in some pretty limited choices. As a result, Best Friends offers the best in Sappho socializing even though it also has a pretty good mixture of gay men. Weekend nights are the best time for the gals – they come out in force to shoot pool, dance, and partake of the great drink specials, all in a decidedly low-pressure atmosphere.
Wine Bar
Readers' choice: Sapristi, 2418 Forest Park Blvd, FW
Critic's choice: Papparotti's Wine Room, 6100 Camp Bowie Blvd, FW
Papparotti's walks a fine line between elegant and quaint. The red walls, leather couches, and smoove ambiance give the place a classic, stylish look – but it's not the least bit pretentious. The wine list features dozens of labels from all over the world – prices range from $7 to $12 by the glass and $29 to $179 per bottle. The menu of sophisticated tapas was designed to complement the wine. Plus, the staff is friendly and supremely knowledgeable.
Bar Bar
Readers' choice: The Pour House, 209 W 5th St, FW
Critic's choice: The Moon, 2911 W Berry St, FW
In a city of nearly half a million people, you should be able to find a place where everybody knows your name, the drinks aren't wimpy, the service is friendly, and the scenery looks better as the night wears on. Enter: The Moon. While its raison d'etre is live music on the weekends, on weeknights it's a pretty cool place to hang with your chums, talk about the dating life, or torture people with your horrible musical tastes. The newly remodeled and reoriented bar makes for faster service, the brand-new sound system ensures your friend's band sounds decent, and, with a steady flow of college students, your woulda-coulda-shoulda stories are easily inspired. Plus, when you combine a black t-shirt with the glow of the soft green lights, you actually look slimmer! No kidding! Striking out is your fault, darlin'.
Hotel Bar
Readers' choice: Renaissance Worthington Hotel, 200 Main St, FW
Critic's choice: Booger Red's Saloon in the Stockyards Hotel,105 E Exchange Av, FW
Since 1907, the Stockyards Hotel has been a tourist destination, with a guest book that features Bonnie and Clyde, among others. To be sure, the outlaw duo would have appreciated Booger Red's Saloon, which opened in 1984. The Western-themed bar, attached to the H3 Ranch Grill, features saddle bar stools and the famed Buffalo Butt Beer, named after the giant stuffed beast whose shaggy rump extends high above the bar. Some folks have been known to get thrown from the saddle after a few Butts (You try getting in and out of one of those in a crowded bar. Hint: Leave the spurs in the pickup truck.)

Sports Bar
Readers' Choice: Fox & Hound English Pub & Grille, 604 Main St, FW
Critic's Choice: Fox & Hound, 6051 SW Loop 820, FW
Not for the strict wallet-watcher. A pint of Bud Lite will set you back $3.50. On the other hand, Fox & Hound has more than 100 brands of ice-cold beer, a good if not great selection of Irish and Scotch whiskeys, and possibly a zillion TV sets, all tuned to sports, at least one of which is visible from anywhere in three large rooms. It's also got 10 of the best pool tables in town, three Nodor dart boards – those in the know can explain what that means – fantastic finger food, leather couches to relax in if your opponent is ruining your day, and a 24-foot bar shuffleboard that's oiled to perfection. Oh, and there are lots of checkerboards built into tables, just in case you're actually English. Did we mention that lots of good-looking young types like to hang out there?

Unexpected Place to See and Be Seen
Critic's choice: Los Alamos Café, 1446 N Main St, FW
Aguilera's gets all of the attention as the North Side's lunchtime hideaway for local politicos and pseudo-celebrities. But lately, the cool crowd has adopted another nearby eatery as the place to be. Los Alamos debuted in 1959 and is one of the city's oldest family-owned restaurants. Willie Nelson ate there in the 1960s. Radio personality Kidd Kraddick and State Rep. Lon Burnam make random visits. City Councilman Sal Espino munches there, while Louis Zapata, the city's first Hispanic councilman, has been a fixture for decades. Former Speaker of the U.S. House Jim Wright chowed down on cheese enchiladas there this summer. But the best characters are in-house, including the sibling owners – genial Alex and his eccentric, scooter-riding brother Alfred – and their secret weapon, the charming waitress Norma.
Internet Bar
Critic's choice: Chat Room Pub, 1263 W Magnolia Av, FW
Drunken e-mailing has officially replaced the time-honored tradition of drunken dialing as the No. 1 Thing You'll Regret When You're Sober. Thanks to the Chat's Wi-Fi hot-spot, patrons don't have to wait until they get home to start talking shit or stalking crushes via e-mail.
Strip Joint
Readers' choice: New Orleans Nights, 7101 Calmont Av, FW
Critic's choice: New Orleans Nights
New Orleans Nights is the obvious – and appropriate – choice for a variety of reasons: The food is really good, the clientele is fun but respectful, and the "entertainers" (don't call them strippers) are by far the hottest and most acrobatic around. The drinks are still far too expensive, but for guys, they're worth every drop – for an intimate, $20 conversation with a young woman just working her way through college.

Exotic Dancer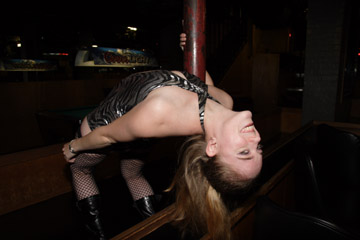 Readers' choice: Chastity at Jaguars Gold Club, 12325 Calloway Cemetery Rd, Euless
Critic's choice: Hannah at Illusions Cabaret, 7405 Camp Bowie Blvd W, FW
At less than four feet in height, Hannah is fast becoming the nude scene's hottest phenom. She may have less body to work with than the statuesque types, but she makes the most of what she's got.
Cheap Beer
Readers' choice: Neon Moon Saloon, 2509 Rodeo Plaza, FW
Critic's choice: West Exchange complex, Stockyards, FW
This entertainment complex in the Stockyards has cut out the Monday-through-Wednesday-night action, but the happy hour on the other evenings is still a great deal. Many bars offer tasteless draft beer on the cheap, but it takes a lot of those watered-down mugs to get even a little buzz going. West Exchange charges just $1.50 for any bottled beer from 5 to 8 p.m. so that Shiner Bock arrives for about half the price that everyone else is charging. Ten bucks goes a long way here for decent brewskis.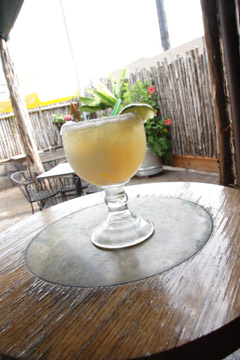 Margarita
Readers' choice: Joe T Garcia's, 2201 N Commerce St, FW
Critic's choice: Chimy's, 1053 Foch St, FW
Frozen confections laced with tequila rarely taste better than when consumed at an outdoor patio while sitting under a big shade umbrella and engaging in friendly banter. And at only $4.50 each, the price at Chimy's is more than right. Besides, you and your mates can riff on the street name out front: "They should build a college next door and call it Foch U." Sure, this type of banter sounds stale in the sober light of day, but after a few of Chimy's cold, refreshing delights, it's gold, I tell ya – gold!
Martini
Readers' choice: Ten, 835 Foch St, FW
Critic's choice: Finn MacCool's Pub, 1700 8th Av, FW
H. L. Mencken called the martini the "only American invention as perfect as the sonnet." It was the favored drink of such larger-than-life luminaries as Churchill, FDR, Truman Capote, Scott Fitzgerald, Hemingway, and, of course, fictional sophisticates such as James Bond and Nick Charles, all of whom savored the original version made from gin and a whiff of dry vermouth. (Churchill is said to have mixed his by only glancing at the vermouth bottle across the room.) One can only wonder what these purists would think if their beloved cocktail was made with anything other than the fruit of the juniper, like, oh say, vodka and apple schnapps, or (gasp!) vodka and Godiva chocolate liqueur. But never fear, gin lovers: Finn MacCool's serves up an original dry martini that would make these old dead guys proud, made with good gin, a swirl of vermouth, stirred (not shaken) and served chilled with one olive (which may have been Nick Charles' only daily nourishment.) For non-traditionalists, this friendly neighborhood bar offers many vodka variations as well. The Godiva chocolate martini , by the way, is rich and smooth and passes for a fine, slow-sipped after-dinner drink. And the apple schnapps? Downright delish.
---
Meat-Market Bar
Critic's choice: Embargo, 210 E 8th St, FW
Don't think that the meat-market designation means we're looking down our noses at reg'lar folks who're hooking up. After all, it's probably just loneliness and jealousy on our part. And at Embargo, it's not just the bourgeois hooking up – a lot of the pretty people end their evenings with other pretty people there. Former co-owner Brian Forella and current owner Andrew del la Torre opened Embargo around the time that Forella's Torch fell under the bulldozer's blade. As a result, the Torch's meat-marketeers relocated to Calhoun Street, where they found more room, more Caribbean décor, and more, uh, possibilities. Embargo may not thump with hypersexed R&B jams, but its understated cool makes it a prime spot to play the old game.

Jukebox
Readers' choice: Caves Lounge, 900 W Division St, Arlington
Critic's choice: Malone's Pub, 1303 Calhoun St, FW
For those old souls who still judge a place by what's on the jukebox, and hate those touch-screen internet jobs that allow anyone to come in and spoil the vibe, Malone's Pub downtown is like a beacon in the fog. They've got it all: classic funk, hard rock, prog rock, old school hip-hop, and plenty of local stuff. More importantly, they have an old-style box, brimming with taste and a song for every mood.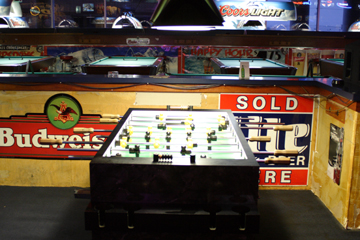 Bar Games
Readers' choice: Fox & Hound English Pub & Grille, 604 Main St, FW
Place to Shoot Pool
Readers' choice: Rack Daddy's, 4701 Citylake Blvd E, FW
Critic's Choice: J.J. Dakota's Billiards, Etc., 9112 Camp Bowie Blvd W, FW
A couple of years ago, when J.J. Dakota's was new, it didn't quite feel like a pool hall/bar. Now that it's broken in, it feels and smells just like it should: stale cigarettes and beer, a bit gnarly, populated by the sorts of people your mother spent 18 years warning you to avoid. But if you like pool (more than a dozen tables that have been drooled on by drunks), foosball (three well-worn tables that still have lots of grease in the ball bearings), darts, electronic darts, bar-shuffleboard, or Pac-Man, there's no place as much fun for sucking down a beer in company with probationers and parolees.
Outdoor Party Patio
Readers' choice: 8.0, 111 E 3rd St, FW
Critic's choice: 8.0
The 8.0 has anchored the downtown party scene for more than two decades now. The spacious patio hosts bands three or four times a week, and the beautiful people come in droves to dance, drink, and defy the Texas heat.
Bar Bathroom
Readers' choice: The Shamrock Pub, 2710 W 7th St, FW
Critic's choice: Wreck Room, 3208 W 7th St, FW
Since the Wreck is closing this month, here's a little shout-out for the two men's rooms between the bar and the stage. True, the sink taps don't always work, toilet paper might or might not be there, and the plumbing has its problems. But every band in town puts up promo material in there, along with crazy drawings and comments. Our favorite was up a few years ago, when someone wrote that "Dan McGraw hates Ebola." We checked with Weekly staffer McGraw, who acknowledges his does hate Ebola, along with other diseases. He doesn't discriminate.
Bouncer
Readers's choice: Brent Peck, Neon Moon Saloon, 2509 Rodeo Plaza
Critic's choice: Roderick Love, The Wreck Room
The Wreck Room has rarely had fight problems, and that's quite rare in the biz, especially when a bar caters to the younger music crowd. Bouncer Roderick Love is part of the reason for the easy peace. Rod's a mixed martial arts fighter, but he saves that for the Octagon. Instead, at the club, he is energetic and bright, talkative and funny. If someone needs to leave, Rod knows how to ask without being threatening. But everyone also knows Rod could make you tap out if he had to.
Country Venue
Readers' choice: Billy Bob's Texas, 2520 Rodeo Plaza, FW
Critic's choice: Pearl's Dancehall & Saloon,
302 W Exchange Av, FW
This joint comes by its cool vibe honestly. It evolved from an old brothel and features some of the best country musicians around, from mavericks like Dale Watson and Cornell Hurd to blasts from the pasts such as Johnny Bush. The bar can get wild once in a while, but this is generally a friendly place. Last year, a Weekly reporter stumbled into Pearl's shortly after midnight on a Tuesday and discovered the bar was already closed. But the barkeep served us up a couple of beers anyway, even though it meant she had to work longer than expected. Now, that's service.
Acoustic Night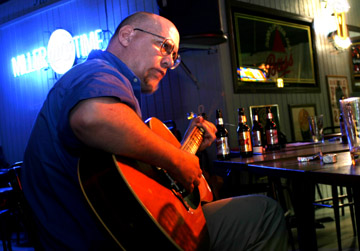 Critic's choice: Acoustic Song Circle at MacHenry's,
1408 W Magnolia Av, FW
Musicians settle in each Tuesday for a good old-fashioned "guitar pull" – sitting in a circle, performing songs, accompanying one another, showin' off, catching a buzz, cracking jokes. Guitar pulls by nature can get sloppy when booze and egos collide, but the laid-back, friendly, and talent-laden MacHenry's typically dodges such BS.


Karaoke Night
Readers' choice: Silverado Room at the Neon Moon Saloon, 2509 Rodeo Plaza, FW
Critic's choice: Cowtown Bowling Center, 4333 River Oaks Blvd, FW
Long before it degenerated into sorority girls screeching in tandem to "Total Eclipse of the Heart," karaoke was the realm of Japanese businessmen in love with country music. There's something inherently kitschy and distinctly American about 1980s Honda execs butchering Glen Campbell songs – which is why, in addition to its antique-ish alleys, Cowtown Lanes has a karaoke night. Instead of stepping up to the line, step up to the mic, pick your favorite Reba tune, and try to hang with the best boot-scootin' impersonators that River Oaks has to offer. But don't be a clown – these folks take their cowboy crooning seriously. Part 'Merican Idol, part episode of Roseanne,

Band Name
Readers' Choice: Flickerstick
Critic's Choice: The Tony Danza Tap Dance Extravaganza.
Breathtaking in its brilliance. The name of this Murfreesboro, Tenn., metal band does everything. It rhymes. It makes a pop-culture reference. It conjures up a memorable image. It even refers to the fact that Tony Danza actually does tap dance. Honorable mention to Dallas' The Winter of Our Disco Intent.
Local Music Show of Last 12 Months
Readers' choice: The Uncle Bill Roach Band at The Texas Music Festival
Critic's choice: "Rock'n For a Cure," 6th Street Live
The Red Herrings, Darth Vato, Thief (now Peter Black and the Lifters), and The Burning Hotels all donated their time and amplitude to this fund-raiser for childhood leukemia and lymphoma. Organized by Ryan Kelley, Rock'n For a Cure's founder and sole employee, the show sounded great, everyone was in high spirits, and more than $5,000 was raised via a $12 cover charge and corporate donations.

MVP Musician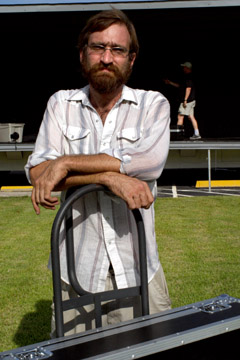 Readers' choice: Tim Locke of Flickerstick, Coma Rally, and Calhoun
Critic's choice: Andre "Dré" Edmondson
As the TV commercial says, Edmondson doesn't make the music — he makes it better. Dré, as most local musos know him, has unmatched skills as a sound guy. The Wreck Room is his home, and he's been there as long as the place has been open, a little over 10 years. The club is slated to be demolished soon to make way for some fancy high-rises and stuff, which will send Dré a few blocks away to 6th Street Live. Look – and listen – for him there.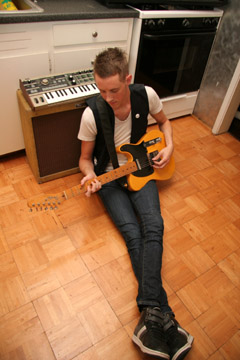 Local Rock Star
Readers' choice: Brandin Lea of Flickerstick and The February Chorus
Critic's choice: Chance Morgan, The Burning Hotels
Frontman for the Fort's premier indie-pop band, Morgan is a New World rock star: He doesn't over-indulge (as far as we know), nor does he pull that holier-than-thou act on fans and other musos. He's just smart, serious, and cool. And he can play the shit out of that guitar. The only thing stereotypically rock-star-ish about him may be his mod look.
Club DJ
Readers' choice: DJ Manny Cruz, Neon Moon
Critic's choice: Andrew Blanchard, Halo
A good club DJ is like a CSI profiler. All the DJ has to do is momentarily observe the party people – what are they wearing? drinking? acting like when no one's looking? – and he or she knows exactly what to play. Blanchard, the resident DJ at Halo in TCU-land, knows that his regular crowd of students wants to feel cosmopolitan but not too club-kiddish. His answer is smooth house with a lot of Afro-Caribbean and world flavors, making for a perfect blend of dance music that's mature and accessible but still progressive enough to qualify as non-commercial.
---
Bar Food
Readers' choice: The Flying Saucer, 111 E 4th St, FW
Critic's choice: Love Shack, 110 E Exchange Av, FW
For years, the White Elephant Beer Garden was a great place to kick back on an outdoor patio, listen to Texas Music, and get toasted on cerveza. Eventually, though, the munchies would kick in and force an exit to one of the nearby steakhouses or barbecue joints, or, more likely, a visit to the nearby Jack in the Box for a sack full of cheap tacos, which are somehow deliriously delicious when you're drunk and completely inedible when you're sober. Earlier this year, local chef Tim Love (Lonesome Dove, Duce) renovated and renamed the beer garden and added a menu of hamburgers, fries, onion rings, and homemade chips – all of them divine whether you're drunk or sober, and completely affordable.
DIY Venue
Critic's choice: X-treme Dudes Manor, 1119 Frame St, Denton
With its cheeky name and maniac keg rages, X-treme Dudes Manor injects North Texas punk with some desperately needed menace. Think of it as the anti-Door. In contrast to the screaming weenies at the aforementioned Christian hard-rock club, Denton's XDM is a home for beer and bad language, where your speaker cabinet is as likely to get kicked in as your face. If you go there and feel like you've time-traveled back to 1982, that's part of the idea. The house parties sport a revolving roster of elite local hardcore acts including ANS and Koji Kondo, and it's as far removed from Warped-Tour pretenders as you can get.
Best Place to Meet Members of the Opposite Sex
Readers' choice: City Streets, 425 Commerce St, FW
Critic's choice: City Streets
Club, bar, and meat market rolled into one, City Streets is the best place to see the best-looking members of the opposite sex. There are three types of clubs under one roof – '70s and '80s music, techno, and modern – and they all offer pool, darts, and karaoke. The cover isn't bad, especially considering how much there is to do inside, and drink prices are reasonable. The biggest downside may be the sheer amount of people, but what's that old saying about "more fish in the sea?"
Place to Meet Someone of the Same Sex
Readers' choice: Stampede Club, 621 Hemphill St, FW
Critic's choice: Q Cinema's monthly screenings and annual festival
The Fort's annual film festival for gay, lesbian, bisexual, and transgendered audiences (and their straight pals) celebrated its ninth year in May. The late-spring festival itself offers numerous receptions and parties for the same-sex-lovin' crowd, but Q Cinema also has monthly screenings throughout the year, and the pre- and post-screening receptions for these offer the chance for unofficial speed-dating kinds of chat with others seeking The Love That's Finally Able to Speak its Name.
Place to Break Up
Readers' Choice: Stampede Club, 621 Hemphill St, FW
Critic's Choice: Electric Cowboy, 8740 Camp Bowie Blvd W, FW
Some people think you should break up when you're in another city. Some say the best time is after great sex. But in Fort Worth, the best place to say goodbye is on a Friday night at the Electric Cowboy, way out west on Camp Bowie. Why? Because he or she is gonna cry when you tell them you don't want them anymore. Or scream. Or get out a kitchen knife and turn you into sushi. But at the Electric Cowboy on Friday nights, there are enough young studs in cut-off shirts and girls in short skirts that when you say goodbye, instead of crying, they'll decide to show you: "I'll show you I'm still attractive, you creep!" your ex will say, then turn and find one of the meatheads/airheads to flirt with. And that takes you off the hook. Just don't tell 'em we told you.

Place to Take a First Date
Readers' Choice: Cutting Edge Haunted House, 1701 E Lancaster Av, FW
Critic's Choice: Merchants Row, north of I-20 at Matlock Road, Arlington.
This shopping complex north of I-20 offers a number of fine restaurants, including an option for dinner and a movie in the same place (Studio Movie Grill). The gigantic parking lot is a terrible waste of land, but it also reduces the noise on the sidewalks near the stores, creating opportunities for deep talks on long walks. You can even dine al fresco without having car exhaust blown onto your meal. For a strip mall, this is pretty nice – you can save the more impressive, romantic locales until you know whether dates 2 and 3 will be happening.
Place to Eavesdrop
Readers' choice: Panther City Coffee Co., 2918 W Berry St, FW
Critic's choice: Luby's Cafeteria, 251 University Dr, FW
Shhhh! Don't tell anybody, but Fort Worth Police Department's honchos can often be found dining early afternoons at this cafeteria. If you sit at a nearby table, you might overhear Police Chief Ralph Mendoza and his staff deep in discussion about work-related issues. Fort Worth Weekly writers have tried eavesdropping, hoping to pick up information about murder investigations, covert operations, and speed trap locations, but the conversations are so eye-glazingly dull that the writers usually drift off into catatonic states and wake up with faces buried in pea salad, surrounded by cops yelling, "Emergency, 10-52! 10-52!" (If you eavesdropped on cops more often, you'd know that 10-52 is radio code for "resuscitator needed.")
Place to Nurse a Hangover
Readers' choice: Ol' South Pancake House
Critic's choice: Las Pericas, 915 E Northside Dr, FW
Hair of the dog and stomach lining of the cow are great elixirs with which to detoxify yourself on a rough morning. Check out this little Northside restaurant, and don't let the faded sign and proximity to a run-down motel scare you. Las Pericas has tasty food at low prices and plenty of window seating for some added Vitamin D. Eat a bowl of menudo with extra onions and a burrito on the side, catch some rays from a comfy booth, and carry in a tall boy of your favorite cerveza to wash it all down. You'll be good as new – or at least ready to go home, hit the couch, and watch fishing shows out of one eye for the rest of the day.