You used to get in trouble for throwing spitballs in class, but Houston artist Al Souza has made a living from it.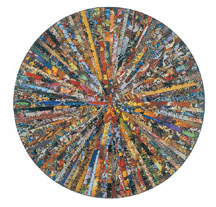 His spitball constructions are part of the retrospective show devoted to him at UTA, along with other pieces such as his paintings with a jigsaw-puzzle theme.
Al Souza: Addenda, thru Oct 6. The Gallery at UTA, 502 S Cooper St, Arlington.
817-272-3143.