Anyone who's seen The Juke Jumpers knows the wild, sweaty nights this band can invoke.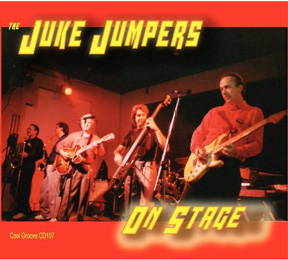 Drinking and dancing are trusty companions to rockabilly juke-joint jump blues, and this longtime Fort Worth band is top-notch when they're cooking on stage. Their 1980s gigs are legendary, and that magic is captured on this live album recorded in December 1987 at the best venue this city's ever had, Caravan of Dreams. (The club's sound system at the time was comparable to those used by arena rock bands.) Guitarists Jim Colegrove and Sumter Bruton and the gang are borderline purists, playing jump blues in the manner in which it was intended, the way most modern-day musicians don't understand and can't imitate. However, that allegiance to a classic sound tends to date them, and younger listeners might be tempted to call this "old people's music," as one of this newspaper's former receptionists would describe anything resembling blues or swing. There's a reason that most modern bands don't attempt this stuff — it's too damned difficult, disciplined, and synchronized and doesn't work with overdriven amps and Stevie Ray Vaughan licks played through wah-wah pedals.
The Jukes have the old-school style down pat, and On Stage is a toe-tapping treat. Just hearing Rene Ozuna's tenor sax solo on "Long Distance Call" is worth the price of the CD, but gold nuggets are sprinkled liberally throughout — Colegrove's adventurous slide guitar, Bruton's funky passing chords, Robert Harwell's own saxophone excursions, and Craig Simecheck's aggressive piano pounding. The band reunites once in a blue moon, including August at J&J Blues Bar, but On Stage provides a solid taste of what all the fuss was about back in the day.