The history of rock 'n' roll is filled with would-be messiahs. John Lennon reportedly told his fellow Beatles — after multiple hits of acid — that he was the second coming of Jesus Christ.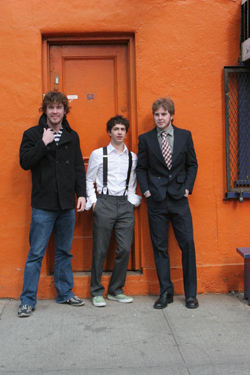 Jim Morrison went in the opposite direction, declaring himself the Lizard King. David Bowie was both space-rock guitar-god Ziggy Stardust and The Man Who Fell To Earth. All of those superstars were born decades before the three guys in the Fort Worth-raised, Austin-based Frontier Brothers. But both the conscientious melodic craftsmanship of The Beatles and the art-rock blips and shimmers of Bowie — especially the stuff that Brian Eno produced — show up in the Brothers' bipolar brand of thrashy guitar and chilled-out synth sound. If they were peanut butter, they'd be crunchy and creamy. They also share more than style with rock gods of yore.
"One story goes that [lead singer and guitarist] Marshall Galactic was living in the future on the planet Neptune," said 20-year-old keyboardist and vocalist Brett Moses, relating the band's mythopoetic origin saga. He and drummer and vocalist Travis Newman started receiving distress signals from Galactic on their CB radio. "We contacted him. He told us that mankind was in trouble and that he held the secrets of space. We started writing rock 'n' roll songs as propaganda" to save mankind. "I'm not gonna confirm or deny this mythology," said Galactic, 20. "I'm just gonna say, everything that's happened to this band so far is larger than life. We want to say that you can enjoy listening to music and making music again. Kurt Cobain died a while back. Everything doesn't have to be depressed, hackneyed, and overdone."
But there's another story, one that's more likely true mainly because, well, it's not silly. Galactic and Moses met at a Fort Worth private school and began messing around with instruments and songwriting. Newman, Galactic's 24-year-old brother, eventually came on board, and the three wrote a bunch of songs, including "Technicalelectronicsupersonicrobot (T.E.S.S.)," a track that can be found on the band's debut album, Solar Power Struggle. Having run out of copies of the original pressing, the band will re-release the record later this month. The Frontier Brothers already have earned a fan base that stretches from Fort Worth to Austin, Denton, Dallas, San Antonio, and all the way to New York City, where Moses is earning a degree in musicology and music business at New York University. (Galactic majors in creative writing at the University of Texas at Austin, where, he's quick to point out, he also takes a lot of astronomy courses.)
The guys usually appear onstage in sports jackets, ties, and sneakers, with Galactic's wobbly-warbly, Robert Smith-ish vocals belting out friendly invitations to fall in love with robots or "great big wonderful suns," or, as in the infectious "Jump Blues," let a new crush get under your skin. "We're all pretty much science nerds, in love with space and spacey new wave music," said Moses, whose piano and synth parts could've come straight from a New Order or Yazoo tune. The band, he said, made its debut at Galactic and Newman's parents' house in 2006 at a public event called "Space Party." "It was completely DIY," Moses said. "We brought in all the microphones and speaker equipment."
The Frontier Brothers made a somewhat higher-profile debut when they played a short set at last year's SXSW, which earned them the attention of their current publicity company, Los Angeles-based Gorgeous Press. Based on the enthusiastic response they've received after so short a run, the Brothers are committed to their mission. They're writing new songs, scouting a producer for their first full-length album, and will continue to tour and play as often as college will allow.
"We're committed to playing at least one show a month in Fort Worth," Moses said. But he admits, "It's been hard to build forward career momentum with our conflicting schedules. I'm sort of testing out the theories [about the music business] I'm studying at NYU."
For his part, Galactic is keeping his eyes on the, um, stars. His telephone voice is deeper and raspier than his 20 years might suggest, which lends his philosophizing a bit more credence. Or, at least, leads listeners to cut him some slack.
"My brother and I used to sit on the front porch of our house and dream about jumping into the sky," he said. "All the emptiness of space fascinates me. When you look at the moon, it looks flat. But when you look through a telescope, it looks more three-dimensional. And then you start thinking about balls floating in space. And then you want to jump into space again."
You can reach Jimmy Fowler at jimmy.fowler@fwweekly.com.
The Frontier Brothers
Nov 3 w/Stella Rose at The Moon, 2911 W Berry St, FW. 817-926-9600.