On Mondays, restless Fort Worth restaurateur Jerrett Joslin gets the blues — but not from a hangover or a Robert Ealey song.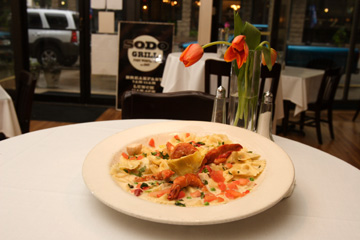 Rather, Mondays are when his recently opened SoDo Grill on the southern edge of downtown (hence "SoDo") draws the smallest crowds. Downtown worker bees, the eatery's target audience, tend to brown-bag their lunches on Mondays, Joslin said, bringing in leftovers from the weekend's fine-dining excursions. And since SoDo is closed on weekends and evenings, lunch is the place's, um, bread and butter. Morning and mid-day diners weren't always Joslin's audience.
He used to run the fancy, romantic Saporé in the downtown space currently occupied by Bent Lounge, his new nightclub. (He also owns another nightclub, Bar 9, across the street.) Though fantastic, his former restaurant could not attract a consistent dinner crowd, which, Joslin said, was worsened by the fact that he was in a part of downtown that was pretty much barren on nights and weekends. But ever since he got wind of the opening of the Omni Hotel nearby, he's been determined to maintain a toehold in the area.
SoDo Grill is two doors down from Bent in a spot previously occupied by a greasy spoon. Joslin has de-funkified the place by painting the walls in cream and installing low-hanging, black ceiling fans. He also has forgone flash for substance, and, unsurprisingly, he and his kitchen tweak old standbys such as salads, sandwiches, and burritos in many happy ways.
The roast-beef sandwich is neither low-rent nor designer. Just unique, with the mild, nutty Italian cheese fontina and lightly sauced with French onion soup. Another example: the introduction of juicy grilled beef tenderloin and asparagus into a vinaigrette-tossed salad. Or take the cheese fries, a generally ho-hum dish available at your local T.G.I. McChili's but a treat at SoDo. The long deep-fried potato spears came covered in melted American cheese, soft gouda sprinkles, and spicy pepper jack, served with a homemade dipping sauce that included fiery peppers and plump mushrooms.
As for sandwiches, the smoked shrimp on a thick, 6-inch onion roll was a modest triumph. The plump, medium-sized sea creatures tasted wood-fired (no small miracle, considering SoDo's meager kitchen digs), with firm, tangy red peppers and the aforementioned fontina cheese, soft like goat cheese but without the filminess. For a downtown Fort Worth lunch spot, SoDo Grill manages to squeeze in flavors from a striking number of places around the globe. SoDo's Cajun crawfish-tail burrito was made crepe-like by a generous covering of a zesty, pale-red tomato cream sauce with the tail meat utterly un-fishy and almost as big as shrimp. The SoDo Burrito was also blanketed in liquidy goodness, this time by a pale, lemon-cream sauce that included jagged bits of black pepper and fresh green peas. Inside, garlic set the sizable chunks of chicken breast humming with a distinctly Italian electricity.
 SoDo Grill  911 Houston St, FW.
817-877-3939. Mon 7am-3pm, Tue-Fri 7am-4pm.
All major credit cards accepted.
Smoked shrimp sandwich $9
Cajun crawfish-tail burrito $10
SoDo Burrito $8