In its 28 seasons, Stage West has offered a little bit of pretty much everything: regional premieres, regional and national debuts, sentimental favorites, you name it.


But a few years ago, when the company abandoned its home on University Drive for a theater in the Fort Worth Community Arts Center, something got lost. The company still produced consistently superior work, but the Arts Center, accommodating though it was, felt somehow temporary, like a stopgap solution to a much larger problem. Simply put, the sense that Stage West was somehow merely squatting there was hard to shake. "We've been looking for a new space for about a year now," said Jerry Russell, man of many hats and co-founder of Stage West. "We really had to get back into our own home." The Arts Center's theater, he said, "was not really the venue that our audiences wanted. We needed ambiance, personality, and identity." The theater world has a lore all its own, stocked with superstitions and apocryphal tales of bad luck, happy accidents, and the vagaries of kismet. Fitting this tradition, Stage West's new home is actually its old home — the 8,000-square-foot building at 821 W. Vickery Blvd., the very same building that the company occupied from 1981 to '91. Stage West is renovating the restrooms, dressing rooms, and plumbing and installing a lighting system.
Also, the rumor that the troupe is going into the dinner-theater business isn't entirely false: A full-service kitchen is being installed to offer a small menu of fancy sandwiches, soups, and salads for patrons before and after shows. Built in the '30s, the structure has housed everything from a bus depot to a wholesale electrical supply company. The city bought it about eight years ago and planned to demolish it, mainly to make room for street redevelopment near I-30, but nothing ever happened. "Our former landlord, Marshall Robinson, bought it back from the city," Russell said. "And he said he wanted us back." To help pay for renovations, Stage West raised more than $200,000, including $5,000 from one long-time patron who admired the company's original work at "The Old Vick," as the Vickery Boulevard location is being nicknamed. Russell expects to open soon. The stage itself will be proscenium-style, meaning that the audience will face the stage from one direction, directly in front, rather than from two or three sides. The new space, Russell said, will allow the company to do shows with more complex choreography and more intimate and shaded performances, because the director and the cast won't be forced to play to several audience angles at once. Seating capacity will be 150. The company has scrapped its planned production of the mother-daughter comedy On the Mountain and instead will open with Alan Ayckbourn's barbed Christmas show Seasons Greetings on Nov. 23, the day after Thanksgiving. Or at least that's the plan. "Our Vickery home will be up and performing by the end of November," Russell said, "Lord willing, and the creek don't rise." — Jimmy Fowler
---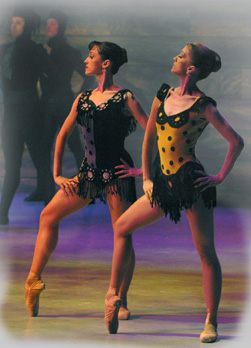 Iron Feet Injury is the curse of the dance world, and Metropolitan Classical Ballet took a major hit last weekend in its Houston debut at the Wortham Center. Guest ballerina Marianna Ryzhkina tore a leg muscle during dress rehearsals and was forced to cancel. She was scheduled to dance major roles in two of the programs' three ballets. The main concern was finding someone to replace her in the title role of Carmen Suite, a huge part in a seldom-seen work created 40 years ago for Russian firebrand Maya Plisetskaya. Fortunately, company regular Olga Pavlova had danced the Spanish gypsy years ago in Russia with MCB co-director Alexander Vetrov, when both were dancing in Moscow. She stepped up and performed valiantly. Pavlova has all the technical skills she needs and then some, and in her Houston performance she proved she also has the acting know-how. Her Carmen had a soft edge, and her love duet with Don Jose, who was sensitively danced by Andrey Prikhodko, was an extraordinary expression of tenderness and affection.
Her real-life husband Yevgeni Anfinogenov danced the bullfighter Escamillo, with no-nonsense bravado, and Shea Johnson, in a rare solo opportunity, was a strong Captain Zuniga, Don Jose's commander and head of the local garrison, who also has his eye on Carmen. Ryzhkina's other role was one of the ballerinas in the curtain-raiser, Fokine's Pas de Quatre. Maiko Abe, a Japanese dancer who recently joined the company, was pressed into service and fit in nicely. Ironically, Bonjour Brel, an extended pas de deux and the third work of the evening, was originally created years ago for Ryzhkina, and she performed it in Fort Worth with Vetrov. But to lighten her load beforehand, the company handed it off to Pavlova, who ended up dancing it and everything else on the program, a burden the company had tried to avoid for its guest star. But Pavlova was up to the challenge. Faced with sharp angles — Brel has Apache-like choreography — she once again managed to bring a relaxed, lyrical quality to the work. Anfinogenov was her partner, and the two danced a less intense version than one seen previously in Fort Worth. The only quibble was with the taped music — it was painfully loud for Brel, though fine the rest of the evening. Sponsored by the Russian Consulate and something called the Russian Cultural Center "Our Texas," the event was a celebration of 200 years of Russo-American diplomatic relations. Obviously, Vetrov's connection to the regional Russian community, and the growing reputation of his company, is paying off. Even with taped music and the pressure of last- minute emergencies, MCB was as solid as iron. — Leonard Eureka
Contact Kultur at kultur@fwweekly.com.