Another new Vietnamese restaurant has just opened — and it's not even in Haltom City (a.k.a. Tarrant County's Little Asia).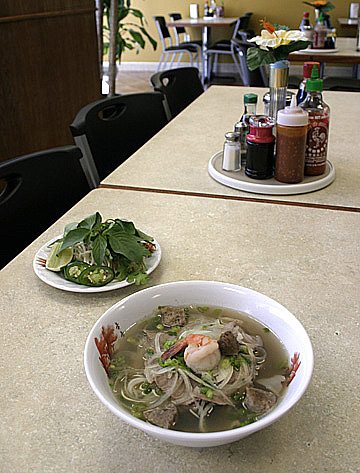 Instead, Gia Phu is one block east of I-35 on Berry Street in a neighborhood that's overrun with fast-food joints, taquerias, and the occasional barbecue restaurant. Based on a recent afternoon visit, however, Gia Phu isn't lacking for business.
The menu, divided into vegetarian dishes, varieties of pho, and a wide selection of noodle and rice dishes, is full of low prices, which, considering the quality of food and large portions, makes Gia Phu pretty hard to beat.
The pho dac biet (kind of like "pho with everything in it") was a symphony of the traditional soup's basics — slightly salty, slow-cooked broth and succulent, tangy beef — plus onions, glass noodles, and lime. Perhaps as a pre-emptive measure, our waiter, whose family owns Gia Phu and has lived in the Fort Worth area for more than 20 years, didn't ask us if we wanted any condiments and just brought them: sweet hoisin sauce and a dollop of sriracha, otherwise known as the zesty, vinegary condiment "Kickin' Chicken." But Gia Phu's pho needed no extra flavors aside from what it came with: savory kaffir lime leaves, cilantro, bean sprouts, and the delicious, multi-layered essence of the beef broth.
Only five of the 40-plus entrées listed had red stars — signifying extra-spicy — and, based on our waiter's recommendation, we went with spicy stir-fried tofu with lemongrass: chewy, decadent, lightly stir-fried veggies and chunks of the white stuff, with several whole Thai chile peppers mixed in. Ginger, evident along with the chile seeds and shreds of lemongrass, ensured an interesting and complex bite from start to finish. The dish was spicy but nothing that a scoop of the accompanying white rice couldn't cure.
At $6.95, the chef's special on the day of our visit was the priciest item on the menu. The Gia Phu Pancakes arrived as a stack of several thin omelets, each sweetened with coconut milk and filled with pork, baby shrimp, and bean sprouts. On a separate platter came several large, fresh leaves of romaine and plentiful strands of aromatic cilantro. Dipped in a carrot-laden fish sauce, the special, with its delicately sweet flavors and unusual combination of textures, was the highlight of the Gia Phu experience.
Thirsty diners can choose among more than a dozen beverage choices, from the thick, flavorful Café Sua Nong (coffee with sweetened, condensed milk) to splotchy-textured Taiwanese "bubble" smoothies. The chanh muoi, or very salty lemonade, had an alien sourness but went down smoothly all the same. Even though Gia Phu serves up some standard Chinese dishes, probably as a sop to Viet-food newbies, the restaurant doesn't offer as much variety as many other Vietnamese eateries. But every selection we tried at Gia Phu, from top to bottom, was crafted carefully and served with a personal, friendly touch.
 Gia Phu
Café Sua Nong $2.00
Chan Muoi $2.00
Pho dac biet $6.95
Gia Phu pancakes $6.95
Stir-fried tofu
with lemongrass $5.50