With his solid leads, overall bluesy feel, and the ability to wring sincerity from every note, guitarist and singer-songwriter Ian Moore ain't your dad's Ian Moore.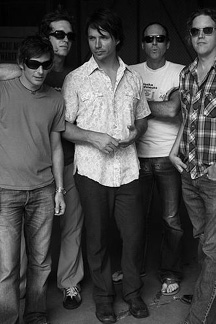 Now living in Seattle, the former six-string sideman has developed an arsenal of originals that are hard-pop-meets-country with a touch of Pink Floydian trance. Feel free to lump him in with the Austin class of 1985 because it's his birthright. But it's also his right as an artist to keep trying new things, and Moore has. In the process, he has transformed himself into a weighty songsmith with a voice that harkens to the late Jeff Buckley and with a feel for the entire gamut of pop genres. To Be Loved, his latest album, is an ambitious gem full of melodic rock and more, including New Wave (the title track), shoegazing country ("Simple Girl"), barbed-wire-fence romance ("House Up On the Hill"), and crystalline, David Gilmour-sized, interstellar overdrive ("Wait For the Sun"). Basically, Moore has made a career album 20 years into his musical journey. And he still looks better than most of us to boot.
Live, Moore is an affable presence, able to switch gears from the blustery romp of his minor classic, Modernday Folklore (1985), to his latest swing single (the aforementioned "House Up On the Hill"). He's a perfect fit for the Granada Theater, where he'll be next Sunday, playing a tough mix of his bluesy rock from yesteryear and a captivating and challenging brew of new zounds. What the audience can expect is not a shape-shifter but a master of all trades who resists easy categorization, a musician of the highest order who is now more ambitious and creative than ever, at a time when creativity is largely commercially unacceptable. If To Be Loved is any indication, Moore's live show will inspire you to dust off your best rock records and listen to them anew.-Justin Press
Sun, Nov 18, at the Granada Theater, 3524 Greenville Av, Dallas. 214-826-1885.