Singer-songwriter Peter Black had almost had it with music, especially with flaky backing musicians.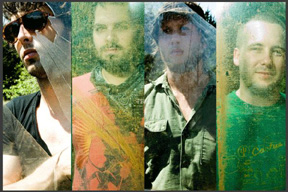 "Playing with new guys with certain talents sometimes reveals the shortcomings of others," said the 24-year-old, who may be young but has been on the scene for years. "That's not a dig at anyone I used to play with. It's just true." One night a few months ago, when he was near the height of his frustration, he ran into Fort Worth guitarist Kenny Hollingsworth. Over a couple of cold ones, the two guys traded rock 'n' roll war stories, celebrated their love of The Heartbreakers and R.E.M., and lamented the lack of good new music. Before long, The Lifters began to take shape. At Hollingsworth's suggestion, they added former Soviet Space bassist Cliff Wright, who had been hunting for a new project. Black says the new guy "just felt right" from the first rehearsal. The trio improved on existing Black compositions and began to pen new ones almost immediately.
With a temporary drummer, the band — called Thief — played a show at The Moon on West Berry Street. Afterward, they were approached by drummer Aaron Hass (Flying Machine), who was duly impressed. He asked to join. The newly acquainted quartet wasted no time throwing out old tunes and pounding out new, slightly countrified, shining pop songs. After only a few months together, the band was urged by Wright to start recording. "We all wanted to get in and at least demo some stuff," Hollingsworth said. "But [Wright] really pushed us by booking the sessions without the rest of us really knowing about it." The studio was Fort Worth's First Street Audio, and Oliver Future drummer and Fort Worthian-cum-Angeleno Jordan Richardson was flown in from California to handle production. "None of us really knew [Richardson] or what he could do, besides [Wright]," Hollingsworth said. "But he was perfect, just what the band needed in a producer at the time."
Another Fort Worthian, Scott Davis, former Woodeye guitarist and member of Jason Eady's Wayward Apostles, was also brought in to add some flourishes, specifically banjo and piano passages. Black said, "Ideas flew back and forth constantly at First Street, and the songs just kept improving with a natural ease." Wright agreed: "It seemed like things were clicking in an extra-special and extra-lucky way in those sessions." Wright also said that he and his bandmates were aware that they had already outgrown their previous band, Thief — and the name. Hence The Lifters. After recording the EP Switchblade Waterpistol, Black and Wright flew with Richardson to L.A. to do some mixing with producer Adam Lasus (Yo La Tengo, Clap Your Hands Say Yeah, Oliver Future) at his Fireproof Recording Studio. The record was released last month. Black, who is studying at the University of Oklahoma and will graduate in December, is ready to make the walk, get back to North Texas, and start playing steadily. "I like to think of the band as something timeless, not a sound that's caught up with what's popular at the time," Hollingsworth said.