In early 2006, local artist Paul Milligan and some other artistically inclined fanboys started an informal group, Stumblebum Studios, mainly to have a virtual place where they could kick around ideas.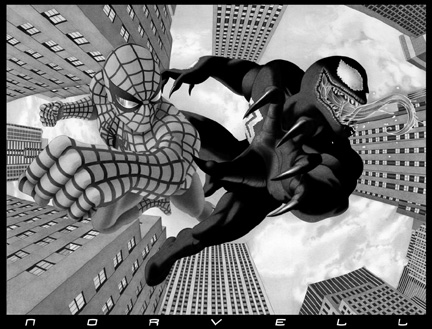 But as he attended conventions and talked with other aspiring professional artists, Milligan learned that "everybody wished there was some sort of [regular] gathering of local creators in Dallas and Fort Worth." Not long afterward, Milligan ditched Stumblebum and created the DFW Sketch Group. The informal group meets monthly at revolving locations and has a regular attendance of about 20 people. They bounce ideas around and try to flesh them out. "There's a bigger comic community than I think even people who are part of it realize," Milligan said. "Obviously, because of that, there's a huge range of styles."
Participants bring works in progress that touch on everything from meticulously rendered realism to cartoon dinosaurs, with influences ranging from the gritty underground to Jack "King" Kirby's idiosyncratic, early-Marvel Comics style. It's not just unknowns who show up. Brian Denham, artist for Iron Man: Hypervelocity; James O'Barr, creator of The Crow; and web comics superstar Scott Kurtz of PVP fame have made appearances, offering criticism and tutorials on topics from art styles to using Adobe Illustrator. At one meeting, Denham said that aspiring artists don't have to live in New York to make it in the comic world. He, for one, simply scans and e-mails his work from his North Texas home.
Though most attendees aren't professionally paid artists, they aren't novices either. And from what I saw at a recent get-together, a lot of them have great potential. I brought my own work and ended up feeling kind of sheepish about it.  "That's what we're about," one artist joked, "making people feel bad." One success story is Dave Norvell, who had never met any other locals interested in comics and illustration until he went to the group's first meeting. The Fort Worthian blew everyone away with his ultra-detailed work, ultimately landing a gig doing a cover for PVP. The incident summed up Milligan's hopes for DFW Sketch Group. "It was cool to see that direct connection from a guy showing up and meeting people — never having met anyone that was interested in the same kind of thing — and actually finding success right from the get-go," he said.
Milligan hopes to find a more consistent meeting place for his group and to develop a sense of community among North Texas artists. He also wants to get attendees sketching at meetings — he likes to walk around and watch others work. Other Sketch Group-ers just want to keep meeting and learning in the hopes of one day making a living off their passion. I know how they feel. Information and a schedule meeting times and places can be found at groups.myspace.com/dfwsketchgroup. -Cole Williams