It's looking like a tough year for toll roads in Texas, and no one could be happier about that than Terri Hall, the San Antonio woman whose group is leading the grassroots fight against the controversial pay-to-drive roads that Gov. Rick Perry and others want to see crisscrossing the state.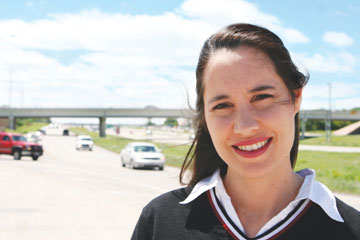 In September, Hall and her group, Texans Uniting for Reform and Freedom (TURF), filed suit in the state district court in Austin against the Texas Department of Transportation, alleging that TxDOT has broken the law by using public funds to lobby legislators for laws favoring toll roads. TURF and Hall also allege that the department's Keep Texas Moving campaign illegally uses taxpayer money for political advocacy. The judge has refused the state's request to toss the suit out, and TURF has now gone beyond the civil case and made a formal request that Austin prosecutors consider criminal charges against agency officials.
It didn't help the state's case when Hall was named San Antonioan of the year by Clear Channel radio station WOAI and "political person" of the year by the well-respected political blog, The Walker Report. "The honor is great, but it really belongs to the people of Texas who are standing up to toll roads," Hall told Fort Worth Weekly. The most serious blow to toll roads, however, may have been the late-December death of Transportation Commission Chairman Ric Williamson, Gov. Perry's point man on the huge Trans-Texas Corridor project and the most vocal toll road promoter in the state.