Carlene Carter's first CD of new material since 1995, Stronger, is an independent woman's coming-to-terms-with-the-world-of-broken-hearts collection of country and occasionally country-rock songs. There is some healing in the music, too, even in the sad ones, sparked by her troubled marriage to actor Joseph Breen in 2006.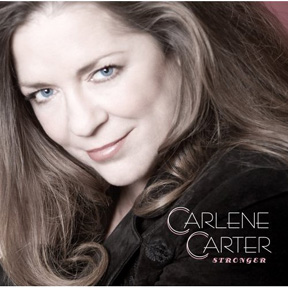 In 2003, Carter lost her long-time partner Howie Epstein, her mother June Carter Cash, her stepfather Johnny Cash, and her younger sister Rosie. The deaths hit the former Nashville "wild child" hard. She released more than a dozen of her own albums from 1978 to 1995, plus, in recent years, several reissues and performances on tribute albums for her mother, Waylon Jennings, and Bob Dylan. Stronger proves she can still write and that her sometimes-throaty, always-seasoned country vocals can still sell a song. Old friend and Doobie Brother John McFee laid down most of the instruments on most of the tracks.
Even though the music is good, it's the lyrics that lure repeat listenings. They are largely what drove Johnny and June Carter Cash to record her songs, as well as Emmylou Harris, Miranda Lambert, former husband Nick Lowe, and many others. On the title song, Carter sings about her emotional state after her little sister's death, the last in that list, claiming she wants "to crawl in that dark hole and curl up beside her / Want to cradle her sweet soul and never let go." The world she inhabits in her songs is one where truth is painful, where cheaters can win and losers, caught in spider lace, always weep, where "true love never dies, it just walks away," but where life, nonetheless, is too short to be spent in tears. There's also a remake of the sassy, tongue-in-cheek 1980 country-rocket "I'm So Cool," about a woman who believes she's the exception to the rule.
Despite the serious words on serious subjects, Stronger has an often upbeat sound that signals recovery in the midst of tragedy.
Stronger
(Yep Roc Records)