While many of us while away the hours worrying if our 401(k)s are diversified enough, people in the African nation of Sierra Leone are still dealing with the after-effects of a mindblowingly horrific civil war that ended in 2002.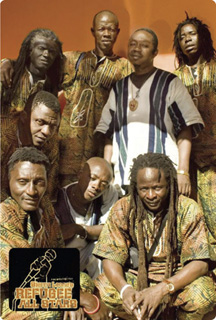 Murder, rape, brutality, and widespread property destruction ruled the land for 10 years, forcing survivors to flee to the Sembakounya Refugee Camp in neighboring Guinea. This is where the nine members of what would become known as Sierra Leone's Refugee All-Stars formed and began to practice their wry, buoyant, insanely danceable blend of roots reggae, acoustic folk, and West African rhythms.
They've been performing in concerts around the world ever since their debut CD, Living Like a Refugee, was released in 2006. Although they've played benefits that dealt with the Darfur genocide and the ravages of AIDS across the African continent, the SLRAS also continue to champion the cause of their homeland. The United Nations has judged Sierra Leone to be the poorest country on the planet: The scourges of hunger and disease must compete for international aid dollars with the need to rebuild and repair schools, hospitals, and housing.
Ticketbuyers who come with philanthropic intentions to a Sierra Leone's Refugee All-Stars show are often hooked by the casual virtuosity with which the male and female musicians deliver anthems for social justice ("Bull to the Weak") and you-done-me-wrong shuffles ("I'm Not a Fool") that could apply to two-timing lovers as well as double-talking politicians. Sierra Leone's Refugee All-Stars' ability to wring joyous musicality out of unspeakable suffering is as close to a miracle as you're likely find on this bitter Earth. – Jimmy Fowler
Sat at the Granada Theater, 3524 Greenville Av, Dallas. $18-25. 214-824-9933.