The FWSO makes an impressive Carnegie Hall debut.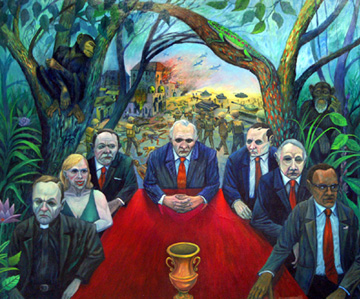 I came to Fort Worth 40 years ago, which seems so far back now that dinosaurs might have been roaming Arlington Heights. Certainly, the Fort Worth Symphony then was in its Paleolithic stage of evolution: a community orchestra of around 50 musicians that met four times a year to play concerts in Will Rogers Auditorium. Supporters had to scamper around for money after every show to pay the players.
The orchestra improved at a leisurely pace until 2000, when hot young Peruvian Miguel Harth-Bedoya took over as music director. An astute orchestra builder as well as an exciting conductor, Harth-Bedoya helped the company blossom – so much so that its debut last week at Carnegie Hall in New York City was arranged to show off the group's new muscle.
What a great idea! But, first, how to get there? Before moving to Fort Worth, I lived in the Big Apple and visited the legendary venue often for special programs. Lincoln Center was just a hole in the ground when I moved away, and the New York Philharmonic was still Carnegie Hall's resident orchestra. I remember with affection an orchestra fund-raiser that featured violinists Isaac Stern and Jack Benny – yes, that Jack Benny – in a performance of the Bach Double Violin Concerto. After clowning around, Benny settled down to some serious playing and surprised everyone with his dexterity.
The man could really play – no kidding. I also heard soprano Joan Sutherland's New York debut in a vocal production of Beatrice di Tenda, a Bellini rarity no one has heard before or since. But the singer came out with an interpolated high E at the end of the quartet that still rings in my head; not the skimpy dog whistle that sopranos usually manage at that altitude but a full-voiced, Wagnerian roar, beautifully modulated, with a velvet edge that she held for what seemed forever. It stopped the show dead, and you've never heard such pandemonium when she finally gave it a rest.
Going north to see the hometown symphony play the big house was as good an excuse as any to make what in recent years has become an arduous journey for me, especially in winter. Sure enough, an ice storm threatened my 10:15 a.m. take-off. At 4:30 a.m., American Airlines special assistance called – I travel in luxurious wheelchair from curb to plane now – to say that the flight had been canceled. The agent offered me a choice of two later departures. I made a selection and turned out the light. An hour later, the travel agency called to give me the same news. I turned out the light – again. So much for sleep.
At Dallas/Fort Worth International Airport later that day, flights were still being canceled, but the storm had fizzled, and my trip turned out just fine: a full plane and an early arrival at LaGuardia Airport, and with baggage intact. So much for horror stories. I had made reservations at the faithful Wellington Hotel, a comfortable pile from days gone by. My window looked down on the roof of Carnegie Hall and beyond to a patch of Central Park, its foliage dressed in seasonal brown. Arriving early to the hall, I watched with surprise as the spacious 2,800-seat auditorium filled to near capacity. Visiting regional orchestras typically do not draw well here, and while 500 seats had been sold in Fort Worth, something must have piqued local interest. Could word have got out about Harth-Bedoya, who studied at Juilliard and led a New York youth orchestra? Or did the premiere of a new piece by current hotshot composer Osvaldo Golijov get people in the seats? In any case, the curious who showed up in droves were treated to a first-class performance. The program included the Brahms Double Concerto for Violin and Cello, Golijov's Mariel for Cello and Orchestra, and the Tchaikovsky Fifth Symphony.
Some concertgoers were confused, to be sure, by FWSO's opening with "The Star-Spangled Banner." People grunted and sighed as they struggled to their feet for the unexpected anthem. A woman behind me asked her companion, "What's this all about?" Without missing a beat, he replied, "Oh, they're just showing their appreciation for playing Carnegie Hall." I turned around and told them that it was the FWSO's custom, and they stared at me blankly. The Brahms Concerto is a lumbering piece that defies most efforts to make it work. It brings to mind a comment made by one of the composer's contemporaries: "The sun rarely shines in Brahms' orchestrations." But the solo writing is exceptional, and the two guest performers – young cellist Alban Gerhardt and violinist Augustin Hadelich, both German born – gave a supercharged performance that earned a standing ovation and several bows.
Gerhardt returned as the soloist in the Mariel for Cello and Orchestra, a tribute named after a friend of the composer's who was killed in an auto accident. In Golijov's engaging, quasi-minimalist piece with heart, a gentle, pulsating bass figure supports a mournful lyric line that repeats again and again in different guises. Employing marimba, chimes, and harp for extra color, the inventive orchestration helps the music avoid the repetitiveness that is a common drawback in minimalism. The 14-minute work definitely doesn't overstay its welcome. (The piece started life as a duet for marimba and cello, and a commission from Sid and Mercedes Bass allowed the piece to be expanded to full orchestra for the New York premiere.)
The buzz at intermission was all about Gerhardt: his beautiful phrasings, his wonderful tone. I overheard one man say, "This is the first new piece I've heard in a long time that I'd like to hear again."
The second half was all FWSO. Tchaikovsky himself had conducted one of his short pieces at Carnegie Hall's opening in 1891, so his Fifth Symphony seemed a logical choice for Harth-Bedoya and the FWSO. At times heroic and melancholy, exuberant and introspective, the composer's huge musical canvas runs a marathon of expression. The hall's legendary acoustics picked up Harth-Bedoya's attention to detail as he traveled its myriad moods, finding shadings and nuances not always heard during his build to the thundering finale. Special kudos to principal horn player Mark Houghton for his soulful account of the extended solo that opens the second movement.
FWSO's performance was music-making at its best, in New York or anywhere else, and its hundreds of attendees erupted into another standing ovation after the last note had been struck.
Who would have thought that the scrappy little band that called Will Rogers home all those years ago would one day play like a world-class orchestra in the country's premier hall?
– Leonard Eureka
Visual Art Notes
Closing with an opening: On Tue., Feb. 19, UNT Artspace FW hosts Faculty Highlights, a group show that marks the beginning of the end of the intimate gallery on the ground floor of the UNT Health Science Center in the Cultural District – the space will soon be converted into a classroom. The timing of the opening corresponds to the College Art Association's annual conference, taking place in Dallas this year from Feb. 20 to the 23rd. As part of the conference, nearby Cultural District museums will open their doors to the public. Faculty Highlights, which features work created over the past 18 months by profs of the College of Visual Arts and Design at the University at North Texas, will celebrate its bittersweet opening from 5 to 7 p.m. at 3400 Camp Bowie Blvd. The exhibit will hang until March 1. For more info, call 817-735-0205.
… On Fri. at the Fort Worth Community Arts Center, local painter (and playwright) Grayson Harper will chat about his work and, certainly, life in general, beginning at 6:30 p.m. in Focus Gallery Two, where some of his pieces will hang until Feb. 23. Harper is a staunchly political artist though occasionally in the sense that his politics are derived from everyday life rather than pedantry. His candid, almost surreal group portraits of street life – vagrants, yuppies, kids, blight, and all – rely heavily on the viewer to activate their latent, politically charged energies. His other material is decidedly less subtle. The show includes his portrait of a U.S. soldier in a coffin and a group portrait of several severe-looking men in business suits, a well-coiffed businesswoman with a delirious smile on her face, and a priest, all sitting at a mahogany conference table, backdropped by gloomy trees and warring soldiers and looking out at the viewer. The discussion has been organized by Heliotrope, an art and crafts gallery in Bluebonnet Circle near Texas Christian University. Visit www.fwcac.com.
– Anthony Mariani
Contact Kultur at kultur@fwweekly.com.