When a former Tarleton State University financial officer was indicted for allegedly stealing from that university, it must have come as a rude shock to her new employer in Fort Worth.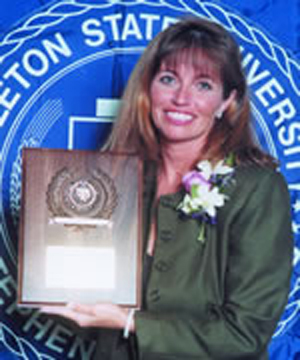 Andrea "Andi" Trinque McCord had graduated from Tarleton and then worked at the Stephenville university for almost 19 years, advancing eventually to the post of director of development, working to woo prospective donors to support the college. In November 2006, according to Tarleton documents, McCord resigned – a decision her superiors accepted "with regret." Seven months later, in June 2007, Texas Wesleyan University in Fort Worth hired McCord for the post of major gifts officer.
The new job didn't last long, however. By September of last year, McCord had been indicted in Erath County on a charge of theft by a public servant, of between $1,500 and $20,000. A few days after news of her indictment broke, she was out the door at Wesleyan, according to an official at that university. McCord entered a not-guilty plea in October. She couldn't be reached by phone for this story, nor did she respond to a written request for comment.
Her attorney, Harold Johnson of Fort Worth, said, "We believe she is unjustly accused and are hoping to gather more information to prove that she didn't do it." Beyond that, he said, it would be "premature for us to comment." McCord's resignation came three months before Tarleton officials received an audit report accusing her of financial misdeeds. "I sincerely appreciate the opportunity to work at Tarleton for the past 20 years," the resignation letter said, in part. The next day, Tarleton President Dennis McCabe added a hand-written note to the bottom of the letter. "Ms. Andi, I accept your resignation with regrets. Your leadership and Tarleton record are appreciated."
The Erath County indictment was based on a February 2007 audit done by the Texas A&M University System, of which Tarleton is a part, and on further investigation by the Texas Rangers. The audit, obtained by Tarleton journalism students under Texas' open records act, concluded that McCord requested and received reimbursement for more than $7,800 in falsified travel expenses, charged the college for more than $5,900 in purchases of a personal nature made during holidays or while she was on leave, and could not provide detailed receipts for another $20,000 in purchases charged to a Tarleton foundation credit card.
Erath District Attorney John Terrill, in an e-mail response to questions, said only that he couldn't comment on the specifics of the case and that the allegation made in the indictment "is what we expect to prove during the trial." The news of McCord's indictment sent ripples of disbelief through the Stephenville educational community where the former development officer had spent most of her collegiate and professional life. "I never would have believed it," said one co-worker, who asked not to be identified. "She [McCord] was just always such a straight arrow. It was very out of character for her."
McCord's personnel file at Tarleton paints a picture of a model employee. In a February 2002 review, her supervisor gave McCord the maximum rating (five out of five possible points) in all 15 evaluation categories. "Andi has been a tremendous asset and leader … . Excellent!" wrote Koy Floyd, Tarleton's vice president for institutional advancement. As a student at Tarleton, McCord held leadership posts related to the sororities and fraternities on campus. After graduating in 1985, she went to work for a savings-and-loan company, but came back to work at the college just two years later, as a financial aid counselor. She worked in Tarleton's development department for 16 years. According to its web site, the department is responsible for "identifying, cultivating, and educating prospective donors and working with them to develop current and future gifts."
University administrators who worked closely with McCord declined to comment on the allegations against her or her service to Tarleton. McCabe, the university president, wouldn't comment on the indictment but said he is confident that donations made to Tarleton are safe. "Tarleton has well-defined processes and procedures in place for monitoring expenditures," he said. The accusations against McCord appear to roughly coincide with the collapse of her marriage. According to her divorce case, filed in Erath County district court, McCord separated from her husband in 2003, the same year the indictment claims the thefts began, and filed for divorce in 2006.
Wesleyan officials at first declined to respond to any questions about McCord's employment there or about what responsibilities she had for handling funds. This week, Steve Roberts, Wesleyan's associate vice president for administrative services and human resources, confirmed that McCord had worked at the Fort Worth university from June to late September of 2007. Her name was purged from the Wesleyan web site within a few days of the first story on her indictment.
Tarleton journalism students, including the reporters on this story, obtained the A&M System audit report, McCord's personnel file, and other documents as part of the Light of Day Project of the Freedom of Information Foundation of Texas, which helps student journalists use sunshine laws to obtain public records. l
Editor's note: Alex Holloway, Marsha Hutchison, and Whitney White-Ashley helped report this story.