The program for Fort Worth Theatre's current revival of The Trip to Bountiful mentions at least three times that the city's 53-year-old stage institution is "a community theater."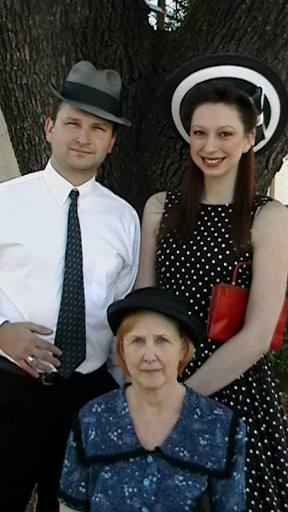 The repetition comes across as an apology, almost a warning. And while it's true that the company's new production of Horton Foote's drama about an elderly woman on an emotional odyssey to her birthplace is cast with actors of "varying experience levels," they needn't be embarrassed by director Scott Hardgrove's lively, sometimes wrenching interpretation.
Bountiful is early Foote. Written in 1953 to be performed as a live television play, it presaged the Oscars he won for screenwriting To Kill a Mockingbird and Tender Mercies and his Pulitzer for The Young Man From Atlanta. Most people fix Bountiful later in his career, though, since the late great Geraldine Page finally snagged an Academy Award for the 1985 movie version. And it feels like the product of an older, wiser theatrical muse: utterly unsentimental and at times uncomfortably honest, but refusing to dip into the kind of grand theatrical despair to which the material might have lent itself in more morbid hands.
Viewed from the multi-tasking, restless, panic-disorder-prone world of 2008, Bountiful is most remarkable for its obsessive theme: the anxiety that comes from an inability to roll with life's changes and losses. All three main characters are like jittery cats ready to spring from their cages. Jessie Mae (Emily Hardy) had been stuck babysitting her mother-in-law, Carrie Watts (Judy Keith), who, in early Alzheimer's fashion, slipped away to the bus station in an attempt to return to Bountiful, a farm region near the Gulf Coast where she was born, raised, married, and became a mother. Ludie (Robert Malone), Jessie Mae's husband and Carrie's sad-sack son, has just recovered from an undisclosed two-year illness and is wracked with worry over whether he'll keep his new job, which pays barely enough to support the three of them.
Maybe things weren't as simple as we'd like to think they were, in the time period of the play's setting, Houston in 1953. "People do seem to worry more now," sighs Carrie after escaping from the two-bedroom apartment she shares with Ludie and Jessie Mae. Even Carrie's young, pretty bus companion (Marla Jo Kelly) bursts into tears out of stress. Her husband of one year has been shipped off to the Korean War, and she's returning to live with her parents after a very brief stint as a wife and an adult. No one in this show is immune from the toll of uncertainty.
What sounds like kitchen-sink boilerplate is anything but, especially in Fort Worth Theatre's production. The subdued, sympathetic cast cuts right to the discomfiting heart of the material: the emotional tumult of adult children caring for aging parents, the loss of loved ones and finally even a clear memory of those loved ones, and the sensation that life is becoming a steeper and more disorienting climb as time passes. Believe it or not, though, Bountiful emerges not as a requiem but as a paean, an exhortation to keep picking yourself up and rejoining the dance for as long as you've got two legs to stand on. The Fort Worth Theatre cast was not afraid to display the more unflattering aspects of these characters, yet these are not harsh portraits. As the mini-tyrant daughter-in-law Jessie Mae, Hardy has only one ambition: simply to attend a picture-show a couple of times a week. Malone as Ludie may appear to lack a spine, but he just wants to keep everyone happy and get a pay raise to improve the lives of his wife and mother. Hardy and Malone are both poignant as they cling to their modest goals.
As matriarch Carrie, Keith is splendid. Occasionally manipulative, passive-aggressive (she loves to get on Jessie Mae's nerves by quietly humming church hymns), and even callous (she seems to have little regard for the wringer she regularly puts her timid son through), she is the flawed spirit that really invigorates this potentially funereal enterprise. Her utter disregard for the grief she causes is justifiable in Keith's steely but un-malicious performance. Carrie has spent a lifetime sacrificing for others, and before she dies she wants to breathe "that salty Gulf air" one more time, so let the grown-up kids pick up the slack for a while. The Trip to Bountiful is not roof-rattling theater, or even Horton Foote's best piece, but it is still something very impressive: In watching these characters tentatively find their own footing again and again, it may make the earth seem a little firmer under your feet. – Jimmy Fowler
The Trip to Bountiful
Thu-Sat thru Mar 22 at the Fort Worth Community Arts Center, 1300 Gendy St, FW. $10-12. 817-921-5300.