When this story went to press, Steve Steen was still alive. But with a heart that's functioning at roughly 10 percent of normal capacity, he's barely hanging onto life these days.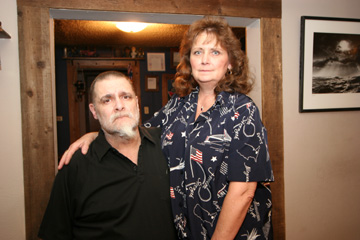 Steen and several doctors blame his condition on his having been blasted with a Taser for nearly a full, continuous minute by a Fort Worth police officer two years ago. "It was my fault," said Steen. "I'm a criminal. I had drugs. But I shouldn't have had to endure torture like that." Steen, now 55, was a methamphetamine user, a problem he lived with, off and on, for 30 years. During 20 of those years he worked as a mechanic at Fort Worth's Reynolds Auto Service. When the shop was sold after the death of its owner in 1990, he opened his own shop on 28th Street. When that closed four years later, he went to work in construction, most recently as a trim carpenter.
His recurring drug problems led to two convictions over the years – one in 1991 for possession with intent to deliver a controlled substance and an associated felony conviction for possession. In the possession case, the conviction was dismissed under Texas' deferred adjudication law, after he completed four years' probation. In the intent-to-deliver case, he pleaded guilty and avoided jail time. But in the wee hours of June 24, 2005, his drug habit got him into the worst trouble of his life. Returning to his home in the Riverside area after a drug buy, he'd just turned onto Chenault Street when a police car's lights appeared in his mirror. Steen stopped his car, but, thinking he was being pulled over for the meth he'd just purchased, he panicked and tried to eat the little baggie. "When the officer came up he ordered me out of the car," Steen recalled. "Then he ordered me to spit out what I had in my mouth. I didn't do it because I was scared. I didn't want to get caught with drugs."
According to the report filed by Fort Worth Police Officer Jose Palomares, Steen was not stopped for drugs, but for failing to signal his turn in time. Palomares wrote that he noticed Steen chewing on a baggie that had white powder in it that he "believed to be methamphetamine" and asked him to step from his car and open his mouth. He told Steen he was under arrest for possession of a controlled substance. Palomares' report said that Steen then pushed him and his partner, Officer Thomas Loffland.
Loffland, a large man, put Steen on the ground, but he continued to resist being handcuffed and wrestled with the officers, Palomares wrote. Palomares then unholstered his department-issued Taser and placed the weapon on Steen's back. The first jolt from the 50,000-volt weapon lasted 10 seconds. Steen said he remembered his body locking up so that he couldn't have spit out the baggie if he'd wanted to. Less than a minute later Palomares reported, he shocked him again for another 14 seconds, this time with the Taser on the back of Steen's neck. And then, moments later, he jolted him again for 5 seconds. Steen says the baggie came out sometime during the third jolt.
Palomares' report notes that he used the Taser a total of four or five times. But in fact, a download of the discharge record automatically made by his Taser – and obtained by Fort Worth Weekly under the state's open records law – shows that Steen was shocked 10 times. The record also shows that, beginning with the second jolt, Steen was being shocked for 55 of the next 66 seconds. In all he was tasered for 65 seconds in just over two minutes. "I don't know why he kept shooting me after I managed to get that baggie out," Steen said recently. "He might have thought I was resisting, but I was just flopping around on the ground, having all that electricity go through me."
At least five people died after being tasered multiple times by Fort Worth police between 2005 and 2007, prompting the department to change its rules regarding Taser use. The weapon now is supposed to be used only when suspects offer "active resistance," although the definition of active resistance is pretty broad. In Steen's case, police called paramedics, who reported that Steen's chief physical problem was trauma caused by "electrocution." According to MedStar paramedic Chris Briggs' report, Steen was suffering from chest, scalp, back, and lung injuries and was "unable to sit, stand, or walk: secondary to Taser." He had to be lifted onto the stretcher to be placed in the ambulance.
Despite that assessment, when Steen was received at John Peter Smith hospital, he was treated only for abrasions of his left elbow and forehead, described in the JPS report as "minor." He was held several hours, then released to police custody. He spent a day in jail before he made bail. After that, "he was different," said Deborah Cain, who's lived with Steen for nearly eight years. "For a while when he came home he tried to act normal, but he wasn't the same man. I mean, he was carrying doors up and down stairs before this happened, and then he just began deteriorating to the point where he could hardly walk."
Doctors eventually determined that Steen had had a massive coronary that night. The heart attack and subsequent lack of treatment have left him with only 10 percent heart function – not enough to keep his lungs working properly, so that he has to be on oxygen for a large part of each day. In a letter to Steen's lawyer, Dr. A. J. Morris described Steen as a "cardiac cripple" due to "the obvious assault and multiple tasering during his arrest," which "resulted in an acute myocardial infarction." "This man was healthy and working before this happened," Morris told the Weekly, "and now he's got 10 percent heart function. It's amazing he's still alive. Now I can't prove medically that the Taser did it, but it's … not a difficult deduction. And then he was basically not treated at JPS when he was brought in having been electrocuted. They just wanted him out of there."
Steen was charged with felony possession of methamphetamines. Last November, in an agreement with prosecutors, he pleaded guilty and was sentenced to time already served – that is, his one day in jail. Steen's attorney Danny Burns said they had been ready to go to trial on the drug charge, when prosecutors acknowledged that Palomares had previously gotten in trouble for "writing misleading police reports." Shortly after that, Burns said, prosecutors offered the plea, "and Steve Steen thought it better to take the time served." A police spokesman said Palomares is still with the department but – remarkable, considering his past problems with misleading reports – is now working as a crime scene officer.
Steen is not doing well. On a recent visit to the well-kept, modest home he shares with Cain, he appeared shorter than his police-listed height of 6 feet, 1 inch, and certainly lighter than the 190 pounds he weighed at his arrest. He moves slowly, his eyes nearly closed. His hands are still thick, though, the sign of a working man. "I wish I could still work," he said. "I hate just sitting around the house, not being able to do anything." According to Cain, he has his good days and his bad days. "His good days, he gets up and dressed and can go to the yard. His bad days, he stays on oxygen nearly all the time," she said. Steen "is a walking dead man," Morris said. "He might outlive me, of course, but I wouldn't bet on it."