For almost six years, Café Chadra near John Peter Smith Hospital offered lunch crowds and evening diners a split-down-the-middle menu of Italian standards (lasagna, stromboli, pasta, ravioli) and Middle Eastern specialties that are popular in the owners' hometown, the Northern Lebanese village of Chadra (kabobs, kibbeh pies, shawarma, baba ghannouj).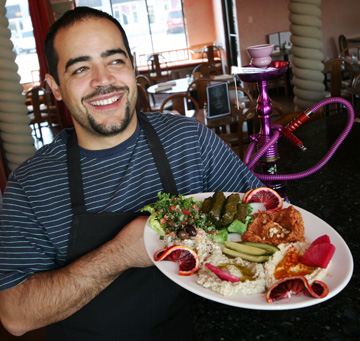 The subs and pizza made for fast, convenient breaks for the hospital folks, while the Lebanese dishes were savored by immigrants and aficionados from all over the city. Last January, Café Chadra reopened a little farther south, at 8th Street and Park Place, in a larger space. The restaurant, now with tall potted plants, velvet curtains, and curvy columns, goes by the name "Chadra Mezza and Grill." The word "mezza" is Italian for "halfway" or "moderately toned," so the new title has made it official: The place is a little bit Lebanese and a little bit Italian, but still full of flavor.
A guest and I opted for the Lebanese side on a recent visit, starting with an appetizer order of manakish, a six-inch flatbread pizza baked with a thick sprinkling of herbs and spices and a brush of olive oil. Sounds delish, but what arrived was a brittle pastry with a crispy, puffed top that had been slightly burned around the edges and bore no hint of moisture. Though staunchly authentic, it was simply too dry and crumbly for these buds. But heeding the menu's advice, we had ordered the app with the feta salad, and suddenly everything made sense. The manakish is to be broken into tiny, crunchy plates to hold bites of salad. A dense, tangy mixture of large feta squares, tomato chunks, onion, cucumber, and bell pepper, the salad was fragrantly spiced and covered in a parsley-spiked oil-and-vinegar dressing.
Muhammara is a traditional dip that appears on most Lebanese menus. I'd never tried it before, but if a third of them are as tasty as Chadra's, I'll never commit that crime again. Bearing a slight orange-red resemblance to freshly prepared pumpkin-pie filling, Chadra's muhammara was a terrific pulpy blend of red bell peppers and walnuts, with a smooth nuttiness and a hint of cloves.
The two entrées also proved to be first-rate and quite a bit less filling than you'd expect. Both meals used ultra-lean sirloin so finely ground, it almost resembled a grain. Spices like cumin and cloves also were included, along with little translucent squares of cooked onion. In the ablama, the beef was stuffed into a halved, medium-sized yellow squash and baked with a sweetish red tomato sauce that contained large, luscious tomato shreds. The squash was tender and juicy enough to make up for whatever the firm ground sirloin lacked in grease.
The shaik al meshse featured the same beef and that Lebanese variation on marinara sauce but with long slices of silky, dark-purplish, skin-on eggplant. The veggie pieces didn't surrender their shiny hot peel on first chew. However, mixed with fluffy, short-grain, saffron-tinged rice, the eggplant helped make the dish one to savor. Chadra may have moved south a little and switched from a "café" to a "grill," but the restaurant's Mediterranean temptations haven't stopped beckoning adventurous palates.
Chadra Mezza and Grill
Ablama $9.25
Manakish $5.50
Muhammara $6.25
Shaik al meshse $9.25