Sitting along the north side of I-20 in Arlington at Matlock Street, Arlington Highlands has been quaintly described as a "shopping center," which is a considerable understatement.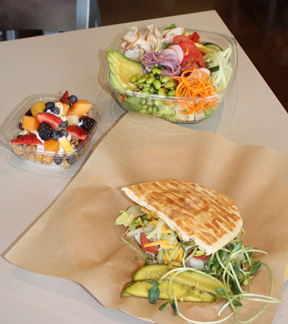 A constellation of upscale restaurants, electronics outlets, bookstores, and music, clothing, and furniture retailers make up the Highlands compound. For better or worse, it's a teeming retail metropolis, with its own street signs, honking and halting traffic, and a South Arlington clientele that has long desired its own mecca for the not-so-thrifty shopper.
You practically need a map to find the small chain establishment known as Veria Natural Café and Wellness Center. Like most Veria sites, the Arlington location is split in half. Inside the Wellness Center, the health and beauty counter sells creams, oils, scrubs, herbal supplements, soaps, and sundry eco-chic body treatments.
The other half of Veria is the Natural Café, where fast food-style sandwiches, rolls, salads, and fruit and yogurt drinks are served. But here "fast food" refers to the speed and efficiency with which the fare is served up, not the salt and fat content of the grub. (There's practically none in any Veria offering.) Instead, the bowls and 'wiches at Veria concentrate on light, healthful ingredients such tofu, soy and turkey bacon, lean chicken and turkey, and fruit and vegetable chutneys. There's even a "sprout du jour" for fanatical herbivores.
The young woman who took our order was very helpful in guiding us through the more than 30 possible ingredients to assemble the best flavor combinations imaginable. First off, we created a whole-wheat naan sandwich, with thinly sliced oven roasted chicken, cilantro chutney, and turkey bacon. The bacon was utterly greaseless and crispy and the chutney aromatic and mouth-watering, but the naan bread proved a bit too chewy.
Much better was the oat roll with spiced hummus, tomato chutney, and chunks of slick herb-roasted mushrooms. The flat oat bread was as tender as a fresh flour tortilla, and the sweetness of the chutney mixed well with the prickly hummus spread.
Our two salad bowls offered delights as well as disappointments. Both bowls came with ultra-fresh green lettuce and thin cucumber and tomato slices. The chilled rice noodle bowl with edamame, roasted red pepper spread, and avocado didn't offer a whole lot of flavor – the pepper spread seemed to be MIA. Much better was the basmati brown rice bowl, with little miso ginger tofu cubes, spiced chick peas, and a very light dressing of lemon, roasted garlic, and herbs. The coolness of the ginger counterbalanced the zing of the citrus marvelously, with a slight, pleasant garlic after-kick.
Veria Natural Café is a must-visit for veggie-heads, especially ones on the go, but here's an important tip: Don't wolf it down. Many of us are accustomed to rushing through our lunches, and the myriad flavors here are distinctive yet humble. A too-quick trip across the buds may render the whole meal a moot point.
Basmati brown rice pilaf bowl $5.50
Whole-wheat naan w/oven-roasted chicken $5.50
Rice-noodle bowl w/edamame salad $5.50
Veria Natural Cafe
4001 Arlington Highlands Blvd, Arlington. 817-557-1796.
7:30am-8pm Mon-Sat, noon-6pm Sun.
All major credit cards accepted.