Last week may have been the Denton Arts & Jazz Fest, but this week UNT is offering even more interesting events for our readers up north or for downtowners who might want to head over there.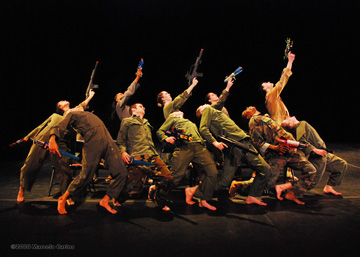 To begin with, the UNT Fashion Show showcases sartorial projects by seniors in the Design Department. If you're more interested in performing arts, you might want to check out the Dance Department's performance of Shelley Cushman's piece En I Me, a work for 12 dancers. This Saturday afternoon concert will raise money for the dancers' trip to New York, where they've been invited to perform the same piece at the National Dance Festival. You can help them get there.
Then there's a fascinating lineup of documentary short films being shown on Friday evening, made by student filmmakers from all over the world. The subjects range from male breast cancer (A Tale for Shmuli by Argentina's Omar Milano) to a young piano prodigy (Changing Keys by Mexico's Libia Lazcano) to a bunch of guys who play ultimate Frisbee (The Ultimate Spirit by the United States' Sean Greenthaner). The other filmmakers also helped Indian Sikh filmmaker Arvind Daman Singh finish her film, Finding Juan Carlos, after heart surgery saved her life but prevented her from working further on her project about an abandoned 11-year-old boy. Singh's film will be shown here as well.
The documentary shorts will be shown at 7pm Fri in Rm 184, Radio Television and Performing Arts Bldg, Welch & Chestnut sts, Denton. Admission is free. Call 940-565-2551.
En I Me is at 2:30pm Sat at Radio Television and Performing Arts Bldg. Tickets are $5-10. Call 940-369-7546.
The UNT Fashion Show is at 8pm Sat at University Union, west of Welch & W Prairie sts, Denton. Tickets are $10-25. Call 940-565-3805.