Back in the 1990s, No Frills Grill & Sports Bar was a tiny, smoky bar in the southwest Arlington shopping center anchored by an AMC Loews movie theater.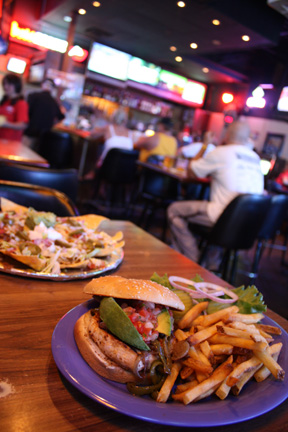 The theater is long gone, and a half-dozen restaurants nearby have opened and closed. But over the past two decades, No Frills has quadrupled in size and expanded into a full-fledged, family-friendly restaurant. I hadn't visited for years and didn't remember much in the way of good eats, so I was pleasantly surprised when I walked into the cavernous dining space and saw the depth of the menu.
There are the basic staples – burgers, sandwiches, soups, and salads – plus po-boy sandwiches, tilapia and mahi mahi served grilled or blackened, and a giant chicken-fried steak dinner. Most entrées with sides are under $10. Burgers and hot dogs are served a la carte, but even with fries or tots, the meal will cost less than what you'd likely pay at any fast-food chain.
Faced with such a dizzying variety of options, my guests and I started with the appetizer sampler: your choice of three of a dozen starters. The hot wings had an ample amount of the freshly made, tangy sauce – spicy but not overpowering. The fried green beans, ordered on a whim, were surprisingly tasty and delicately breaded. Triangle-shaped Jack Bits were a twist on the traditional fried cheese: melty pepper jack coated in the same batter as the greens.
The entrées we tried were mostly above-average. The decent 1/3-pound cheeseburger came with some unremarkable fries, but the tater tots added to the hot dog dinner were a crispy, delicious treat. Disappointingly, the all-beef dog was boiled, not grilled. However, at a half-pound, it was lean, tasty, and bigger than the average burger. No Frills' club sandwich was basic but served with three slabs of buttery Texas Toast instead of plain old sliced bread. The beer-battered onion rings, while not as light and fluffy as I'd hoped, were seasoned well and not greasy.
The crawfish nachos, like the fried green beans, sounded too unusual to pass up. The combo of mudbugs and cheesy chips, served on a flying-saucer-sized plate, was surprisingly good. The peppery crawfish were perfectly cooked, and just the tiniest squeeze of lemon made the little morsels come alive. The nachos (which also can be ordered with beans, chicken, or beef) were accompanied by a mild, fresh-tasting salsa and an ample helping of pickled jalapeños. Skip the guacamole, an add-on that's not freshly made.
There are only two desserts on the menu: cheesecake and "Apple Dreams," three small powdered-sugar-covered fried apple pies. The cheesecake was fantastically creamy and dense with a subtle hint of lemon zest. We chose the chocolate topping (Hershey's syrup) – raspberry and caramel are also available. The tasty, not-too-sweet apple pies were good but might have been improved by a side of some 'nilla ice cream.
No Frills is an apt title. You seat yourself, the "napkins" are rolls of paper towels, and dinner comes in a plastic basket. Don't sit near the kitchen unless you want to hear a lot of racket. The noise prompted my daughter to comment, "It's like Hell's Kitchen" (seemingly the only program not showing on one of the restaurant's large-screen TVs).
The array of wall-mounted televisions, all tuned to different sports channels, should keep your favorite jocko happy or, at least, catatonic. A game room includes pinball, air hockey, and a pool table, and you can turn a child loose with some change and remotely supervise through the window while you enjoy more fried green beans. Reasonably priced pitchers of beer come with complimentary baggies of ice, in case you're one of those sippers. The place was half-full on the Wednesday evening we visited, but apparently it's packed on nights when there's a big game and on weekends.
Our cheerful server, probably a toddler when the place opened back in the early 1990s, directed my attention to the 18-and-over bar, at the back of the restaurant. There you'll find more pool tables and just about any mixed drink imaginable. The "smoking section," a.k.a. the back patio, is positioned so that incoming customers don't have to walk through the smoke to get to the restaurant.
Like many of us, No Frills Grill has grown up but has managed to keep its party side. There's something here for any taste bud, and the average family could dine affordably and happily for weeks without eating the same thing twice. Come to think of it, maybe that'd be a good "no-frills" use of that federal stimulus check.
No Frills Grill and Sports Bar
Three-appetizer sampler $6.99
Half-pound all-beef hot dog $2.99
Sides (tater tots, fries, onion rings) $1.39
Club sandwich $5.00
Crawfish nachos $7.99
Apple Dreams $3.29