I'm not a big fan of Tex-Mex the way it's commonly prepared in the chains or in the more high-traffic ma-and-pa restaurants here.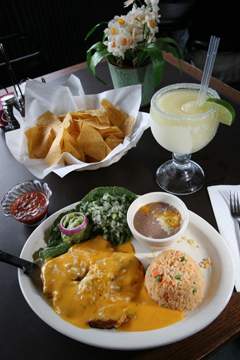 Which doesn't mean I don't love the stuff, just that I'd rather cook it myself at home or be invited to someone else's house for a real meal rather than grab the first quick enchilada that comes along. That said, every now and then I do get a hankering to splurge a little and let someone who makes a living cooking for other people cook for me while I sit back and enjoy a cold beer or Jack on the rocks. And so on a recent, dreamy Sunday afternoon I found myself at Jorge's Mexican Restaurant, splurging away. The pink-and-orange stucco exterior had caught my eye – what the heck.
The Jorge's on Santa Fe Drive in Weatherford is owned by the husband-and-wife team of Jorge and Dulce Pinto, who also own anther Jorge's, in Aledo. The Weatherford establishment has been around for a little more than four years and is a nice, hospitable two-room affair. The first room, with orange walls decorated in subtle Mexican kitsch, is the primary dining area, with booths lining two walls and, in the middle, comfortably spaced four-tops. The second room, where smoking is permitted, is done in subtler colors, and it has the same banquettes and widely spaced tables. Right outside is a large, semi-enclosed patio that seats nearly 50.
The meal came out swinging. Right off the bat, our table was graced with a smooth cilantro-laced red salsa that had a smoky backbeat: enough bite to keep your mouth interested but not so much that it cost you your tastebuds for the remainder of the meal. The accompanying guacamole, though fresh, lacked any uniqueness. Just a little pizzazz – say, a non-traditional ingredient or spice – could have elevated Jorge's simple concoction of mashed avocado with bits of tomato and cilantro and a hint of onion and lime from serviceable to superior.
Oddly enough, a simple approach worked for the spinach quesadilla – leafy, fresh greenery ensconced in velvety melted cheese – and also in the camarones Acapulco, a house special of a half-dozen large, char-grilled, bacon-wrapped shrimp stuffed with not-too-hot, fresh jalapeño. Served in a diced salad (lettuce, tomato, and cilantro) over generously seasoned Mexican rice, the entrée was supposed to come with a chipotle sauce but didn't, though the dish really didn't need any help, as it was savory enough on its own.
Also excellent was the carne asada, grilled flank steak cut thin but still moist, served with that same rice, zesty pico de gallo, guacamole, and a solid (but not great) bean soup. Surprisingly, the treat of the night came in the humble tacos de carnitos: savory pork chunks wrapped in soft corn tortillas and accompanied by sliced avocado and seasoned with that pico. The rich and plentiful dish was served with a tasty though smallish side of beans and rice. If I had my druthers, Jorge's would add some more flavors to its spice rack. But based on the huge Sunday crowd – several families and a large post-graduation party -the relatively conservative approach seems to be working just fine.
Jorge's Mexican Restaurant:
Carne asada ….. ………….$11.75
Camarones Acapulco …..$13.75
Tacos de carnitas…………$10.25