The local theater troupes have staged innumerable revivals of Lerner and Loewe's Camelot, but this week we finally get a look at Monty Python's Spamalot, the stage version of the 1974 classic film Monty Python and the Holy Grail, as well as the first Broadway musical in recent memory that large numbers of straight guys have been eager to see.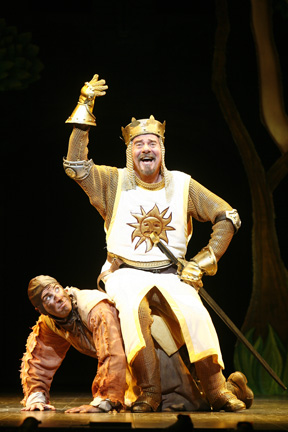 Fans of the movie will find a lot of familiar stuff: the Black Knight, the anarcho-syndicalist peasants, the Knights Who Say Ni!, Tim the Enchanter, the rude French soldiers, the songs about the Knights of the Round Table and Sir Robin, and the lethal rabbit guardian of Caerbannog. (Sadly, there was no room for the Legendary Black Beast of Aaaarrrrggghhhh, which is so unfair, especially since the show was able to feature the aptly named Sir Not Appearing in This Show.)
However, this is no mere copy of the movie. Eric Idle and John du Prez' production also includes references to Python sketches, the tune "Always Look on the Bright Side of Life" from Life of Brian, and several new numbers that parody the conventions of Broadway shows (most notably the obligatory soaring ballad "The Song That Goes Like This"). Plus, the show has a stronger female presence than the movie, courtesy of the Lady of the Lake and Her Laker Girls.
Monty Python's Spamalot runs thru Jun 29 at Bass Performance Hall, 555 Commerce St, FW. Tickets are $35-90. Call 817-335-9000.