"This baby better like track, after all this," a very pregnant Keisha Davis says as she walks across the grassy infield at Clarke Stadium in south Fort Worth.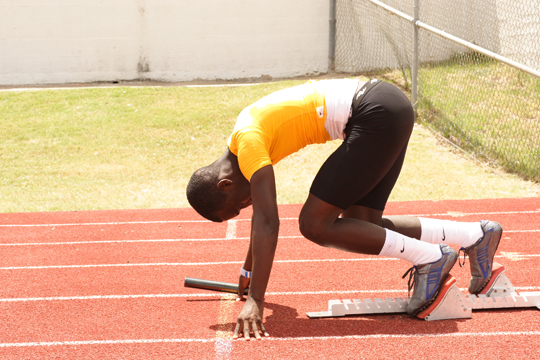 She pauses a moment, then turns to the exhausted runners who have maybe 30 seconds until their next 200-meter run. "You got a few extra seconds to rest this time – these last two should be good." It's after eight on a warm evening in late June, and the 12- to 18-year-old members of Hallmark Track Club are finishing their practice by running a set of three 200-meter sprints with an all-too-brief three minutes of rest in between. After an hour of warm-up, this is the real workout. Don't be fooled: Even while "resting," runners are not allowed to sit down. (A few heavily panting runners break this rule for a second, but Hallmark founder and coach Newton Braziel, 58, chimes in with Davis, reprimanding the offenders. "Just walk it out," he says, and walking has never looked so painful.)
After the first sprint, a few runners had staggered toward the orange water jug on a nearby bench. The second sprint takes more out of them, and some of the runners break the cardinal rule when they plop down on the bench for all of five seconds before Braziel orders them to keep moving: "Tough it out – be disciplined. Do whatever it takes to be done. The more you walk, the better you feel." By the third set, I'm starting to feel a little guilty. The runners clearly want to collapse, but Braziel and Davis, a father-daughter coaching team, urge them to walk the infield to cool down. The practice is intense, and the pressure's not letting up as the track club sprints into its full-blown summer season.
One of nine track clubs in Fort Worth, Hallmark boasts 130 runners, the largest membership of any such group in the Metroplex. In fact, Hallmark's roster is almost three times that of its closest competitor, and most clubs average only 25 to 40 runners.  The club, now in its 21st year, has a reputation for more than just size. In a state known for churning out track champions, Hallmark has won the Junior Olympics seven times, most recently last year, and the Braziels' twin sons Jerome and Jerrod, along with DeMario Wesley and Michael Franklin, set a national record in the 4×100-meter sprint relay at the 1998 Junior Olympics in Seattle, Wash. One notable alumnus, the 6′ 4″ Charles Smith, went on to play for the Miami Heat and Los Angeles Clippers. The Hallmark teams are scouted regularly by college coaches, and many of their runners have gone on to win track scholarships.
Toni Nichols, USA Track and Field regional coordinator for Texas, acknowledged that Hallmark is one of the premier track clubs in the Metroplex and is particularly known for its sprinters, though she said there are also other excellent developmental clubs in Texas. The USATF's southwestern "association" covers a major chunk of Texas, from Abilene to the Louisiana border and Austin to the Oklahoma border, and includes 76 track clubs. The southwestern association, along with three other regions in Texas, makes up USATF's Region 12. "We call Texas the track capital of the world," Nichols said, explaining that Texas churns out more Olympic track and field gold medalists than any other state. Because the state is such a breeding ground for top-tier track athletes, she said, it's harder for young runners here than in many parts of the country to make it to national-level competition.
Runners such as Michael Johnson, Jeremy Wariner, Christie Gaines, J.J. Johnson, and Darvis Patton have called North Texas home. This year, Fort Worth's Victoria Jordan, a senior at Dunbar High School, will attempt to qualify for a spot on the U.S. Olympic team in Beijing in the 100- and 200-meter races, events in which she is a three-time state champion.
Braziel, a Fort Worth native, ran for Dunbar High School before joining the track team at the University of Southern Colorado. His wife, Velma, 55, helped start the club and is an avid track fan, though she didn't run track in high school because, pre-Title IX, there was no girls' track team at her school.
In the late 1980s, while helping coach the Hallmark football club, Braziel found that many of the players were also interested in running track. That led him to create the track club, which in its early years attracted about 30 runners each summer. But as word of its success spread across the city, so did the team's numbers. Every summer since 1995, more than 100 athletes have run for Hallmark. Even out-of-town athletes sometimes make the trek to run for the team. This summer, two runners from Waco, which has no track club, are staying with Davis in order to compete on the Hallmark team.  Braziel, who spends the school year teaching physical education at Kirkpatrick Middle School, revels in his athletic lifestyle. He makes a special effort to practice what he preaches at school – he and Velma walk and jog four times a week. At nearly 60, his energy level seems to match that of the teenagers he coaches – and also carries him through his duties in yet another post: He serves as minister of Pilgrim Galilee Baptist Church in south Fort Worth.
Braziel said a high level of parental support is key to the club's success. So is the support of its alumnae, some of whom come back to serve as coaches. (Hallmark's staff of 14 coaches, who prep athletes for the full gamut of track and field events, are all volunteers.)  This year, 93 of the team's 130 runners qualified for the Texas Regional Competition based on their performance at the association meet last month. The regional competition will be held July 10-12 at Clarke Stadium. The top three finishers in each event there will advance to the USATF National Junior Olympics in Omaha, Neb. The Junior Olympics, an annual meet for selected track and field athletes between the ages of 8 and 18, is affiliated with the official Olympics and is recognized in the United States as a major stepping-stone to the international competition. Those who do well at the national level have a chance to represent the U.S. internationally. Since Texas is so competitive, Braziel said, its athletes usually do well at the national level.
---
Nichols said she has high hopes for Hallmark this year, particularly the men's 4×100-meter and 4×400-meter relays, in which she said the club has consistently performed well. Last year, the men's 4×400-meter relay placed second at nationals. Coach Mitchell Hobson swears by Hallmark. When his son Mitch, a high school long-jump national champion, began running for another Fort Worth track club at age 7, Hobson was appalled at the team's lack of organization, which peaked when they failed to inform him of a regional track meet in Lubbock until the day before the competition. At the meet, however, Hobson was so impressed by another Fort Worth team, Hallmark, that he signed up his son with Braziel's team the following year.
Mitch Hobson Jr., now 18, will run for the University of Houston next year on a track scholarship. He credits his success to the 11 years he spent with Hallmark. The Fort Worth club prepares runners for the future and helps with recruiting, he said, because college scouts know and respect Hallmark. Mitch's younger sisters and brother also run for Hallmark. Dominique, 15, who attends North Crowley High School, has been running for Hallmark since she was 6. She said running summer track gives athletes more time to impress college scouts. Like her older brother, she is considering running track or playing basketball in college and hoping for a scholarship. Her younger sister, Michelle, 12, has run for Hallmark since age 5. At a point when many of her schoolmates are probably spending the summer hanging out at the mall, she swears by the team's intense practices, which she said have helped build her endurance.
Coach Hobson believes the club has provided an invaluable public service by encouraging many of the runners through the years to go to college, and by giving young athletes something to do during the summer. "It keeps kids off the street," he said. "Lots of kids are successful and come back to help." Hallmark also gives some runners the chance to visit new places when they travel to out-of-town meets. In 2003, when the National Junior Olympics were held in Miami, Fla., Hobson enjoyed watching club members relishing the sights of a different city. "Some kids from the North Side had never been beyond 28th Street in Fort Worth, and to be able to go to Miami – they couldn't believe it. It was amazing to see," he said.
Donnie Davis, who has coached with Hallmark for five years, said the best part of coaching is getting young children excited about track. He said Hallmark traditionally represents Fort Worth well at the Junior Olympics, since 20 to 25 runners usually compete nationally.
Local high school coaches know of Hallmark's success. At Eastern Hills High School, boys' track coach Michael Prewitt said Hallmark is the only track club he recommends to his runners. He said about seven boys on his teams run for Hallmark. Being willing to do the work required of Hallmark team members "generally means they're committed to track … . Coach Braziel isn't someone who just lets you come to practice when you want to," Prewitt said. "He works them extremely hard." This year, members of the Eastern Hills boys' track team won the 4×100-meter relay at the state competition. Two members of the relay team run for Hallmark. Still, there's not unconditional love for Hallmark from other track teams. "We have haters," Braziel said. "People don't like us because we're big and we're good." But he didn't seem worried by the idea.  "We're doing something right," he said.