"I asked my mom to buy me a seersucker suit from Cox. Instead, she got me a cocksucker suit from Sears." – anonymous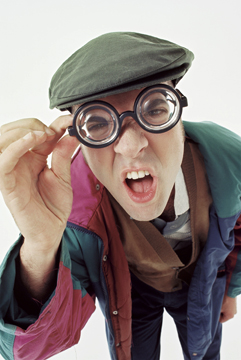 I'm not asking for much. Maybe a pair of comfortable distressed blue jeans. Maybe a one-of-a-kind t-shirt that's more about fit than design. Maybe some colorful socks. But trying to buy hip and affordable men's clothing anywhere near downtown is like fishing for trout in a swimming pool: quixotic. Start at Sundance Square. Surely, since there's a hip bar on pretty much every corner, there has to be a hip men's-clothing store … .
No dice. Just a JoS. A. Bank, the kind of place the average hipster goes to only to drop his entire paycheck on a Father's Day tie for Pops or a pair of shoestrings. As for other near-downtown localities – mainly the South and West sides – nothing doing there, either. You have SuperTarget by Montgomery Plaza near the Cultural District, and while the clothes there are pretty au courant, everyone shops there -even for a guy, there are, sartorially speaking, few things worse than going out in a sweet new shirt and seeing another guy in the exact same shirt. You also have Banana Republic at University Park Village by Texas Christian University. Were I able to afford to live in Montgomery Plaza, I'd actually be a valued Banana Republic customer. Alas …
Simply put, Fort Worth has to be the only city in the country whose downtown and near-downtown areas are completely devoid of hip, affordable men's-clothing stores – and that are dangerously skimpy on hip women's-clothing stores too. There isn't even a cool thrift shop nearby. (McCart Thrift Center doesn't count: It's too far from downtown, and, besides, you can buy pre-owned men's briefs there.) In the opinion of Robert Coronado, who has worked as a manager at Neiman Marcus and Saks Fifth Avenue and who was a buyer for Larry's Shoes and owned three boutique clothing stores in town, Fort Worth is just "so damn slowwwww."
He uses Ed Hardy jeans as an example. "They're hot right now – everyone's wearing them," he said. Coronado carried them at one of his stores as few as two years ago but hardly sold any. "Especially on the men's side," he said. "It's slowwwww."The city, for its part, has been trying to speed things up. For the past several years, representatives from the city and the Fort Worth Chamber of Commerce have been promoting Fort Worth to potential retailers at the annual International Council of Shopping Centers conventions. Hip clothing stores, according to the chamber, can help attract – and keep – young talent here.
Sundance Square at least has an excuse. The area is geared toward office workers, hotel guests, and nightflies. The people who live in or by the square – and there are more of them now than ever – skew away from designer jeans and t-shirts and toward JoS. A. Bank. Probably the only time you'll catch a critical mass of young, fashion-conscious people hanging out in the area is at night, when all of the retail stores are closed anyway. Sundance Square, as a result, seeks unique retailers. Relatively progressive clothing stores such as Abercrombie & Fitch, The Gap, and Victoria's Secret wouldn't work – they have multiple locations in multiple cities. Think more along the lines of Buffalo Exchange and Urban Outfitters, stores that young, fashionable shoppers can't find at every mall and will go out of their way for.
Such stores are "very particular about where they chose sites," said Tracy Gilmour, director of marketing for Sundance Square Management. Buffalo Exchange is currently conducting demographic studies on Fort Worth. The company's ideal customer, according to president Kerstin Block, is "bohemian," and its ideal location teems with boutique clothing stores, second-hand stores, coffeeshops, antique stores, and other independent, grassroots retailers. "We tend to do better there," she said. "We don't look for a mall surrounding." The Buffalo Exchange in Dallas, for example, is located in the stylish neighborhood of Lower Greenville Avenue, and the one in Houston is in uber-mod Montrose. "As you know, the Dallas-Fort Worth market is growing," Block said. "We could do more than one store there."
Now would seem to be the perfect time for downtown and near-downtown to break into the hip-clothing market. Clothiers like Buffalo Exchange and Urban Outfitters are doing well, according to recent earning reports, and most malls – every downtown's ostensible competition – are either just breaking even or losing money. (For a running tab on the carnage, check out www.deadmalls.com or www.labelsar.com.) In a couple of months, Coronado and some partners will open up another boutique clothing store by TCU, where two of his three previous boutiques were located. "The thing about TCU is that you have people coming in from all over the country," he said, noting that they don't share locals' built-in biases toward Dallas as the epicenter of North Texas cool. "Fort Worth is getting hipper," he said. "But even when I was at Neiman's [in Ridgmar Mall], people I knew [here] were still going to the Neiman's at North East [Mall].
"It's just a different mentality here."