A discount travel club operating in North Texas didn't provide promised benefits to many of its customers, but its principals apparently have made the travel arrangements to get themselves out of the clutches of Texas courts – though maybe not with all their assets.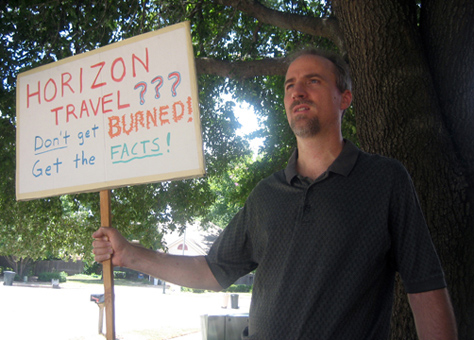 Atty. Gen. Greg Abbott's office, acting on hundreds of complaints from frustrated vacationers, has been fighting Horizon Travel and a related web of companies connected to a former Fort Worth businessman, David G. Vavro, for the last several months.  Abbott's office obtained a $64 million judgment and civil fraud conviction against Sun Country Travel and several other Vavro-related companies and their officers in 2006 but wasn't able to collect on it – because most of the defendants had fled, according to a spokesman for Abbott. This year, the AG's office tried again, filing a new case alleging similar fraud against customers by Vavro and a new list of related companies and individuals. Over the last two months, Dallas State District Judge Teresa Snelson has issued rulings in that case that bar the companies from doing business in Texas and freeze their assets.
"This may slow them down a bit," said Jaime Hunter of Mesquite, a Vavro victim and head of a consumers group, Vacation Scam Busters, that uses a web site to track the activities of Vavro and his companies and tries to warn travel consumers about them.  Hunter said he's convinced that Vavro and his associates are still operating elsewhere – the same thing that happened in 2006 when Sun Country was sued.  "We have frozen Vavro's business assets, so in theory at least he should not be able to operate," said Thomas Kelley of the AG's office. He said Horizon Travel and Vavro have been misleading and defrauding consumers on a broad scale in violation of the Texas Deceptive Trade Practices Act. Those still-substantial assets left in Texas may eventually be available to at least partially reimburse customers whom the court has found were defrauded – including people like Tom and Lela Woods of Fort Worth, who spent more than $7,500 with Horizon Travel and related companies and got almost nothing in return.
The latest rulings include a default judgment against a long list of defendants, only five of whom responded to the lawsuit. The only responses came from Vavro, Linda Mayhugh, Joseph St. John, Advantage Travel, and Strata Force Group. The companies barred from operating here include Advantage and Strata, along with National Vacations, Horizon Travel, VIP Travel Incentives, Travel Club (or Center) International, MinnTex Inc., and Advantage Tour Resources. According to former travel club members and employees, the companies would attract customers through direct-mail fliers and other means, including approaching travelers on cruises, to tell them that they could receive a free vacation. However, follow-up calls would reveal that the people had to attend a sales meeting to receive the trip and also were required to put up a deposit or join the travel club, which promised deep discounts and other benefits. Memberships usually cost between $2,000 and $7,500 a year – but members rarely saved enough to recoup that expense.
The customers, according to Tom Woods, were required to give the companies their social security numbers and other private information. They were also made to sign lengthy contracts with lots of fine print absolving the company of keeping promises made by salespeople. Woods said that, after he and his wife lost thousands of dollars with Horizon Travel, he complained to the AG's office, the FBI, and the Federal Trade Commission. Only the AG's office took action, he said. Vivian Venckus, a former customer service representative for VIP Travel Incentives of Arizona, said she decided to leave the company in November 2005 when complaints began flooding the office. She told her bosses that she didn't agree with their business practices and planned to turn them in to authorities. "When I left, they [VIP Travel Incentives] owed $170,000 in $100 refunds that were due these customers that they [customers] weren't going to get," she said. Vavro ran a shell game with all the companies, she said, changing the names and transferring funds among them constantly.
Venckus afterward filed suit against the company, representing herself. Earlier this year she received a settlement of $40,000 for back wages and interest. The money comes from an Arizona state fund that deals with uninsured employers – but the money will be charged back to the company. After three years of stressful legal wrangling, Venckus said, she has developed health problems. Two years ago, she sent a "14-pound box" of records to the Texas attorney general's office to assist in their cases against the Vavro companies. Hunter sued Vavro and Horizon Travel in 2006 and won – but, like the AG's office, has yet to receive any money. When he posted an account of his dealings on a consumer-oriented web site, he heard from others who had been through the same ordeal. In 2006, he started Vacation Scam Busters to try to warn others about the travel scams and to encourage consumers to fight back.
The group has been featured on a TV news program and in newspapers and magazines. Despite all that, he said, he still gets mailings from Travel Club International, which he said has moved to Florida. The Texas attorney general first moved against the Vavro companies in 2003, filing suit against Sun Country Travel. Oddly enough, Sun Country had touted the support of the attorney general's office and the Better Business Bureau in its literature.  In 2006, a jury found Vavro, his son, several of their companies, and three associates guilty of defrauding travelers and awarded a $64 million judgment against the defendants. However, despite testimony from his former partners that Vavro had been involved in all the aspects of Sun Country and the other companies, including providing the initial investment, Dallas District Judge David Kelton ruled that the jury's verdict, as it regarded Vavro individually, had been based on speculation rather than evidence and severed him from the judgment.
By the time of that verdict, the other defendants in that suit were nowhere around. "We have not been able to satisfy that judgment because the defendants cannot be found," Kelley said.
The companies involved in the Texas lawsuits operated in Texas, Arizona, Florida, and Massachusetts and have been barred from Indiana.  Advantage Travel, named in both the 2006 and 2008 lawsuits, apparently is still operating in Lakeland, Fla. One of the defendants, Linda Mayhugh, answered a call placed to the Lakeland office but wouldn't talk about the lawsuits or anything else.