In addition to a new name and new owners, the restaurant formerly known as Duce also has a new concept. Gone are former owner Tim Love's tapas – in their place, bona fide and excellent entrées.


Fuego's owner, executive chef Efrain Benitez, bought the sleek space in the Village at Camp Bowie almost a year ago and has only now finished tinkering.
His patience has paid off. The meal started with fantastic tomato-and-herb focacci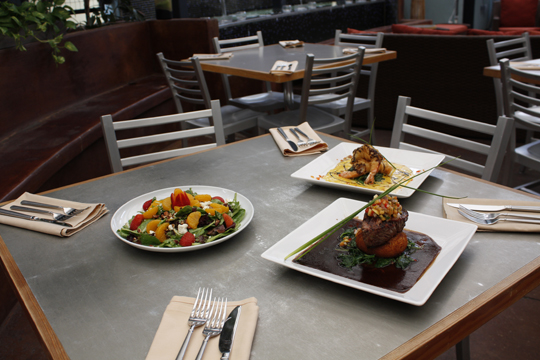 a bread served with a dipping sauce of spicy olive oil and garlic. The tuna carpaccio appetizer came with a tangy lemon caper sauce and julienned red pepper and asparagus. Since the tuna was seared, it should have been warm – it was a bit off-putting to discover it was cold. The portobello timbale, presented on rounds of polenta, was meaty and delicious, but the flavors were overwhelmed by the salty, strong gorgonzola sauce. The mushroom and polenta combo, with crushed pistachio on top, was more than good enough by itself. Just a little sauce would have been appropriate. The one appetizer that was perfect was the "tender baby squid." Yep, that's what it's called, and that's what you get: delicious rounds and crispy little tentacles cooked to perfection in a light batter.
Fuego's huge fresca salad includes beautiful mixed greens along with chickpeas, avocado, delightful slivers of sun-dried tomatoes, and chunks of fontinella cheese.
Sadly, the roasted pepper vinaigrette was heavy on the EVOO and overwhelmed the other flavors. A recommendation: Get dressings on the side.
The entire Fuego experience might be best summed up that way: sauce on the side. The champagne sauce topped with grapes on the crab-stuffed flounder was delicious and incredibly rich, and the entire entrée was superb, but there really wasn't any need to veritably drown the fish in the stuff. The hearty Monte Carlo chicken – a variation on chicken cordon bleu, with prosciutto and fontinella standing in for ham and Swiss – also arrived with too much salty, brick-colored sherry sauce.
The hands-down winner of the entrées was the simple grilled salmon – and probably not just because the sauce (dill) came on the side or because the broccoli rabe and red peppers were grilled flawlessly. The salmon was tasty and not fishy and also served as a good vehicle for a little more of that outrageously delicious olive-garlic bread-dipping sauce.
The flourless chocolate cake was sinfully rich, velvety, and not too sweet. The homemade cheesecake, which oddly enough featured raisins, was light and fluffy, not dense New York-style, and the raisins worked well. Certainly one of Fuego's charms is Chef Benitez' ability to put two seemingly opposed ingredients together and make them work.
Fuego is definitely an improvement upon Duce. The portions are generous, and the menu is priced reasonably for the beautiful setting and quality of food. The service is not exactly careful, though – several items were prepared incorrectly, and one had to be sent back to the kitchen.
Fuego
6333 Camp Bowie Blvd, Ste 240, FW. 817-377-4400. Mon-Fri 11am-3pm, Mon-Sat 5pm-11pm. All major credit cards accepted.
Fuego:
Tuna carpaccio………………………………….$8
Tender baby squid……………………………..$8
Portobello timbale w/gorgonzola………..$7
Grilled salmon…………………………………$14