Like all nonprofit performing arts institutions, Texas Ballet Theater has its hobgoblins to battle: meeting projected attendance figures, coming in under budget, generating new fans and potential donors – all part of the fight to keep the wolf from the door.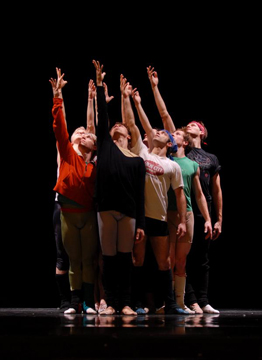 For the most part, the company – one of the oldest and most respected in the country – has performed valiantly. But ballet doesn't pay its own way, and TBT has recently found itself in danger of closing its doors, but not because of any failings by Artistic Director Ben Stevenson. The Fort Worth Star-Telegram, however, is dumping most of the blame squarely in his lap. Last week, writer Andrew Morton quoted anonymous sources as saying Stevenson's "penchant for lavish productions has pushed expenses into the red" and that the former artistic director of the Houston Ballet "is overly fond of story-length ballets, works that can average $300,000 to produce."
Give me a break. That's what the man was hired to do, and he does it very well. Over the last 40 years, Stevenson has built an international reputation staging evening-length classics and original ballets, and when he came to Fort Worth a few years ago, he brought with him access to a warehouse full of million-dollar productions that he had amassed during his 25 years in Houston. TBT practically jumped at the chance to bring him here and raid this treasure chest, hoping to expand audiences here and in Dallas. While some ballet-goers might find the repertory tiresome, most of us, including Joe and Jane Public, adore it and turn out in droves for performances, something that doesn't happen with programs made up of smaller works, as fine as they are.
TBT Board Chairwoman Robin Arena said that earned income is up 54 percent over the last three years, an incredible growth rate. The final performance of Coppelia last fall had to be delayed 25 minutes to accommodate last-minute ticket buyers, who waited in lines that stretched throughout the lobby of the company's regular venue, Bass Performance Hall. Almost all 16 performances of Nutcracker sold out here last season, and all six outings in Dallas drew massive audiences.
Another sell-out was Dracula, an evening-length production that the Star-T says ran $100,000 over the allotted $350,000 budget. However, the actual allotted budget was much higher, because the $350,000 amount submitted to the board by then-managing director John Toohey was incomplete and, according to Arena, left out a number of expenses. For example, just putting naked TBT dancers on an empty stage for a series of shows in both cities costs about $400,000. All of the other regular operating expenses – hiring stagehands, tech crews, publicity agents, the symphony – push that amount higher. For Dracula, rental fees for the sets and costumes totaled $50,000 – peanuts for a million-dollar-plus show – and Stevenson, as he does regularly, also waived his usual choreographer's fee. TBT could have opted to nix the live music, but tape-recorded music tends to trap dancers in set tempos and stifle spontaneity.
Still, according to Arena, private contributions are down. A well-intentioned but flawed decision by the board to hire independent fund-raisers in both cities without a central development director has not worked. Corporate contributions are steady, Arena said, but individual gifts are off. Ironically, funds for the 2009 and 2010 seasons in Dallas' new Winspear Opera House are already pledged, which takes the heat off raising money here. It's this season that's the sticking point. The dancers themselves are doing their part. They've begun their own fund-raising campaign, Get Behind Your Ballet, and will make a special appearance at the Galleria in Dallas at 5 p.m. on Friday to promote the company's September opening in Dallas at the Majestic Theater. Excerpts from the upcoming program and a Q-and-A session will be offered on the first floor of the Galleria near the entrance to Grill on the Alley. The dancers also will hold a garage and bake sale at TBT's Fort Worth studios (6845 Green Oaks Rd., next to Bally's Total Fitness) from 8 a.m. to 3 p.m. on Sat., Sept. 6. "We'll do anything we can think of to help the cause," said dancer Mark Troxler, who is a major force behind Get Behind Your Ballet. "Dance is our whole life."
Contributions may be made by calling the TBT offices at 877-828-9200 or by visiting www.texasballettheater.org. You can contact the dancers' group at www.myspace.com/getbehindyourballet or getbehindyourballet@yahoo.com.