Like the poor saps in China who signed up to "protest" the Olympics – they basically got in line to go to jail – about 20 folks stepped up to the plates at the Will Rogers Exhibit Hall last Saturday for a jalapeño-eating contest, just one of many gustatory attractions at Chile Pepper magazine's annual ZestFest. After two, um, heats, Benbrook's Chip Oexmann walked away not unscathed but at least victorious, taking with him the winner's booty of dozens of spicy treats, a flask of Jack Daniels, and (I was told) a lifetime supply of antacids.


Like Grapefest and Wall of Sound, ZestFest is another one of those great local events that kind of gets lost in the hoopla every year. I mean, at ZestFest, you pay $10 to get in and sample spicy food from vendors all over the country. Not just free food but free spicy food. Plus, the fact that a New York magazine with international distribution decides to hold its annual celebration of all things spicy here in the Fort has to mean something, right? (For what it's worth, the mag's former owners used to live here.) Merely out of a sense of civic pride, Fort Worthians should pile into the Will Rogers for ZestFest every year – as they did last weekend.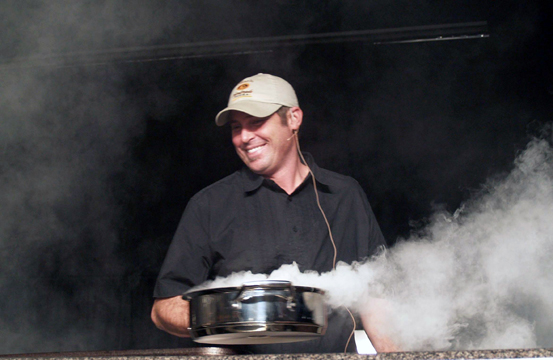 Let's get the bad stuff out of the way first: Beer was $5 a pop, which was scandalous considering that everyone knows that hot food goes best with an ice-cold one (or 12). However, Treaty Oak Premium Rum had a booth. "Hints of vanilla and nutmeg on the finish" were allegedly lurking in the free shots of the Austin rum-maker's fermented, distilled Texas molasses-based hooch. Didn't taste any vanilla or nutmeg on the finish or elsewhere, but, damn, Treaty Oak did pack a punch. On the less moonshine-y tip, the distillery's lemon-and-basil mojito and the "Oak and Coke" were both pretty tasty.
Duly fortified, I set out to find sizzling things to see and do. I immediately bumped into MeMe's Jams n' Jelli, maker of such splendidly spiked condiments as Cherry Bourbon (with Jim Beam) and Peach Pecan Preserves (with Jack Daniels). Yum. (Hic!) Next stop was Chipotle Texas, a spice retailer based in Fort Hancock whose Del-Arbol-and-blue-cheese popcorn won the People's Preference award, one of several given out by ZestFest organizers. And for good reason: The popcorn is coated with a mixture of roasted pepper powder and blue cheese. It tastes like hot-wing sauce – and it's seriously addictive.
Besides the exhibitors, ZestFest featured what I called the "Iron Chili Chef Stage," where locally based celebrity chefs Grady Spears and Jon Bonnell "performed."
Spears is hot in the good-ol'-cowboy-in-the-kitchen kind of way. Nothing fazed him – not even when his spicy brown-sugar-and-chili tenderloin appeared to catch fire. Some dude in the audience asked Spears what wine would pair well with the tenderloin that was served with a side of green chile cheese grits. The chef thought for a second and then said, "A Lone Star."
Spears, who co-owns Dutch's Burgers by Texas Christian University and Lambert's Steaks, Seafood & Whiskey on White Settlement Road, both with partner Louis Lambert, hinted that there might be something new coming from him soon.
Bonnell is hot in the smart-talented-funny way. He made a ridiculously easy chili-crusted shrimp dish in about seven minutes and paired it with grilled watermelon and a Patrón-lime-cilantro-mint vinaigrette. "Just the tiniest bit of tequila," Bonnell said, dumping a bunch in the bowl. He said that, when he made the recipe on the Today Show with Al Roker, the good folks at Patrón gave him a giant bottle. How much would five dollars get me, Jon? (And did you know that, if you don't like cilantro, a major player in zesty cuisine, the reason might be biological? Bonnell, a former science teacher, says so.)
In between the demos, some local musos played, including perennial Fort Worth Weekly Music Awards winner Maren Morris, who, incidentally, plays The Fairmount (600 W. Magnolia Ave., 817-420-9455) on Saturday.
Most of the groceries were provided by the Texas Department of Agriculture as part of Go Texan, a campaign launched recently to promote Texas food products. Most of the vendors were from Texas and other parts of the Southwest, although the winner of the spiciest sauce contest, Defcon Sauces, hails from New Jersey. (All together now: "New Jer-sey?!) Just a drop of Defcon 1 can spice up a vat of chili. A tiny splash cleared my sinuses and singed my gums. On a Homeland Security alert chart, it would rate a red for "severe."