Being born a sharecropper's son in 1915 on the outskirts of Fort Worth isn't the background you might expect from someone who'd eventually be recognized as a pioneering artist. But David Brownlow rose above his raisings, became a largely self-taught artist, and helped introduce modernism to a city that leaned toward realism, Western art, and bluebonnet scenes.


"He was an unusual man, a sweet man, almost effeminate, just a kind, sweet, thoughtful m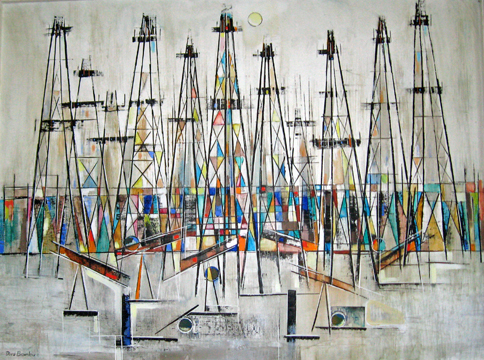 an," said H.T. Priddy, a friend for more than 70 years. "That artwork came natural to him."
Brownlow died at his Fort Worth home on Monday, Sept. 15. He was 93. A memorial service is at 7 p.m. Thursday at the Central Library, 500 W. 3rd St.
He seldom socialized with the mostly upper-crust modernist painters who made up the Fort Worth Circle, but he was a contemporary respected for his tenacity and vision. In time, he would be linked with that group, led by Dickson Reeder.
"They were very cognizant of each others' work," said local art enthusiast Morris Matson. "But he didn't have any money, and he had to work all the time."
Priddy met Brownlow in the early 1930s when both worked in the produce section at Leonard's Department Store in downtown Fort Worth. "It was hard work unloading things and waiting on customers," he said. "David got real clever and got a job in another department that was a lot easier. It was a better job, and he got to dress better."
One of Brownlow's responsibilities was to lock a front door when he left; he forgot one night, and he was fired, Priddy recalled.
Brownlow went to work as an illustrator for Consolidated Vultee – also known as "the bomber plant," where he met many other local artists, including some of those who would later make up the Fort Worth Circle. Local art historian Scott Grant Barker said Brownlow learned to paint by studying art books at the Fort Worth library as a young man, although he also received free lessons from artist Pattie East. He worked in a wide variety of forms, and his abstract cathedrals done with a palette knife are prized pieces owned by major Fort Worth collectors.
"He was a genius," Priddy said. – Jeff Prince
Contact Kultur at kultur@fwweekly.com.