"Get out the camera, take a pictur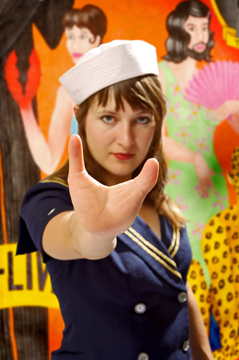 e / The drag queens and the freaks are all out on the town." Sheryl Crow's lyrics come true for Fort Worth this week, thanks to two events. The drag queens will be out in force in Pageant, the film that closes out Q Cinema's monthly series this fall. Ron Davis and Stewart Halpern-Fingerhut's documentary follows five men out of 52 who are competing in the Miss Gay America pageant. The competition has been going on for 35 years and maintains a strict standard of no implants, hormones, or augmentation. (Just tons and tons of sequins.) The film enjoyed a rapturous reception when it played at AFI Dallas last spring, and now it's here in all its fabulousness.
As for the freaks (for that is what they proudly call themselves), they'll be on display when 999 Eyes comes to Ridglea Theater, where they'll be sharing the bill with Spoonfed Tribe, Katsük, Armor Thru the Inside, and the burlesque dance show Carousel Cabaret. The old-fashioned carnival sideshow features such acts as the Lobster Girl, the Black Scorpion, the 27-inch Woman (who embraces the controversial term "midget"), and Jackie the Human 3Pod, who has only one vestigial leg and is billed as an acrobat, karate expert, animal trainer, singer-songwriter, and real estate agent. We're assuming that last skill won't be part of her act on stage. If you're looking for a celebration of what makes people different, these two events will leave you in high cotton.
Pageant screens at 8pm Wed at Four Day Weekend Theater, 312 Houston St, FW. Tickets are $10. Call 817-820-0079.
999 Eyes' show is at 8pm Sat at Ridglea Theatre, 6025 Camp Bowie Blvd, FW. Tickets are $10. Call 817-738-9500.