This Saturday afternoon features a c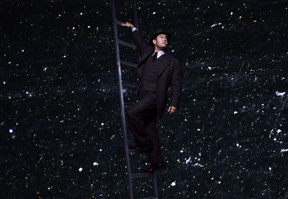 ouple of events competing for the attention of music lovers with a taste for the unusual. The local movie theaters are showing the first Metropolitan Opera production of John Adams' opera Doctor Atomic. This work, which premiered in San Francisco three years ago, depicts the moral struggles of Dr. J. Robert Oppenheimer as he develops the atomic bomb in 1945. Adams has typically been drawn to historical subjects with his operas (Nixon in China, The Death of Klinghoffer), and this work suffers from its outrageously clunky libretto, whose words are largely taken from historical documents from the time, though the character of Oppenheimer's wife Kitty sings the poetry of activist Muriel Rukeyser. Still, Adams' music is splashy and glittery as usual, and Kitty's aria "Am I Your Light?" is a creation of intense beauty.


The broadcast of the opera will repeat on the 19th, which means you don't necessarily have to miss it to hear accordionist Guy Klucevsek at the Modern. The well-recorded artist (whose last name is pronounced kloo-SEH-veck) has absorbed the influences of everything from salsa to Cajun in his original compositions, which bear puckish titles like The Well-Tampered Accordion and Accordion Misdemeanors. He'll be playing them and more as part of the Other Arts series; Brave Combo fans would be well advised to check this out.
Doctor Atomic screens at noon Sat at local movie theaters; check our Calendar section for locations. Tickets are $15-22. Call 213-639-6166.
Guy Klucevsek plays at 2pm Sat at Modern Art Museum of Fort Worth, 3200 Darnell St, FW. Tickets are $15-20. Call 817-738-9215.