The Lone Star International Film Festival returns for a second year, with last year's artistic director Tom Huckabee replaced by Dennis Bishop. We'll see how well this works out, but the slate of films compiled for this year's festival is fairly mouthwatering.


The fest kicks off on Wednesday with Sunshine Cleaning, which stars Amy Adams and Emily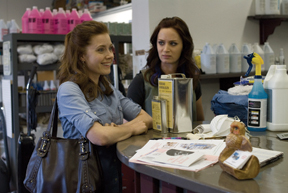 Blunt as sisters who go into business cleaning up murder scenes after police have finished gathering evidence. Fans of NBC's prime-time lineup won't want to miss Jaffar Mahmood's comedy Shades of Ray, starring Chuck's Zachary Levi and Life's Sarah Shahi. Writer-director Kelly Reichardt (Old Joy) returns with Wendy and Lucy, starring Michelle Williams as a young woman whose car breaks down on the way to her new job and who gets pushed to society's margins. The festival closes with Dustin Hoffman and Emma Thompson co-starring in the romantic drama Last Chance Harvey.
If star power doesn't impress you, perhaps you should check out Nikita Mikhalkov's 12, a Russian-language remake of 12 Angry Men about a group of Russian jurors debating the fate of a Chechen defendant. How to Be stars Robert Pattinson (the lead in the upcoming vampire movie Twilight) as an English slacker who hires a life coach. Speaking of Twilight, fans of that series of books will also want to catch Tomas Alfredson's Let the Right One In, a Swedish vampire flick that reverses the usual gender dynamic – here the girl is the vampire, and the hero is a boy who falls in love with her. Here's a chance for moviegoers to see the continuum between movies for the multiplex and movies for the festivals. They all speak to us.
The Lone Star International Film Festival runs Wed-Sun at various locations, FW. Tickets are $8 for single screenings, $75-395 for passes. Call 817-924-6000.