On a Saturday night in late September, a small, genteel (and gentile), NPR-ish crowd drifted into the Jefferson Freedom Café, a meeting room in the Jefferson Unitarian Universalist Church, tucked into an unassuming neighborhood on Fort Worth's East Side. The church is an unusual venue for Josh Alan Friedman, self-styled "czar of the atomic acoustic guitar." The writer-musician is more at home in joints like the seedy Winedale Tavern on Dallas' Lower Greenville Avenue, where he played a long-running Monday night residency before cutting back on live gigs early in 2008. These days, his focus has shifted from performing music to trying to find a major publisher for a book he's been working on for 34 years: Black Cracker.


Friedman is a 52-year-old native New Yorker who's lived in Dallas since 1987, when he followed his future bride back home from the Big Apple. He grew up in Glen Cove, on Long Island's North Shore, the son of novelist-screenwriter-playwright Bruce Jay Friedman. Between 1962 and 1966, he and his brother Drew were the only white children at Glen Cove's South School, the last all-black segregated school on Long Island. Black Cracker is his slightly fictionalized memoir of that time. "When you're a child, the world seems so huge and unfathomable," Friedman said. "What you experience then marks you for the rest of your life."
While he found nothing unusual in his circumstances at the time, his memories of South School stayed on his mind. "Every so often," he said, "a light bulb would come on, or I'd dream about someone from those days."
He made his first attempt to write down his recollections when he was 17, resulting in a story published in Penthouse in 1978. He continued tinkering with the project for the next three decades and finally finished it early this year.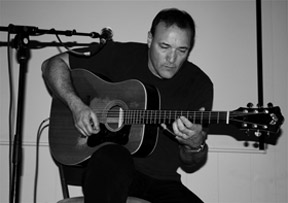 Friedman feels that the book's perspective – racism as seen through the eyes of a white child who's very much a minority in his school – has made it problematic to market. So far, 20 editors from various major publishing houses (including Bloomsbury, HarperCollins, Penguin, Random House, Simon & Schuster, and Little, Brown) have passed.
The book, Friedman said, delves into "reverse racism, blunders of the NAACP, and other touchy issues. … Even editors who loved it were voted down by their superiors at the publishing houses in New York." One editor, Friedman said, "refused to believe there was poverty on Long Island." Another expressed the opinion that "childhood, no matter the circumstances, just isn't that interesting to read about." (Sorry, Huck and Tom, Jem and Scout.)
After coffee and pastries, the crowd at the Jefferson milled around a bit before taking seats in rows of metal chairs in front of a movie screen and a single stool with microphone. After an introduction from host Robert Scarborough, who also runs the café, a video projector began to roll and the P.A. speakers rang out with aggressively strummed acoustic guitar chords as a handsome, athletically built figure appeared on the screen, singing, "Blacks 'n' Jews, blacks 'n' Jews / Marching down in Mississippi two by two / One says 'y'all,' the other says 'youse' / Come back together now, blacks 'n' Jews." The film was Blacks and Jews, Dallasite Kevin Page's 2004 documentary subtitled Josh Alan Friedman: A Life Obsessed With Negroes.
Then Friedman himself took the stage, playing in a bluesy guitar style that's informed by his days as a pubescent wiseass hanging around Gotham's storied '60s rock palace, the Fillmore East. He prefaced his performance of the Albert King chestnut "Born Under A Bad Sign" with a musical quote from "Blood of the Sun," a song by Mountain, a band that was to '70s New York what Stevie Ray Vaughan was to '90s Texas. Friedman is known for performing his versions of songs associated with high-decibel '60s rockers like Johnny Winter and Jeff Beck. When he sings, his lyrics are evocative of life's seamy side. From "Harlem Time": "Sunday morning topless bar / Wilted flowers for the star / Pizza for breakfast in a Chinese restaurant / The gypsy cab been waitin' for an hour out front."
Hearing all of this in a church was kind of jarring, but Jefferson Freedom Café, while "family friendly," is nothing if not open-minded – a good thing, since Friedman's writing has always embraced controversy. He covered the sleazy Times Square demimonde for Screw magazine back in New York City's wide-open, pre-Giuliani days, "the golden age of pornography," in Friedman's words, and chronicled his experiences in Tales of Times Square, a book that served as the basis for director Paul Stone's 2006 still-uncompleted documentary of the same name. Friedman also co-authored the memoirs of Screw magazine publisher Al Goldstein and edited an anthology of the works of bohemian satirist Terry Southern. Friedman also has collaborated with his brother, artist Drew Friedman, on a series of scandalous and scabrous underground comics and created The Worst!, a musical about notorious shlock film director Ed Wood.
In Blacks and Jews' most affecting sequence, Friedman appears on screen reading excerpts from Black Cracker in which he describes his return to Glen Cove in an attempt to reconnect with that part of his past. He also recounts his first encounter with childhood friend Bobo Monk – a cheerfully anti-authoritarian figure whose character later takes an angry, self-destructive turn – and imagines a hallucinatory scene in which his younger self is almost lynched by an angry mob of black women.
Friedman said the book is "80 percent straight memoir," but it includes passages of wild invention that still have the ring of surreal truth. He examines issues of race and class in a style that's alternately poignant and hilarious, viewed through the prism of childhood and the book's intriguing set of characters. Besides his schoolmates Bobo, Mumsy, and Jeffrey, the cast includes their teacher and early lust object, Miss Grimsby; Bobo's Uncle Limpy, the owner of a collision shop plagued with mishaps; Josh's nanny and nemesis Mrs. O'Leary and her clam-digging son Drake; the poor white Wilshire family; and Mr. Anthony, an NAACP worker who comes to Glen Cove to protest the existence of the town's "black school."
The book has found a few advocates among those who've read the 272-page manuDELETE, including James Marshall, a.k.a. "The Hound," a radio personality at the nationally influential college radio station WFMU in New York City; magazine founder and Please Kill Me author Legs McNeill; and illustrator-musician J.D. King.
"I detest reading from a screen, but I read every damned word of that book from my screen," wrote King in a response to Marshall's blog. "It's an honest look at a certain time and place now vanished and, essentially, forgotten. And in that honesty dwells humor."
At the end of the night at the Jefferson, Friedman kicked part of his payout back to Scarborough to be donated to the local charities the café supports. Then he headed back to his wife and daughter in Dallas. He's traveled a long way from his past as a Long Island "black cracker" but still has some distance to go before he sees his story in print. Asked what he'll do if he's unable to find a major publisher for Black Cracker, Friedman said, "I'm not falling back. … I'll just sit and wait for the next generation of editors to come along."