Many people who spent their early twenties unemployed, drinking beer, crashing overnight on friends' couches, and practicing guitar consider those as "lost years," a sloppy indulgence of youth before goal-setting kicks in. But 26-year-old singer-songwriter Jason Worley believes his two-year dalliance with musical vagrancy in Denton was what focused his mind on a career as a purveyor of bleak, poetic American roots music.


"It's the biggest piece of the puzzle," he said of the suds-soaked slacker internship in which he wrote his first serious songs. "Without it, my life would be very different. I don't regret all the practicing and listening." He also doesn't regret the friendships he forged with students at the University of North Texas.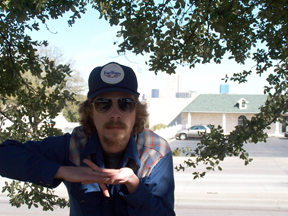 The Fort Worth native will soon release the tentatively titled The House of the Place of the Sun of the Moon, an 11-song CD whose playful title belies the dead seriousness of his crafted, articulate, image-filled songwriting. Worley has cut a couple of other lo-fi, on-the-fly CDs under nommes de tune like Silus Worley and Yukon Cornelius (the gold-seeking prospector from the Rankin/Bass '60s-era Christmas special Rudolph the Red-Nosed Reindeer). A nagging sense of dissatisfaction with his own words and melodies led him to hide under those guises. But with The House of the Place, Worley has taken ownership of delicate, regrets-haunted acoustic tunes such as "Insufferably Yours," "At the Graveside," and the wry one-man hootenanny "The Most Important Thing You Said Today." He is still doing a fair amount of self-conscious Dylan imitation, and, right now, that's just fine with him — Dylan is a primary figure in his creative consciousness. But Worley has developed a precocious, prettified handle on what he describes as "writing about what I'm thinking about when things are crumbling in front of me."
But his next words countered that ponderous observation. "Did I tell you friends call me 'The Clown Prince of Cowpunk'?"
Worley grew up in a working-class Fort Worth family with a dad who loved The Beach Boys and an older brother who introduced him to what would be Worley's most formative musical influences besides Dylan. Big brother took Jason to a Rolling Stones concert at Texas Motor Speedway when the kid was 12, securing them seats near the edge of the stage. He later passed along Toadies and Tripping Daisy CDs. One night before Jason left for his first semester at Texas State University in San Marcos, where he studied before transferring to UNT, he and his brother drove around the woods late at night in a pickup truck listening to the Grateful Dead.
Worley didn't take to college like he took to the Dead's long, electric country-rock jams. Classes were skipped, beer was guzzled, good times were taking over. Worley dropped out of San Marcos and idle-wilded for those seminal two years in Denton. The acoustic guitar his father had given him not long after that Rolling Stones concert, the one that had stood largely neglected against his teenage bedroom wall, suddenly looked inviting again. He practiced hours every day, pointedly learning how to pick rather than strum. Melodies always came first, and then lyrics were written to try to make sense of whatever was floating through his head at the time. The live shows of Denton "death folk" legends Warren Jackson Hearne and His Merrie Murdre of Gloomadeers inspired him to hit area clubs and create his own kind of mournful beauty with music. "There's a lot of darkness [in their songs], but you could still see the color beneath it," he said.
Back in early 2007, Worley and a group of UNT friends moved to Brooklyn. His pals dabbled in visual arts; he played a kind of alt-honkytonk in noisy bars and acquired new musical loves like Portland-based rural baroque rockers Blitzen Trapper and the unearthly harpist-singer Joanna Newsom. After a year, the New York experience disenchanted him — he began to feel that more people were interested in live music as a scene to be made or lost rather than as a personal exchange between artist and audience.
He returned to Fort Worth last year with friend, manager, and musical collaborator Mark Mauzey, who produced the upcoming The House of the Place of the Sun of the Moon and will release it on his own Moz Rock Records label. They are currently touching up the tracks with harmonica and fiddle. All of the songs were written over the past eight months, when, Worley said, "I kind of lost color in my vision because of the way things went down. I was just trying to get through the week the best that I could." (Translation: He had a really messy romantic break-up.)
Once the album is released, Worley will play a slew of shows in Fort Worth and Denton. Then in May, he and Mauzey plan to hit the road and spend some time in Portland, Ore. It's not, he promises, a ripping up of roots. Fort Worth will always be his primary home, personally and musically. But Mauzey was born and raised in Oregon, and they want to run Worley's eccentric brand of woeful Americana up the Portland flagpole and see who salutes. He'd love to make a full-time living from his music, but there are certain infamous benefits to being a musician that he's not interested in.
"I'm not in the business to make women like me," he said with a laugh. "If I'm the best option out there for a woman, then they're in trouble. You just try to stay as honest and goofy as you can, and if that strikes someone's fancy, then let's have a conversation."