Your trusty local correspondents file from Austin.
It had been five years since I joined what the locals refer to as "the plague," which descends on America's Live Music Capital® each spring like a tsunami of black hair dye.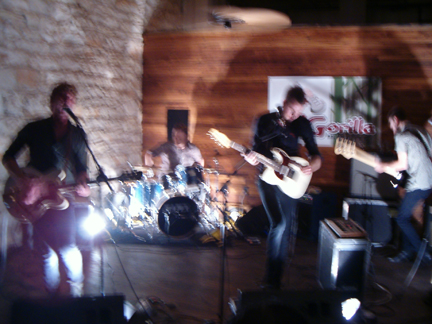 When I go to SXSW, I have two or three things in mind that I want to do, and anything else I run across is gravy. It's not worth it trying to get into any of the "big shows," and the day parties are usually more fun anyway. It's also usually pointless trying to club-hop after 11 p.m. or so, and who wants to spend their time darting madly from Point A to Point B like a traveler who's late for a connecting flight? Less stress is always better, in my opinion. And more is not always better. If there are a thousand bands in town, how many are you going to be able to see? How many would you want to see? And what are the chances that the venue where they're playing will have a system and sound tech that are worthashit? Austin's a bgger gene pool, but still: The operative question remains "How lucky do you feel?"
I had three missions on this trip. First, I wanted to see The Nervebreakers, the Dallas band that once opened for the Sex Pistols and indirectly contributed to my relocating to Texas from New York 30 years ago (long story). The Nervebreakers are currently shopping a newly recorded album, Face Up to Reality, as well as a compilation of previously unreleased tracks, Why Am I So Flipped? I was intending to see them not once but twice: in the parking lot of a strip joint off I-35 and at Antone's Records. Second, I was looking forward to hearing the Gunslingers, a French band specializing in frenetic punk psychedelia, whose debut CD I recently reviewed for the Weekly and whom I'd just seen rock the rafters of the li'l Chat Room the previous Wednesday. They were playing at the WFMU/Aquarius Records showcase. And last, my trip would not be complete without having a burger at Casino El Camino, my very favorite Austin spot, which a fellow Fort Worthian who joined me there described as "the Wreck Room with food and without live music."
We got into town too late to see the first Nervebreakers performance. The WFMU/Aquarius bash was at Spiro's, which I later learned has a less-than-sterling rep as a music venue, but both the NYC radio station and the San Fran record store that were co-sponsoring are reliable tastemakers. If Julian Cope had co-curated the show, it would have been a trifecta.
The bands there that made an impression were, in descending order: The Ovens, Bay Area teens who delivered short, sharp shocks of punk fury; Slough Feg, also from San Fran, heroic veteran metallists; Wildildlife, competent Seattle stoner-ismo, which served only to remind me why I've walked out on Nebula three times; and the Major Stars, from Cambridge, Mass., who provided proof that Ivy League towns don't do well with rock 'n' roll, although they were probably better than Blues Traveler, the Spin Doctors, and Sha Na Na. The Gunslingers had a rough night due to equipment problems and the fact that the soundman's giveashit probably left the room with the majority of the crowd before they played at 1a.m. If you saw them at the Chat Room, be glad that you did.
Next day we met up with some friends at Casino's and ate the requisite burger, which was as awesome as I'd remembered, then took our sweet time moseying over to Antone's Records on Guadalupe Street. The Drag has sure changed a lot since I briefly worked in a record store there at the ass-end of the '70s, but then all of Austin has changed a lot since the last time I was there. The crowd was full of people I remembered from the Dallas punk scene 30 years ago, causing one wag to remark, "Now we know what happens to record collectors when they get old!" The Antone's event was sponsored by SteadyBoy Records, the label founded by Freddie Krc, drummer with Roky Erickson and the Explosives as well as, um, Jerry Jeff Walker's band. The bonusburger of the show was the appearance by Magic Christian, a San Francisco garage-rock supergroup featuring musos from the Flamin' Groovies, Plimsouls, and Blondie. They made all the appropriate '60s noises and when they busted out the Groovies' "Teenage Head" and "Slow Death" for their encore, it was the icing on the cake.
The Nervebreakers were the band I saw more than any other during the first year and a half I lived in North Texas. One of my favorite shows of all time was their gig at Tootsie's in Cowtown with the Fort Worth Cats. When the police came, Mike Haskins didn't stop playing until the lawman removed the guitar from his hands. By that time, they'd been a band for over half a decade, and they were as ahead of their time as the Saints in Australia or Rocket From the Tombs in Cleveland: good players; smart, funny songwriters; outrageous live performers. It was both strange and exhilarating to see them at their not-young age, ripping through their set — slight interruption for amplifier breakage notwithstanding — as if the heyday of Zero's New Wave Lounge was just last week. Barry Kooda even hurt his hand banging on his Les Paul. It made the trip worthwhile.
With all my grousing earlier in the day about "hipster Disneyland," I realized that if one manages to circumnavigate the industry-convention elements of SXSW, it's still possible to have a decent time at this gathering of the music tribes. Hallelujah! – Ken Shimamoto
---
Footaches, Footloose
SXSW seems to be getting bigger every year. The consensus is that musicians shouldn't expect to make much money these days, but a little financial reality isn't stopping the thousands upon thousands from making the pilgrimage to Austin just to be heard.
The shows I wanted to see were happening east and south of the 6th Street area this year. For that reason (and to alleviate the dreaded South-by Footache), I brought my bicycle. Marcus Lawyer's SXDOJO at Dominican Joe was a short ride down Congress. The chill coffee shop and his downtempo Top Secret … Shhh! lineup, featuring local DJ Philter, made for a welcome respite from the downtown madness.
I saw Complete at the Scoot Inn. The Fort Worth metal duo actually has fans who requested songs. I'm not sure how those two guys ended up as official representatives of Fort Worth — something to do with some viral YouTube video — especially considering that no one in town has probably ever seen them play. By the sound of their set, they don't play together much. They weren't unlistenable, but truthfully they had no business at SXSW.
Not being in the stamped-and-approved SXSW booklet doesn't really make a difference anymore. The Burning Hotels played one of the best shows I'd seen all week. In comparison to better-known acts such as Austin's Strange Boys or Missouri's The Republic Tigers, the Hotels have the musical bite to match the bark. They could hold their own with any other act, at South-by or beyond. The band also is making a cameo in a feature film, Bandslam, hitting theaters this summer.
Speaking of representing, Jordan Richardson corrected his new bandmate Ben Harper at their South-by gig when Harper erroneously said the drummer hailed from San Antonio. Fixing his mistake, Harper said, "Give it up for Fort Worth." And a lot of people in the packed Stubb's crowd did just that. Perhaps they were showing appreciation for Richardson, who played in local outfits Soviet Space and Horses before decamping for Oliver Future and now Relentless 7, which features Harper, one of the most respected and adored musicians on the planet. When Harper scuttled his previous band last year, parting ways with the Innocent Criminals after nearly a decade, Richardson was in the right place at the right time. He is now the right drummer for Harper's hard rock/blues attack. A lot of the material, especially the title track from their upcoming album, features Richardson's bombastic stickwork. His ear-to-ear grin contrasted a bit with Harper's vitriolic new material, but, hey, I'd be smiling, too. – Caroline Collier
Vomit
I missed Metallica because I was throwing up in an alley near some bar called Paradise.
I saw some friends waiting in a long line to see The Hold Steady at the Mohawk and joined them. I'd never listened to the critical darlings from New York, and the thought I had after seeing them later was that they were pretty boring, like if you took out all the fast parts of Bad Religion and gave Neal Pollack something to do in the band.
Highlights: Vivian Girls, Stupid Party, Relentless 7, Priestess, Sleepy Sun, Delta Spirit, King of Hotdogs.
Lowlights: The Hold Steady, Wavves, hipster dickweeds, missing Metallica, going to some PureVolume party that felt like Buckcherry was due to start playing at any minute. — Steve Steward