There's good news and bad from Texas Ballet Theater as its season-closing revival of Ben Stevenson's Cleopatra rolls into Bass Performance Hall this weekend.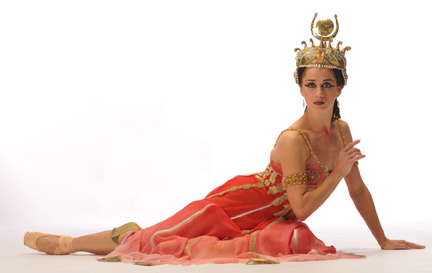 The remarkably good news, given the current economic crisis, is that by June 30 the company will be out of debt. "We won't owe anything," said new executive director Margo McCann. Against all expectations, TBT has raised $2 million in less than a year to retire a $1 million-plus debt and meet current expenses. The dancers themselves raised nearly $300,000 by going door to door seeking donations and holding a giant garage sale.
The bad news is that it will be another year before TBT can afford live musicians again for its programs. "We're working a belt-tightening pay-as-you-go system and still getting things together," McCann said. "It will take another year to put the cost of an orchestra back in the budget."
The tape for Cleopatra's Rimsky-Korsakov score was recorded by the National Ballet of China for TBT's proposed tour of the country last year.  (The Chinese government, up to its teeth in Olympic cost overruns, reneged on an agreement to pay for a touring orchestra. The tour was canceled, after more expenses were added that the company couldn't meet.)
The $1.2 million production was designed by Thomas Boyd in 2000 for the Houston Ballet, artistic director Stevenson's former company. Leticia Oliveira and Carolyn Judson will alternate in the title role throughout the five-performance run. Lucas Priolo and Carl Coomer will alternate as Caesar, and Andrea Silva and Priolo will be seen as Marc Antony. This will be the last time area fans will be able to see the popular Silva, who heads north after the season to join Les Grands Ballets Canadiens de Montreal. — Leonard Eureka
Cleopatra runs Fri-Sun at Bass Performance Hall, 555 Commerce St, FW. Tickets are $19-99. Call 877 828-9200.