Being encouraged to drink and then write about it has its perks, don't get me wrong. But after drinking and listening to good music, I usually want something to eat. And a lot of local places fit for drinking aren't fit for eating.

Take The Fairmount, which has occupied its half-block of West Magnolia Avenue on the South Side for about a year now. Great club. Reasonable cover charges. Typically good music, most of the Texas variety (though some indie-rock pops up there now and then) and cheap happy-hour specials. From 4:30 to 7:30 p.m. daily, domestic drafts, bottled beer, and well drinks are a dollar off, which means that Miller Lite and Shiner Bock drafts cost a piddly $2. Drafts of the fancier Samuel Adams and the Coors-branded Blue Moon are $3. Well drinks are $2.50, and when happy hour ran out on me during a recent visit, my generic rum and Coke was still only $3.50.
But there isn't any food. Co-owner Sally Birthisel says simply that she and partner J.R. Whitfield want the focus on the music, not dealing with the Tarrant County Health Department. However, she pointed out that there was nothing stopping me from bringing in some munchies on my own. And Sally is such a kind soul that if you make with the pleading, hungry eyes, she'll go fetch you a pack of pretzels or something. Also, my nice bartender didn't seem to mind my snacking on his stash of garnishes: slices of oranges and lemons.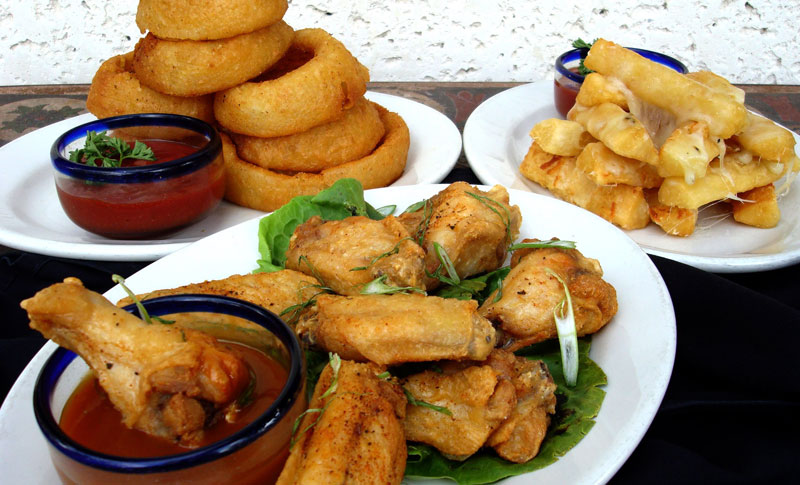 Sadly, a person can't live on pretzels and citrus alone. On the drive home, late-night hunger left me rummaging under my car seat for the slightly lint-covered emergency energy bar I keep there.
And yet I know there are places in town where one can eat well, drink happily, and dance and/or listen to good music, all at the same time. There's 8.0 Restaurant & Bar in Sundance Square, and, of course, Ovation Dining and Entertainment, on the West Side, pretty much started the whole food-and-live-music-in-an-intimate-setting thing.
Fortuitously, I had been invited to Lambert's Steak, Seafood & Whiskey to see the band of a friend-of-a-friend. I love Lambert'sfood, but I thought the stage in the big dining room was going to take me back to Pedro's Trailer Park, the cerveceria there at the corner of Foch Street and White Settlement Road that was razed several years ago to make room for Jack's Off The Wall, an upscale bar/restaurant that existed for a few months before Lambert's owner and namesake Lou Lambert took over about a year ago.
Manager Aaron Williams says that Lambert's, while not exactly a nightclub, has been featuring music "here and there." Soon Lambert's will start offering two different music sets on weekends: jazz during dinner and rocking stuff later. On the night we were there, a loose affiliation of musos headed up by local singer-guitarist Rick Garza played all manner of popular late-'80s to early-'90s post-punk. Local fave and old-timey accordionist Ginny Mac also has graced the Lambert's stage.
Lambert's offers a relatively new happy hour: 4-7 p.m. on weekdays. Cheap beer, wine, and half-price aps like the achiote seared chickpeas? I am so there. Lambert's is geared toward the somewhat upscale, mid-30s-plus clientele. Frat brats are not discouraged, but since there's nothing breakable on hand, and beer is far less expensive elsewhere, you won't find 'em.
And the newly opened Buttons (subtitled "Food and Music for the Soul") also has killer happy-hour specials Monday through Friday from 4 to 7 p.m, which might blend nicely with the sounds coming from the restaurant's stage area. One Friday evening I partook of chef/owner Keith Hicks' peach cobbler and a Diana Ross martini (Buttons' version of the Cosmopolitan) while a band called Night Drive blasted out soul and funk classics. The entire place looked like a big multi-culti melting pot. Cowboys and businessmen and sister-girls and grandmas all mingled, danced, and ate together.
Weekend evenings you'll be waiting a while for a table at Hicks' new place, so you might as well have a drink at the expansive bar. Manager Curt Vorin, formerly of 8.0, took some of the bar staff with him when he left there to open Hicks' so-called "Big House o' Love." Lynn and Austin, whom I remember fondly from 8.0 as "the Wondertwins," are exceptionally good at making eye contact with you across their extremely busy bar, even if it's to do that little "Hey, I'll be over in just a minute" thing.
On Fridays and Saturdays, Buttons' kitchen closes at 11 p.m., but the dancing continues until 2. – Laurie Barker James
Contact Last Call at lastcall@fwweekly.com.