Welcome to Vickery Café, where they've been dishing out home cooking (though under a couple of different names) for 35 years and counting.

You'll be greeted at the door by a cheerful, slightly harried server. She'll call you "hon" (you won't mind) and tell you to sit anywhere you'd like. Then, as you slide into the plastic-covered seats of a very retro booth, you'll need to fasten your seat belt, because you'll be taking a trip back in time — to a place where calories don't count and lunch is less than $10 with a drink and dessert.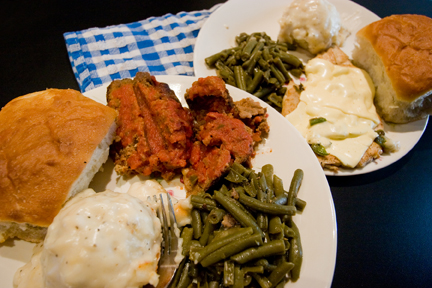 Since Luby's co-opted the "LuAnn platter," Vickery Café is the self-proclaimed "home of the plates." In addition to the full three-page menu, you'll find a dozen or so specials on the two large boards on opposite ends of the smallish dining room. Recent choices included chicken-fried (steak or chicken), pork chops, and all-you-can-eat catfish or fried shrimp. Each plate comes with a duo of choices from the nearly dozen side offerings. The sides range from the expected (okra) to the exotic (hominy) to the weird (applesauce).
A typical lunchtime visit may see a mix of construction workers, businessfolk, and retirees. Newbies beware: The variety of choices is dizzying.
Want something fried? Vickery Café will deep-fry your tie if you want. Breakfast? French toast, eggs, pancakes, sausage, bacon, or turkey bacon? Want a melt – tuna, chicken, or turkey? Salad? There are seven varieties from which to choose, and the waitress isn't getting any younger waiting on you to decide.
The sign posted in front of the dining room says the food's "just like grandma's." And that may be true but only to a certain extent. Almost everything is homemade, yes. But not everything is inspired.
The Monterrey chicken plate sounded good: a juicy grilled breast o' bird with green and red peppers, smothered in Monterrey jack cheese. The dish would have been great had the cheese actually been real jack and not a square of processed stuff. The side of fried okra, though, was perfectly crispy-gummy.
The meatloaf also sounded good. Who doesn't like meatloaf with brown gravy? Vickery Café's was moist, and the serving was generous. But the cook used a spice I couldn't identify and didn't particularly like. It may have been the green peppers – peppers don't belong in meatloaf. The accompanying mashed potatoes, however, were homemade and were excellent with or without the blanket of good brown gravy.
One hands-down winner was the breakfast plate: two massive pieces of sweet French toast, eggs, and two giant slices of turkey bacon. Breakfast is served until the café's early afternoon closing time.
It's worth a visit to Vickery Café for dessert. The homemade pecan pie was still slightly warm, not too sweet, with a filing that was gooey but not gelatinous. Whole toasted pecans crowned the magnificent slice, and the crust had a lovely, medium-crunchy texture. The only thing that might top the pecan pie is the heavenly homemade coconut cream pie: thick pudding filling loaded with sweet, moist coconut. More coconut was sprinkled on the roof of whipped cream (not meringue — no, not on a coconut cream pie!). But don't tell the owners that they're undercharging for the desserts. At less than $2 for either goodie, you could have two for the price of a single dessert at any Southern cookin' chain.
Vickery Café isn't the most venerable diner in the Fort. Up until 1994, it was Burdav's, named for Louis and Naomi Burkhalter's dog. When the place changed hands, the new owners didn't feel nostalgic enough to retain the name of the miniature dachshund. Even counting the Burdav years, Ol' South Pancake probably has them beat by a decade. Still, something about the place encourages really good conversation and inspires a hefty dose of nostalgia. It's retro by accident, not design, which is charming and as sweet as the coconut cream pie.
Vickery Café
4120 W Vickery Blvd, FW. 817-737-2277.
6am-3pm Mon-Sat, 7am-2pm Sun. MasterCard, Visa accepted