Would I sound too much like a hack if I said the main problem with Sunshine Cleaning was that it was too tidy? I'm sorry to make a joke like that while reviewing a movie about janitors (albeit highly specialized and trained ones), but that's the reality staring me in the face. That's not to say this comedy, which opened last year's Lone Star International Film Festival, doesn't have its distinctive charms, which mostly spring from actors who inject a note of human messiness.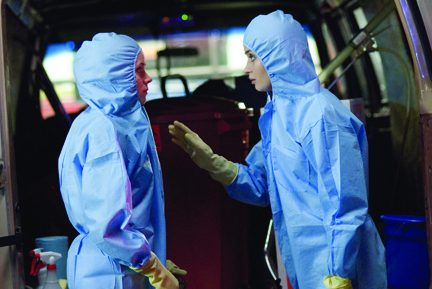 The film stars Amy Adams as Rose Lorkowski, an Albuquerque single mom whose life appears to have peaked in high school, when she was head cheerleader and dating the quarterback of the football team. Now she's running a one-woman maid service cleaning the houses of wealthy clients, one of whom mortifyingly turns out to be an ex-schoolmate who used to idolize her. Her business props up her whole family, which encompasses her 7-year-old son (Jason Spevack) who's always getting into trouble in school, her dad who's always making bad investments (Alan Arkin), and her spottily employed younger sister, Norah (Emily Blunt). As for that quarterback, he's now a cop (Steve Zahn) whom Rose is secretly meeting in motel rooms for sex, which might be cute if he weren't married to somebody else.
He does one good thing for Rose, though, when he idly suggests that she go into the lucrative business of cleaning up crime scenes after the police are finished with them. She takes Norah on as a partner, and after a few bumbling early efforts, the sisters are a well-oiled team, going into dead people's homes and scrubbing away blood and other bodily fluids. I wish the film had included a few more details about such an odd job, like the fact that many of its practitioners are so exposed to maggots and coagulated blood that they develop aversions to eating rice or red Jell-O. I'm told that this field is dominated by men, so it's disappointing that we don't get a perspective on what it is to be a woman in this job. However, we do get the delicate comedy of Adams and Blunt reacting to the grossness of their new work. The contrast between their grim tasks and Rose's brisk demeanor frequently raises laughs. (Having impressed an apartment super with her first job, she gives him a cheery "Call us anytime!") The material calls for a director with a light touch, and though comedy isn't exactly the strong suit of New Zealand filmmaker Christine Jeffs, she makes a game go of it, especially in one slapstick bit with the sisters carrying a bloody mattress out of an apartment.
The major problem here is the way Megan Holley's script ties everything together. There's a childhood trauma that neatly explains why the Lorkowskis are so screwed-up and why Rose is driven to clean things up. The accident caused by Norah that almost ruins Rose's business is too easy to see coming. Arkin's presence only points up this movie's resemblance to Little Miss Sunshine, which does no one any favors.
The lead actresses prop up this movie. Blunt remains best-known for playing the high-strung and miserable office assistant in The Devil Wears Prada, but this is her first role (besides the waiting-to-be-rediscovered My Summer of Love) that taps into the mischief and louche sexuality lurking beneath that exterior. Watch how effortlessly she tosses off the line "Dude, get off!" (spoken to a guy she's having bad sex with when she realizes she's late for work) and you'll have a hard time thinking of many other British actresses who could do that so well. Seeing her as this American slacker is nothing less than revelatory.
It's a similarly nice change of pace to see Adams, who won her stardom by playing ingenue roles, here portraying the most mature member of the Lorkowski household. The really amazing thing is her way with the character's rampaging self-doubt – the first thing we see  in the movie is Rose tonelessly repeating a self-help mantra that she's written on a Post-It note on her bathroom mirror. The film's emotional climax comes when Rose, with her business seemingly up in smoke, breaks down in front of a sympathetic cleaning-supplies store owner (Clifton Collins Jr.). What's remarkable here is the unsparing self-appraisal she conducts, and her reading of the line "I'm good at getting men to want me – not date me or marry me but want me," will rip your guts out. Moments like this demonstrate the empathy that Blunt and Adams conjure up on behalf of their characters, who find a sense of purpose in their strange new occupation, and they make Sunshine Cleaning more satisfying than most other indie feel-good stories.