The little business located at the intersection of two huge freeways was packed. It was Saturday night, and AJ's Chicken & Waffles, open since last Halloween at the southwest corner of Interstate 30 and Loop 820 in the Meadowbrook neighborhood, seemed to be two-thirds restaurant and one-third house party.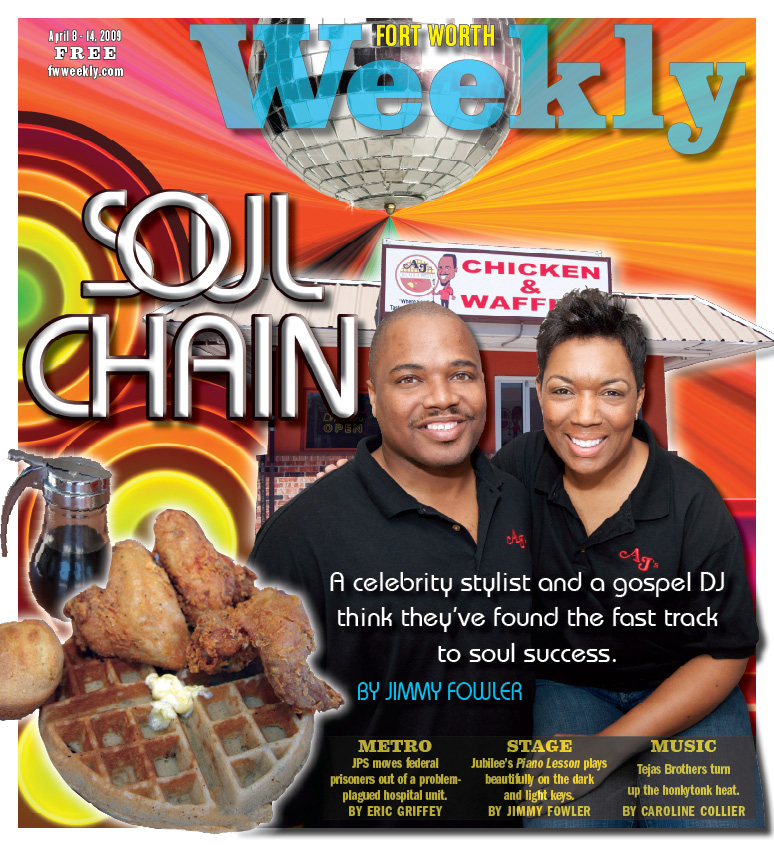 The owners spun classic tunes over the speakers, favoring the likes of Gladys Knight, The O'Jays, and Marvin Gaye, who on this evening was crooning tenderly about the world's troubles. A gallery of autographed photos on the white cinder-block walls included superstar secular artists like Snoop Dogg, Ashanti, and Ciara, as well as gospel musicians like Bebe Winans, Fred Hammond, and Micah Stampley.
AJ's is too small to be considered a proper sit-down restaurant – the large checkout counter with the drive-through window leaves room for only four tables – but every inch of the place was occupied that night. One family with laughing, trash-talking pre-teens passed around maple syrup dispensers and Styrofoam plates of steaming, lightly spicy, deep-fried chicken wings along with homemade sides like chopped collard greens, gooey-stringy mac and cheese, and dessert-spiced yams. The children dug plastic knives and forks into hot cushiony waffles the size of dinner plates. In line in front of the register, parents with children shifting from foot to foot mixed with young couples who looked to be out on date night.
The people behind the counter did double time as servers, stepping out into the cramped dining space to announce "Just five minutes till more hot wings are ready!" and extending the same assurances to the family in the huge old station wagon waiting at the drive-through window.
Larry Kemp, owner of the 37-year-old commercial maintenance service Kemp & Sons, definitely approves. His company offices are two minutes from AJ's. "My wife and I stop there twice a week for takeout," said the Fort Worth Metropolitan Black Chamber of Commerce member. "The food is excellent."
His company does lawn care for two Eastside city libraries, he said, "and every time I drive by [AJ's] I see the cars of library employees parked there."
AJ's is not the first place in Fort Worth to serve the fabled American soul food combo of chicken and waffles – a fancy, delicious, and pricey version has been available at both Ovation and, starting earlier this year, at chef Keith Hicks' new hotspot Buttons. But AJ's is somewhat of a trailblazer in North Texas, borrowing the whole celebrity-autographed, family-oriented, "chicken and waffles" concept from cities like Los Angeles and New York and transplanting it, fast-food style, to Cowtown. So far, their food has won raves from local critics.
What's more, newbie restaurateurs Antonio and Shereese Slate Johnson aren't content with success at just one location. Their plan is to have five AJ's locations – all employing the efficiency and quality-control ethos of corporate fast-food chains – up and running in the next five years. They're working to open the second location by the end of this year. After that: the rest of North Texas.
And despite their rookie status in this business, the couple may just have the business know-how, name recognition, and celebrity chops to pull off a success with this drive-through version of a soul food fave. He's a gospel DJ and former radio drive-time host who had earned a large local following after 10 years on Fort Worth-Dallas' "Heaven 97" station. She's a globe-trotting hair stylist with a star-studded clientele of R&B and gospel artists, many of whose signed photos grace the walls of AJ's.
"Our goal for AJ's," said Shereese, "is to create a chicken and waffles experience that will make people wake up in the middle of the night and crave it. And not just pregnant women."
Antonio "AJ" Johnson, 36, was born and raised in Memphis, Tenn. Gospel – both the contemporary stuff and the old hymns – has been a part of his life since he was a child, so it's not surprising that the promotion of the music and the message has been the driving force of his adult life.
Before moving to Dallas in 1998, Johnson did radio gigs from Kentucky to California. He's been a morning-show sidekick, a traffic reporter, and a community news interviewer and host at gospel, hip hop, and R&B stations. He admits to a certain restlessness in his professional life, but insists he's not the source of the fidgeting.
"I've always been God-inspired," he said. "And suddenly [in 1998], I realized that He wanted me to move to Texas. People thought I was crazy – I left a job at Clear Channel [in Memphis] before I had any leads in Texas." But it worked out – "There was a job for me at KHVN."
KHVN/970-AM is the top African-American gospel channel in the Fort Worth-Dallas market. Johnson was first hired as the overnight DJ for the 10 p.m. to 1 a.m. slot on "Heaven 97." From there he worked his way into producing for the outspoken local talk show host Robert Ashley. Then he began doing on-air Q&As with national gospel stars like Marvin Sapp, the Grammy-winning sister duo Mary Mary, and Kurt Carr, establishing connections throughout the industry. Eventually Johnson took over the program director responsibilities at KHVN, which included everything from managing the content and public image of the station to doing weather and traffic to overseeing the relationships among ad sales, programming, and the local community. His witty, urban-sophisticate delivery and creamy voice drew a large loyal fan base to his own weekday afternoon music and talk show.
Gospel music led him, albeit indirectly, to Shereese Slate in 2004. Both were living in North Texas at the time, but it took a trip to Los Angeles for the Grammy Awards to bring them together. He was headed to the ceremony as a gospel industry insider, she as an established celebrity hair stylist with a high-profile client – the singer Ashanti – who needed to have her hair done for the awards.
---
"I was over the glitz and glamour [of awards] by then," Antonio said. "But I saw this lady at the airport, and I couldn't stop flirting with her."
Shereese Slate was born and raised in the projects of Detroit. As a child she cut hair for family and friends. "My brother was my first victim," she said with a laugh. "I was just six years old when I did his hair." When she was a teenager, glossy magazines and album covers inspired her to take her beautician's license further than the neighborhood salon. After establishing a successful Detroit beauty shop, she traveled around the country as a "platform artist" – a hair and makeup stylist hired by cosmetics companies to promote products through live makeover demonstrations.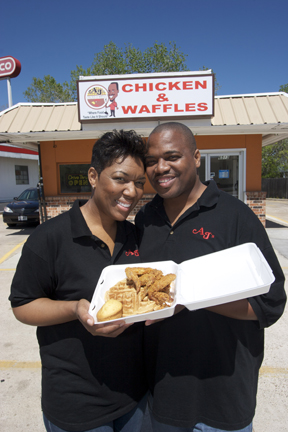 Once her work became widely known, R&B and gospel musicians began requesting her for their album covers, magazine shoots, music videos, and awards show appearances. Ashanti was her first major client, followed swiftly by artists like Patti LaBelle, Ciara,
and crossover "urban gospel" artists Yolanda Adams, Fred Hammond, and The Clark Sisters. Slate, now in her 40s, has worked stylist gigs throughout Europe, Australia, Japan, Africa, Latin America, and the Caribbean.
She eventually settled in Dallas because … well, because a man asked her to. "And then it [the relationship] came apart," she said. "I realized, 'I don't love you, but I love Texas,' and so I stayed."
After their chance meeting in 2004, it didn't take long for Shereese and Antonio to advance from LAX to marriage. The couple resettled in Arlington, not far from the small Grand Prairie beauty salon she had opened called Shereese International.
Romance, it seems, hasn't been the only spice in the relationship. The two share a near-obsessive drive to explore creative new business opportunities.
"I'm a businesswoman, period," she said. "I love a challenge. I believe God put me here to accomplish things." In addition to the hairstyling work, she self-published a small national magazine for two years called Shereese Hair and Beauty Lifestyle that featured styling tips, beauty industry news, CD and music video reviews, and advice to readers about everyday problems in life and love.
After Johnson decided to leave KHVN last year, Shereese had another of her ideas. Maybe God was nudging them in the direction of opening Fort Worth's first chicken and waffles eatery. Antonio had grown up eating the dish, Shereese had not, but they both loved it at soul food establishments they frequented in L.A. and New York City.
Rosie Trenia Moore has known Antonio Johnson for many years. She's a Chicago-born contract promoter and events coordinator in the gospel music industry, a former backup singer for Ricky Dillard and New G, and, in one of her current entrepreneurial guises, a "celebrity bra specialist" who does personal shopping for women who want the right shape on top. She counts a couple of area pastors' wives among her clients.
The Johnsons "are the perfect tag-team couple," she said. "He's the comedian with the radio following, she's the businesswoman who makes sure business gets done. I did some consulting with them, and I thought it could bring something fresh to the East Side."
There are two theories on the culinary origins of chicken and waffles as an American soul food staple. The most popular traces the dish back to the Harlem jazz scene of 1938. An establishment called Wells Supper Club began selling buttery, syrupy waffles and greasy fried chicken in the deep hours of the night to help sober up inebriated patrons. Since this odd meal time was deemed too late for supper and too early for breakfast, the combo provided some of both.
The other explanation insists that chicken and waffles was popular as far back as the late 19th century among freed slaves. (Thomas Jefferson didn't technically introduce the waffle to the New World – that nod goes to early Dutch settlers – but he apparently did turn the breakfast bread into a chic food when he brought a waffle iron from France to his hotshot American pals in the 1790s.) When former slaves were lucky enough to get their hands on a whole chicken, so this theory goes, it was a big event, and waffles were prepared as an exotic accompaniment. This could explain why, in many African-American fam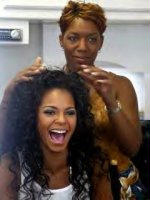 ilies, chicken and waffles has long been considered a celebratory meal.
In the 1970s, the sweet bird-and-bread combo earned its celebrity bona fides when Roscoe's House of Chicken and Waffles opened in Los Angeles. The joint instantly attracted movie stars, singers, and other entertainment folk. Autographed photos of celebrity diners covered the walls. Taking that cue, Gladys Knight has since opened chicken and waffles establishments in Atlanta and Washington, D.C., and more recently, rapper Doug E. Fresh opened a spot in Harlem. But Roscoe's in L.A. remains the most famous national purveyor of the specialty. Antonio and Shereese have eaten there often, and it occurred to Shereese that, "to my knowledge, there had never been a successful, long-running chicken and waffles establishment in Fort Worth or anywhere in Texas."
By that time, Antonio had left his myriad duties at KHVN. It was an amicable split, although at the end, he said, "I felt like there was no enthusiasm [at the station] for doing anything for the community, for the listeners. Any events we did, I did with my connections." (The station's downhill spiral, in his opinion, began after Infinity Broadcasting sold it to Kentucky-based Mortenson Broadcasting Company in 2000). Johnson moved on to a weekly local TV gig on KTXA Channel 21's "Sunday Gospel" segment, in which he continues to interview local and national gospel artists and showcase their performances.
---
"Shereese said that since I'd been on the radio for 10 years, now might be a good time to start a business and see if I had enough listeners to spread the word," he said. Besides his fans, Shereese's own salon and long roster of national clients seemed rich sources for
potential advisors, supporters, and customers.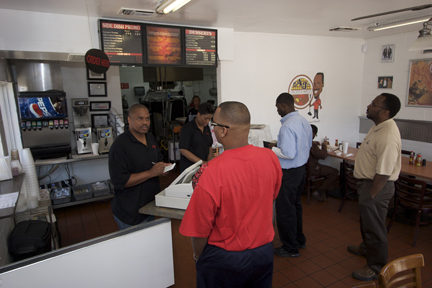 They considered pursuing a small- business loan but were ultimately scared away by the economic downturn: Creating long-term debt with a bank in this climate seemed untenable. Instead, they pooled their own funds and found a partner in a long-time friend from Atlanta – Raylee Johnson (no relation), an ex-NFL pro who'd played for 13 years with the San Diego Chargers and the Denver Broncos. One of the highlights of his career was scoring two sacks as a defensive end for the Chargers against the San Francisco 49ers in the 1994 Super Bowl. (The 49ers still beat the Chargers handily, though).
When approached by his friends with the idea of investing, the former NFL player said, "I didn't hesitate. I thought the idea of going out and directly serving the community was exciting. Plus it was a brand new concept for the city as far as we could tell."
Antonio and Shereese split the restaurant start-up duties: He'd do marketing and day-to-day operations (including manning the register when needed); she'd do everything else. They scoured African-American neighborhoods in Tarrant County for the right site. She toured local soul food spots, sampling their dishes and sizing up the competition. Eventually they chose a tiny brick shack in a Meadowbrook business district.
Shereese said she always looks for signs from God that point her in the right direction, and in her opinion, the Meadowbrook site featured a bald endorsement from above. "It had a cross on top of it," she said. "I don't know if the builders intended it to be a cross, or if it originally held up something else, but to me, that cross was a sign that this was the right place."
After that, Shereese unleashed her self-proclaimed perfectionist side on all aspects of the new AJ's Chicken & Waffles. There were a list of "must-haves": The walls must be painted white, because so many soul food restaurants are "greasy spoons," and that's not a charming label to Shereese: "I hate dirt. I wanted to be able to see it before the customers saw it."
She was also determined that the restaurant be modeled on corporate fast-food franchises like Burger King and Church's. For one thing, those chains have proved seemingly recession-proof – not just surviving but thriving on familiar, low-cost comfort foods and speedy service. Many family-owned soul food restaurants are casual, cafeteria-style operations with long waits in the kitchen and the dining area.
"I wanted there to be a three- to six-minute wait, tops, on a customer's order," she said. "I wanted the service to be friendly and to be the most important thing when someone walked through the door." Shereese hired nine full- and part-time employees, many of them residents of the surrounding Meadowbrook neighborhood.
After a long kitchen testing process, she put together the menu with chef Gainer Smith. Another "must" was naming the menu items after real people. Said Antonio: "Like in Los Angeles or Harlem, customers want a link between celebrity and family and community [as part of the dining experience]. So we put pictures of Shereese's clients and the celebrities I know on the wall, and we named the dishes after family members."
Thus Chef Gainer's "Biggest Gainer Potato Salad" is a tribute to his late mother, whose recipe it was. "Vesta's Yams" came from Shereese's Detroit grandmother; "Tereese's Greens" was a recipe of Antonio's Memphis grandmother.
In some ways, AJ's has become a victim of its early success. Clients have shown an unexpected eagerness to hang out, which puts even more pressure on the small number of tables available. Also, a few of the pickier patrons have commented that AJ's doesn't taste like this or that version of their own family's sacred recipes.
"I tell them, 'Your grandmother didn't get paid to cook, and she didn't have to cook for a hundred people a day,' " Shereese said, laughing.
So far, the "fast-food soul food" concept of AJ's Chicken & Waffles has consistently drawn lines of people out the front doors and cars around the building for the drive-through window. Shereese's prediction that a cheap, quality, fast-service chicken and waffles restaurant could perform well in a recession has so far been vindicated.
"People who've never left the Fort Worth-Dallas grid needed time to hear about it [chicken and waffles]," said Moore, the gospel promoter and
celebrity bra consultant. "Antonio and Shereese needed time to build a following. They've been open less than a year, and we're all surprised at how fast the following came."
Moore had enough faith in the fast-food start-up that she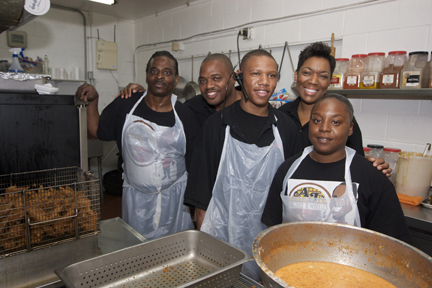 designated it a Fort Worth ticket-sales location for the Dallas concert of gospel superstar Marvin Sapp on March 7. The Metroplex R&B station 94.5 KSoul promoted AJ's participation, and all 50 tickets that the restaurant held sold out fast.
Larry Kemp, the lawn-and-maintenance company owner and frequent AJ's patron, said it's telling that the Johnsons chose a stand-alone building to house their operation in the neighborhood.
"I see it [a stand-alone facility] as a real investment in the community," he said. "It's a sign of more serious capital investment, more blood and sweat. They wanted to put down deeper roots than just $200-a-month rent in a strip mall."
AJ's has co-sponsored a couple of community events already, including this year's Martin Luther King Jr. Day parade and a Harambee Festival at Tarrant County College. They've bought TV ad time to promote the restaurant on Antonio's Channel 21 "Gospel Sunday" segment. Shereese has signs advertising the restaurant at her Grand Prairie salon, and she's about to relaunch her Shereese Hair and Beauty Lifestyle mag as an online monthly.
---
The next step is expansion: The initial business plan is to open five AJ's restaurants across the Fort Worth/Dallas area within five years. The low-overhead, fast-food model will continue wherever they go, but the Johnsons concede they'll have to take greater financial risks in a still-troubled economy. "We may need to consider a business loan [from a bank]," Antonio said. "We need capital to expand."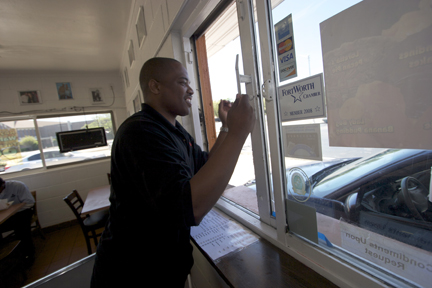 Shereese said a couple of people have approached them with the concept of franchising the AJ's name, giving them a faster route to wider name recognition but taking away the hands-on influence that she exerts on the flagship restaurant. (Hands-on, but not on-site: Antonio often toils at the restaurant, while Shereese does her work out of sight of customers.)
She's already scouted two very different areas for a second location to open later this year: It will be either west Fort Worth or the city of Addison. The latter is particularly attractive, because while serving the African-American community is important to both Johnsons, neither wants to limit potential business to one racial demographic. Wherever they expand, they'll keep the same L.A.-style Roscoe's atmosphere: old-school R&B music during the week, gospel on Sundays, the autographed celebrity faces along the walls, and the menu combinations with family names. There's no reason why those essential elements of the urban "chicken and waffles" experience should change, she insisted
"I think we could do well in Addison," she said. "Chicken and waffles sounds unusual to a lot of people, until they try it. Then they feel like they've been eating it all their lives."
Antonio phrases it from a more spiritual angle: "If God is willing," he said, "we want AJ's to be the face of chicken and waffles in Texas."