Though he isn't a punk rocker, singer-songwriter Phil Pritchett is pretty DIY, admittedly an overused phrase. The Americana artist is his own manager, publicist, record label, and producer. At a time when the music industry is hemorrhaging cash, and the death of the CD seems imminent, DIY doesn't look so bad.
Pritchett, a Fort Worth product, came to the do-it-yourself mantra gradually. He had a fairly successful time on the Texas Music merry-go-round in the late 1990s. He self-released three CDs, gigged at the Aardvark and the White Elephant Saloon, and toured Houston, Corpus Christi, and Lubbock. Then-obscure bands like Cross Canadian Ragweed used to open for him. Austin's Waterloo Records stocked his 1996 release, Phil World, on the independent wall along with albums from other rugged Texas DIY-ers such as Dallas' Jack Ingram and Austin's David Garza, back before either of the two had a major label deal. Based on his initial success, Pritchett moved to Nashville in 2000. "The CDs were selling," he said. "I had some friends who had signed with Warner Brothers records, and I'm not a 'Nashville sucks' kind of guy."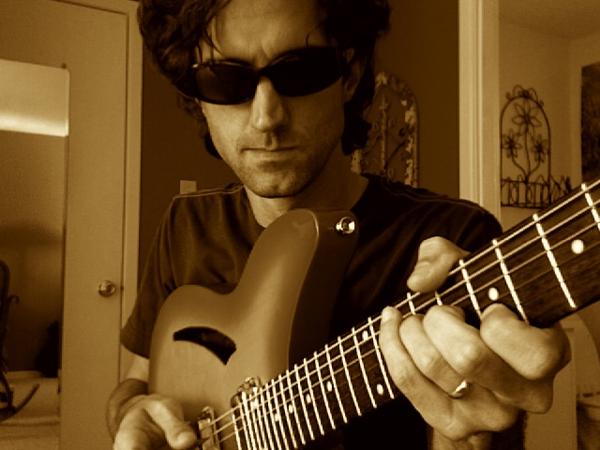 But then digital file-sharing and 9/11 came along. Plus, Pritchett couldn't get his songwriting career going in Nashville. Although he felt that Music City was a great place to raise his young family, he returned home in 2002. He set up shop in the building that houses the Cadillac Bar in the Stockyards, recording High Tide and the Heartland in the large, open space above the bar that passed for his studio. The album, he said, "sounds like it was recorded in a garage. It's quite unique."
At that point, Pritchett began gaining a rep as a producer. The Stockyards building was sold to make way for a series of clubs, so when Pritchett got a call from his friend Larry Dillon about Dillon's new studio space, he jumped on board. Pritchett's Trinidad World Recording is quartered in a room in the old Handley post office. The boxy building is surprisingly sleek inside, with all of the standard studio amenities. "It's like we moved from the Motel 6 to the Ritz-Carlton," Pritchett said.
Last year, he released a studio CD, The Bullfighter Returns, with his Full Band (Stu Wiley and Blu Marshall). He also released Blueprint Garage, Volume 2, a compilation of outtakes and extras that didn't make the Bullfighter cut.
The Bullfighter Returns is full of bright harmonies and witty lyrics. Pritchett gets the songwriting credits, although he's not opposed to throwing a Dylan or Lucinda Williams cover on a release. His voice is unique – neither raspy nor twangy. The main vocals, the harmonies, organ, jangly guitar, and occasional tambourine are all reminiscent of early '70s rock. Think Gram Parsons, with a little Tom Petty southern comfort and some jagged Elvis Costello attitude. The title track, a slightly theatrical piece for which Pritchett made a video (posted on his web site, www.philpritchett.com), is actually a continuation of a flamenco-inspired song called "Maria" that he put out in 2004. It's the only instance on The Bullfighter Returns in which Pritchett plays a character. On the other seven songs, he's firmly himself, never more so than on the closer, "Find My Own Way (and Be Happy with Where I Go)."
A few years ago, Pritchett realized it was more profitable to offer downloads straight from his web site rather than pay someone to produce a traditional CD that would be mailed out. He sells the downloadable versions of his CDs for $4. You can also download his entire catalog — 11 CDs worth of music — for $35.
Pritchett is personable and accessible, so perhaps he doesn't need a publicist. Anyone calling his Trinidad studio is likely to get Pritchett himself, not a minion, on the phone. As far as distribution goes, he says he's been in the industry long enough to know what happens when a promoter ships out shiny new CDs to radio stations. "They ship out 300 copies, but then what happens?" he said. "You got 300 copies of your CD sitting on desks, along with everyone else's stuff. … The new model is getting your music straight to people's hard drives and iPods."
The business of his business means that Pritchett doesn't play his hometown more than once a quarter. He does stop occasionally at Dallas' Granada Theater. Oddly, he has achieved a level of success in places like Germany, Australia, and the American Midwest, where Texas Music is a hit with the ex-pats. Pritchett now spends much of his time producing. He's already worked with more than a dozen artists, including Fort Worthians Kyle Redd, Mike Mathis, and Kurt South as well as a group called the Slow Rollin' Lows from Beaumont. During the recording process, Pritchett sometimes encourages artists to go through his stacks of LPs to find just the right chord or a particular sound that fits. (Literally, stacks. The studio looks like a used record store.)
Pritchett also podcasts weekly from his couch, often inviting other musicians like South to join him. "The podcasts are just about people who've been recording here and some funny stories off the road," he said. "After 15 years, you collect a lot of funny stories." l