Ever since Fort Worth Opera switched to a festival format instead of a conventional season, the troupe's strategy has been to stage two traditional repertory operas and one contemporary opera at the same time. It's a clever move: Selling audiences on a new work is a tough job, and FWO uses the format to encourage the crowds at the two established pieces to see the new piece.


Judging by the packed house at Bass Performance Hall for the premiere of Dead Man Walking, the approach seems to be working.
The opera was composed in 2000 by Jake Heggie, based on Tim Robbins' 1995 film, which itself was based on the memoirs of Sister Helen Prejean, a Louisiana nun from the order of the Sisters of St. Joseph of Médaille who worked with death row prisoners. Just as the film changed the names of the murderer and his victims, the opera does so again. Here Sister Helen (Robynne Redmon) corresponds by mail with condemned rapist-murderer Joseph de Rocher (Daniel Okulitch), who asks her to meet him in person at the state penitentiary and serve as his spiritual advisor before his execution.
Heggie's a fine composer for the voice, and the fact that Dead Man Walking has received numerous productions since its debut speaks to its strengths as a vehicle. However, as the composer's first attempt at an opera, it shows a few weaknesses – though filled with attractive vocal writing, too much of the opera is in the same vein. There's too little musical contrast among the scenes, and the characters don't express themselves through different kinds of music. As a result, the piece never builds up much dramatic momentum and never achieves stage fire except arguably at the end, when Joe's execution is depicted in total silence. A few set pieces pop, like Sister Helen's rollicking Christian hymn "He will gather us around," sung with a group of schoolchildren at the beginning of the opera, or Joe's aria "A warm night," reminiscing about the sexual encounters that he can't have any more in prison.
If the lead singers' names are familiar, that's because they were both in Fort Worth two years ago, with Redmon singing Suzuki in Madama Butterfly and Okulitch portraying a homicide detective in Frau Margot. Interestingly, Redmon was made up here to look like the character actress Margo Martindale, who acted in the film Dead Man Walking. With both of the opera's lead roles written for singers with low voices, it doesn't offer the particular thrill of high Cs. (As with FWO's other two productions this year, this opera's heroine is a mezzo-soprano.)
Still, both of these singers offered solid and intelligent performances, with Redmon's voice never fading despite the length and complexity of the role. As for Okulitch, he made as credible a white-trash killer as any opera singer is likely to make, and his sturdy bass-baritone was impressive both in "A warm night" and a moody monologue in his prison cell ("31 … 32 … 33") – it can't be easy singing opera while doing push-ups in your underwear.
As for conductor Joe Illick, I'm afraid his good taste made him unsuited for the material. The quartet for the victims' bereaved parents ("You don't know what it's like"), with a bass line like clanking iron, needed to be grim and relentless. Illick sanded off all the work's harder edges, and whatever chance the opera had of achieving the searing power of Robbins' film flickered out. The conductor might have taken a cue from director David Gately, who made innovative use of hanging sections of chain-link fence to suggest the prison setting.
Illick did demonstrate a nice touch with the opera's comic interludes like Sister Helen's encounter with a motorcycle cop (Michael Mayes) and her telling an enraptured Joe about having once seen Elvis in Las Vegas. The excellence of the supporting singers (like tenor Jamin Flabiano as the prison chaplain and soprano Sheryl Woods, giving a shining account of the one-dimensional role of Joe's mother) also said something about the conducting.
So far none of Fort Worth Opera's forays into modern territory have been unqualified successes, but the current production of Dead Man Walking is a big step up from last year's staging of Angels in America. It's also more than enough to make us eagerly await the next new opera (Jorge Martín's Before Night Falls) that's coming next year. — Kristian Lin
Well Heeled
I haven't seen everything that Fort Worth Opera has done since my first visit in 1962, but of the 50-odd shows under my belt, the company's version of Rossini's La Cenerentola/Cinderella, which I saw on the first weekend of the festival and also last weekend, ranks at the top. It's the complete package: brilliant ensemble, imaginative staging, and dazzling visual effects. I've seen some great performances here: Beverly Sills in Lucia di Lammermoor, Plácido Domingo and Gilda Cruz-Romo as the star-crossed lovers of La Bohème, and many others on up to mezzo-soprano Isabel Leonard's vocal virtuosity in the cu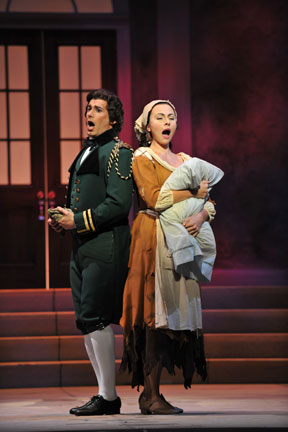 rrent Cinderella.
Some people may hear the name "Cinderella" and dismiss it as kids' stuff. They're missing out on a grown-up parable, the triumph of virtue over greed, clothed in a redo of the children's story, and sung to some of the most ingratiating music you're likely to hear. The two FWO performances of Cinderella I saw were equally spectacular.
I also saw two performances of Carmen, and they were very different. Two weeks ago, there was a certain nobility in the title character, a gypsy who lived as she pleased, took no crap from anyone, and harbored a detached, cynical view of life, as if nothing really mattered. In last weekend's performance, though, the sympathetic creature was gone, replaced by a minx with no redeeming qualities, a selfish harlot who collected men as trophies and squeezed the life out of everything she could get her hands on. Both views are valid, but the first was more rewarding and better suited to the compelling mezzo-soprano in the lead role, Elizabeth Clayton.
General director Darren Woods decided to cut the opera schedule from four productions to three last year before the recession hit, intending to get the company's financial house in order. "We're still working on that," Woods said. "But I would love to expand back to four shows in 2011 to celebrate my 10th anniversary here. The problem then will be finding dates available in Bass Hall."
Last weekend was pretty successful. Carmen sold out, Cinderella was nearly full, and Dead Man Walking didn't sell out but packed the house. "We had a drop in advance sales Wednesday when area schools closed in the swine-flu scare," FWO publicist Diane Bergman said. "But ticket sales picked up over the weekend." (My own, perhaps wishful, thinking is: What bugs, flu or otherwise, could possibly survive in the icy drafts that habitually assail theatergoers in Bass Hall's main auditorium?)
FWO appears to be on the way to meeting ticket-sale goals before the final performances this weekend.
— Leonard Eureka
Stepping Up
The brainchild of Chung-Lin Tseng and wife Enrica, both retired Texas Ballet Theater principal dancers, Ballet Frontier is an offshoot of the couple's new dance school, Ballet Center of Fort Worth. The company's debut last weekend in Scott Theatre featured students and some guest pros, including TBT soloist Carl Coomer and Erin Witt, a former TBT dancer whose phrasing in a piece choreographed by Roy Tobias called Straight From the Heart was indeed lyrical. The star of the evening, however, was Chung-Lin, who choreographed 11 of the 12 ballets to music ranging from John Denver and Joe Cocker to Mahler and Tchaikovsky, with stops in between. His musical sensitivity matched the mood and meter of the styles, offering a steady stream of fresh ideas that turned what could have been a Johnny-one-note evening into charming entertainment. For more information, visit www.balletcenterfortworth.com.
— L.E.